Not much has changed in our appetite for a good pie over the years. Americans reportedly purchase an impressive 3 billion pizzas a year, which means we each sample roughly 46 slices in 365 days. The pizza business itself, however, has done some updating. Build-your-own joints are booming and ingredients have gone organic, with a lot grown locally. The result: amazing menus that suddenly make ordering difficult. Mike Schock, head chef at Lone Tree's VIA BACI ITALIAN BISTRO, is here to solve that problem with tips on how to navigate the options, plus the best way to feed a crowd of hungry fans on game day.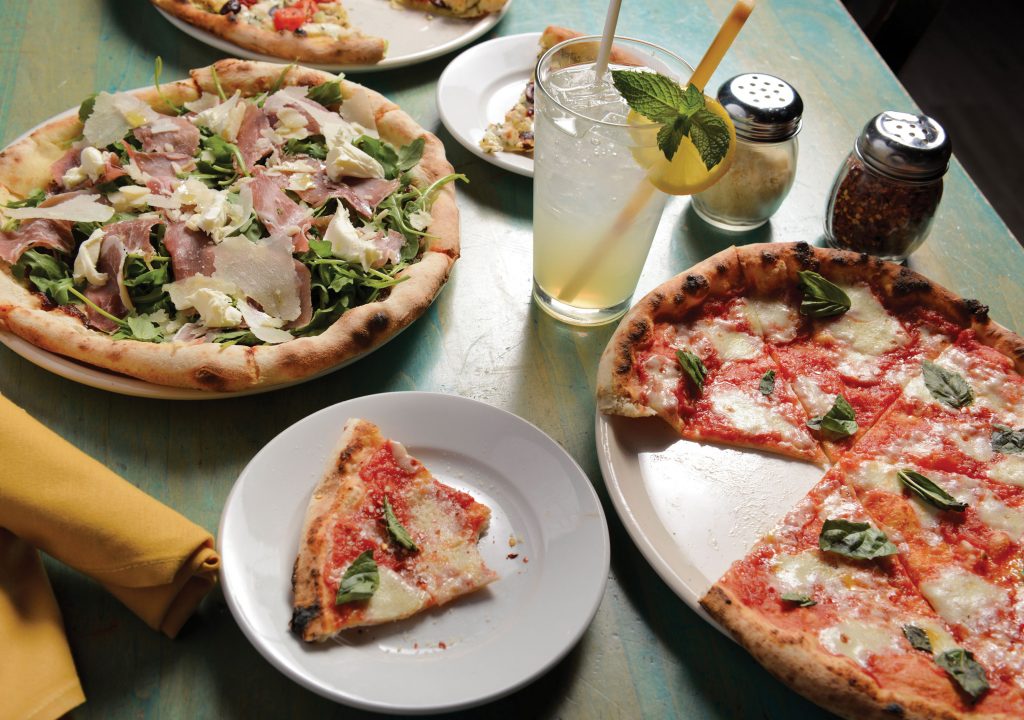 HOW TO APPROACH A BUILD-YOUR-OWN PIE MENU
Always try things you haven't seen before, Schock says: "If I spot an ingredient that I like but have never tried on a pizza, I order it. Overall, I look for high-quality local or artisan fixings that might be hard to find elsewhere."
FRUIT MAKES A GREAT TOPPING—REALLY
"Fruit, especially seasonal fruit, is underutilized on pizza. Right now in Colorado, a pie with the last of your peaches, basil, fresh mozzarella, a balsamic reduction and San Marzano tomato sauce would be wonderful. Later in fall, I suggest trying apples, gorgonzola, fresh mozzarella, walnuts, dried tart cherries and fresh herb- or garlic-infused extra virgin olive oil."
LET'S TALK DOUGH
"If you want to make pizza at home, I suggest going to your favorite local pizza place and buying their house-made dough. Although it is not as good as the dough at Via Baci, I think Bobby Flay's recipe is decent."
BOBBY FLAY'S PIZZA DOUGH
INGREDIENTS
2/3 cup lukewarm water (105 degrees F to 115 degrees F)
½ teaspoons active dry yeast
½ teaspoon sugar
2 tablespoons olive oil, plus additional for oiling bowl
1 ¾ to 2 cups all-purpose, unbleached flour
¼ cup finely ground yellow cornmeal
2 teaspoons coarse salt
METHOD
In a large bowl, stir together 1/3 cup water, yeast and sugar and let stand until foamy, about 10 minutes. Stir in remaining water, 2 tablespoons oil, 1 ¾ cups flour, cornmeal and salt. Blend until the mixture forms a dough. Knead dough on a floured surface—incorporating as much of remaining ¼ cup flour as necessary to prevent dough from sticking—until smooth, about 5 to 10 minutes. Form dough into a ball.
Lightly oil the sides and bottom of a large bowl. Add dough, turning to coat in the oil. Cover and let rise in a warm place until doubled in size, about 1 hour. Gently punch the dough down and divide into 4 equal pieces. Roll each piece on a lightly floured surface into a 10-inch circle that is 1/8-inch thick. Brush off excess flour and transfer dough to a baking sheet. Cover each circle of dough with plastic wrap and stack rolled out pieces on top of each other. Wrap well with plastic wrap and refrigerate until ready to cook. (Schock usually cooks dough in his home oven at 400 degrees F on a preheated pizza stone.)
Via foodnetwork.com
THROUGH THICK AND THIN (CRUST)
"Personally, I like thin and crispy crust. A nicely cooked thin crust should look like a crispy cracker with lots of golden- to dark-brown bubbles throughout."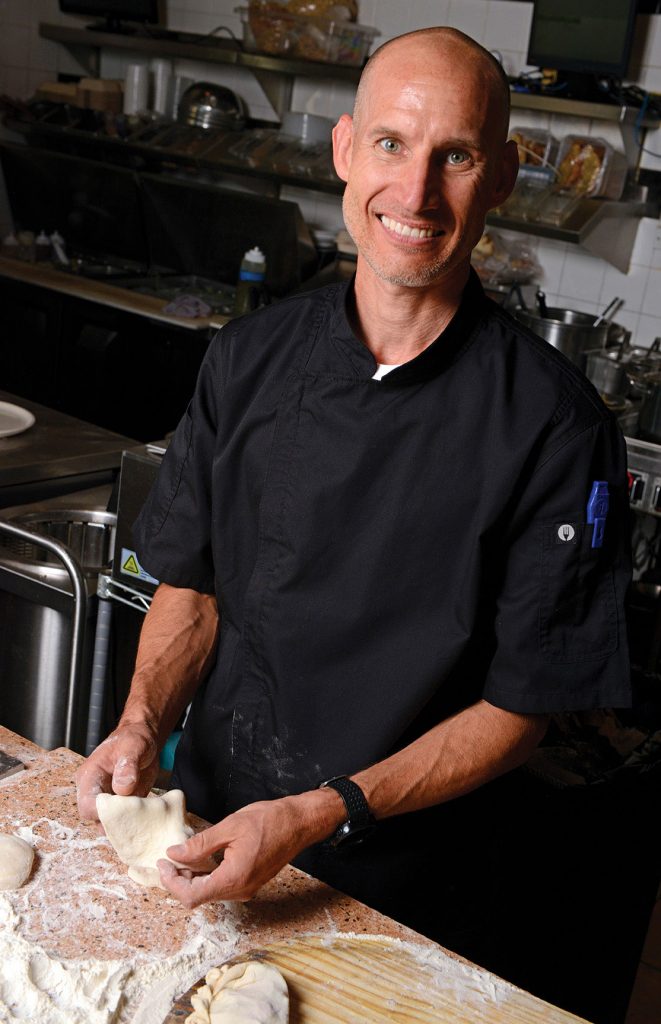 IT'S GAME DAY! AND YOU'RE HOSTING.
"I love making mini calzones for game days. You can prep them before guests arrive, and then pop them in the oven when needed."
MINI CALZONES
INGREDIENTS
2 Via Baci dough balls
Your favorite tomato-based pizza sauce
Fresh mozzarella Ricotta
1-3 ounces of your favorite pizza toppings per calzone
METHOD
Preheat oven to 400 degrees F. Using a floured surface, cut the dough balls in half and, with plenty of flour, shape into four flat ovals about the size of a small plate with your hands. (Schock always works Via Baci dough with his hands). Fill half of each calzone crust with 2 tablespoons of sauce, 2 ounces mozzarella, 1 ounce ricotta and your favorite pizza toppings. Fold the empty side over the filled half and press the crust together. Twist or braid the edges to seal.
Adds Schock: "I recommend baking the calzones on a preheated pizza stone if you have one. If not, use a baking pan. Bake until the crust is golden- to dark-brown in color and the cheese is melted. Brush with melted butter when the calzones come out of the oven and use extra sauce for dipping."