By Hailee Lucchesi
All photos courtesy of retailers

Hit the POOL OR BEACH vacation with one of these top-notch looks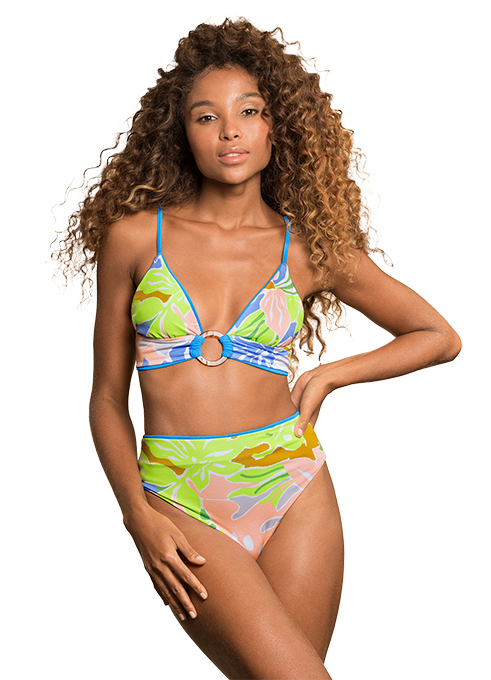 Shine Reversible Triangle Bikini Top, $79 and Suzy Q Reversible High Waist Bikini Bottom, $68 at Everything But Water, Park Meadows, 303.799.6810, everythingbutwater.com

With summer in full swing, the search for the best swimwear is on. Whether you are lounging at the pool, exploring exotic oceans or immersing yourself in watersports, there's a perfect suit for that.
When it comes to swimwear, nothing is sexier than sustainability. Luckily for us, Everything But Water
created its sustainability initiative, Water is Everything, that allows customers to make an impact while shopping to fight crises such as plastic pollution, coral whitening and ocean acidification. And what chicer way to protect our oceans than with its Shine reversible bikini? Made from sustainable material, this two-piece offers a ribbed solid to reverse print with removable padding, adjustable back ties and high-waisted bottoms that scream sweet summertime.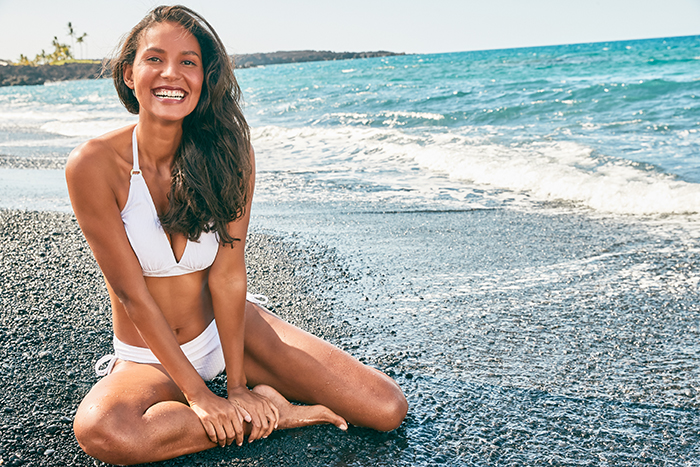 Cable beach halter bikini top, $99.50 and tie-side hipster bikini bottoms, $79.50 at
Tommy Bahama, Park Meadows, 720.889.6400, tommybahama.com
If you're looking for a classic nautical vibe, check out this cable beach bikini designed with fuller coverage that is equally as flattering. Bold and beautiful, this Tommy Bahama two-piece suit comes in a white or navy textured cable fabric and gold enamel hardware to up your swimwear game. The full coverage bottoms and built-in UV protection qualify this suit for an entire summer day, staying safe from the sun. Need more coverage? The set has a matching beach skort to take you from sea to shore.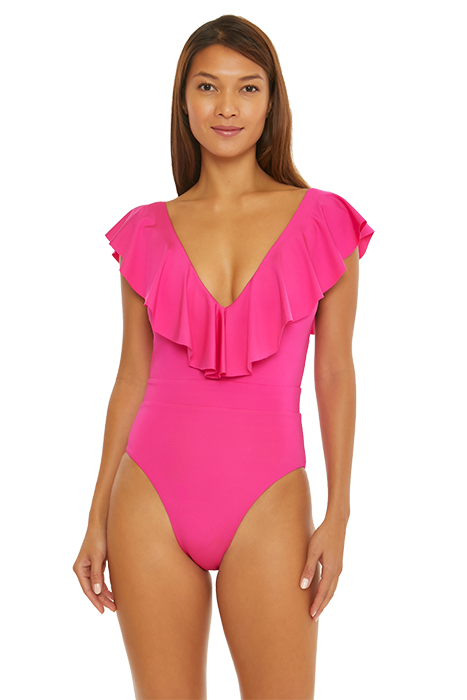 Trina Turk Monaco ruffle plunge one-piece swimsuit, $154 at Dillard's, Park Meadows, 303.790.0100, dillards.com
Meanwhile, Trina Turk's Monaco ruffle plunge one-piece swimsuit elects for a more fashion-forward fit. This swimsuit in a dazzling rose color takes resort wear to a whole new standard. Constructed in a plunging neckline with ruffle detail and removable soft cups, this style is sure to accentuate an array of body types. If you're looking for something a little more classic, opt for the suit in white to last summer after summer.
Another sexy swimwear topic: sun protection. While tan lines were once a coveted summer trademark, they are now a subject of the past. Along with this trend comes more coverage devised in sleeker silhouettes. This Jacqueline long-sleeve reversible surfsuit from Everything But Water is the perfect example. Crafted with high-performance upcycled material and front-zip closure, this rashguard is something to rave about. The fitted fabric provides comfort and mobility for a sporty outing or lazy afternoon. If the color block print is too bold for you, reverse the suit for a gorgeous cobalt blue and polka dot print.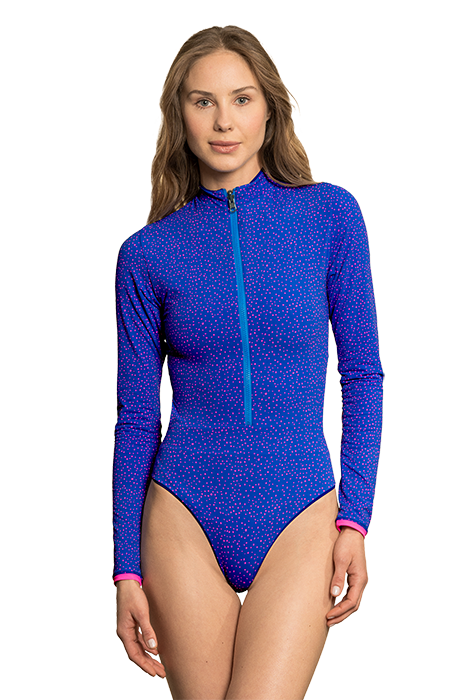 Jacqueline Long Sleeve Reversible Surfsuit, $163 at Everything But Water, Park Meadows, 303.799.6810, everythingbutwater.com
If you want something timeless, head to Tommy Bahama for its Orchid Garden bandeau one-piece. The vibrant pattern and ageless silhouette will never go out of style. Cleverly composed with a targeted front compression panel for tummy control, this suit will keep you stylish and secure all season. Want a little more support? We've got you covered with a detachable strap you can add to make it watersports-ready. If we couldn't recommend this enough for a sensational summer in the sun, The Skin Cancer Foundation recommends this fabric as an effective UV protectant for covered areas. And that is the definition of sizzling swimwear.
Orchid Garden bandeau one-piece swimsuit, $148 at Tommy Bahama,
Park Meadows, 720.889.6400, tommybahama.com