Nothing says spring like an afternoon on a sun-drenched patio, blue skies above and a refreshing cocktail in hand. And after the pandemic winter, those herbaceous drinks will be savored fully.  
Deviation Distilling is a newbie on the Colorado distilling scene, but they're turning heads with their artful bottles of botanical gins, like Citrus Rosé and Mountain Herb – both are essential for all your spring (and summer) cocktails.
The Citrus Rosé Gin features grapefruit, tangerine, lavender, and tarragon, which compliments the delicate, floral flavor of the malted barley, yielding a bright ultra-premium gin that is delightfully pink.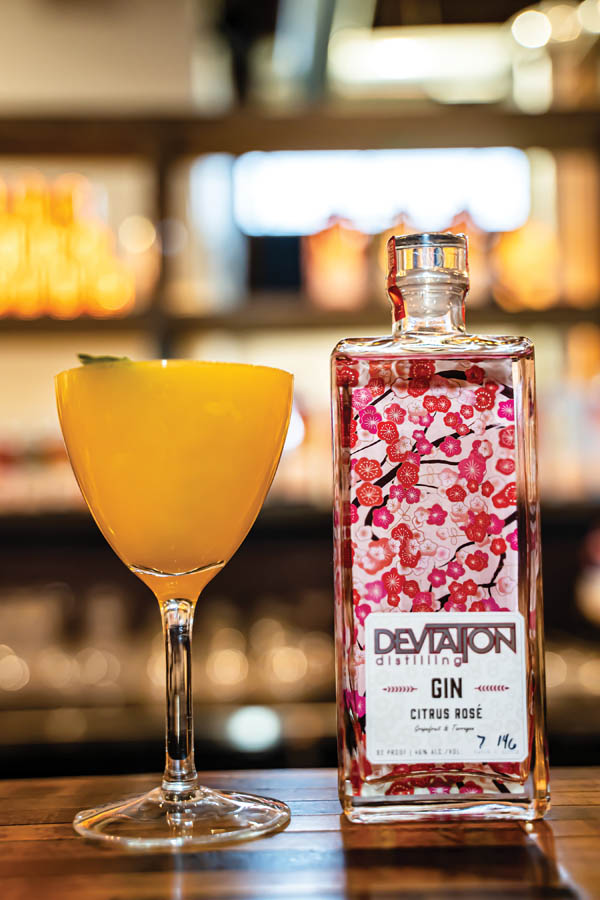 The Mountain Herb Gin is patiently distilled to let the complexity of the grain balance the intensity of wild-foraged Rocky Mountain botanicals. Native juniper, white sage, rosemary and spruce tips result in an ultra-premium gin that embodies the spirit of the backcountry.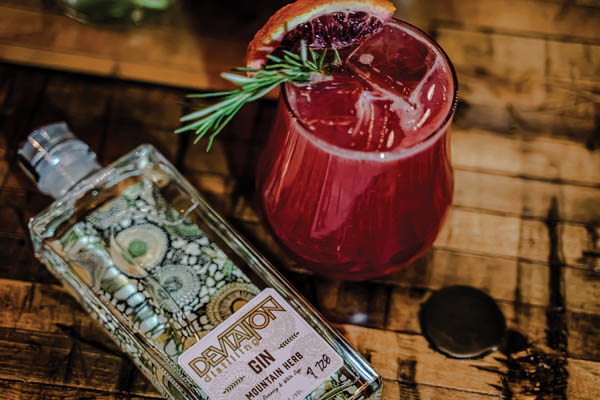 Cheers to warmer days and curated cocktails!
Deviation Distilling, 720.645.1539; deviationdistilling.com
Mango Ginger 75
Ingredients
2 oz Deviation Distilling Citrus Rosé Gin
2 oz mango ginger syrup (recipe below)
0.5 oz fresh squeezed lemon
1.5 oz Champagne or sparkling wine
Lemon peel garnish
Method
In a shaker combine gin, mango ginger syrup and lemon. Shake with ice to combine. Pour into a glass and top with Champagne or sparkling wine.
Mango Ginger Syrup
Ingredients
2 fresh mangoes
1 Tbsp fresh minced ginger
3/4 cup sugar
1 cup water
Method
In a saucepan combine all ingredients. Bring to a boil and simmer for five minutes. Mash the mango and ginger. Let sit until cool to room temperature. Strain into a glass jar. Will keep in the refrigerator for a week or two.
Sicilian Spritzer
Ingredients
2 oz Deviation Distilling Mountain
Herb Gin
2 oz fresh squeezed blood orange juice
0.75 oz lime
0.75 oz simple syrup
Rosemary sprigs
Splash of soda water
Method
Fill a shaker with ice. In shaker combine gin, blood orange juice, lime and simple syrup along with one rosemary sprig broken into smaller pieces. Shake vigorously for 30 seconds. Strain into a rocks glass filled with ice. Top with a splash of soda water and a blood orange wheel.
Recipes courtesy Deviation Distilling

Available at these local retailers
Bubbles Liquor World, 675 Genoa Way, Castle Rock
Heritage Wine & Liquor, 7475 E Arapahoe Rd, Centennial
Lukas Liquor Superstore, 8457 S Yosemite St, Lone Tree
Molly's Spirits, 8557 E Arapahoe Rd, Greenwood Village

Other nearby retailers:
Bevy's Liquor World, 9749 S Parker Rd, Parker
Davidson's Beer, Wine & Spirits, 5555 Boatworks Dr, Highlands Ranch
Tipsy's Liquor World, 5869 S Alkire St, Littleton