The Everyday Hostess is helping us put those quarantine crafting skills to work with awe-inspiring fall tablescapes.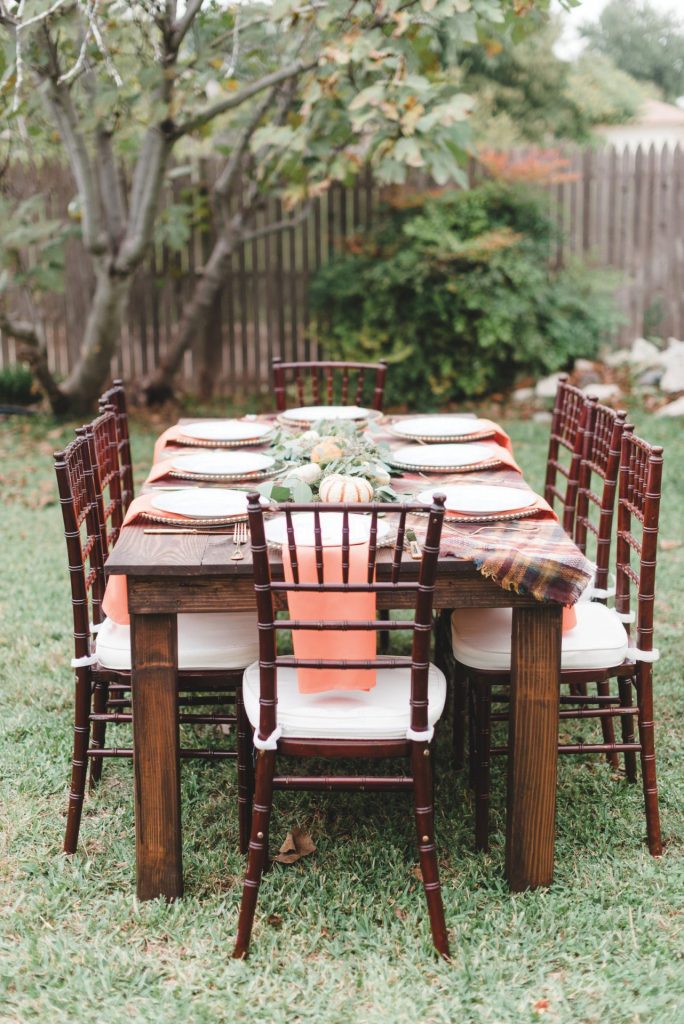 Fall decoratingis something many of us look forward to all year long, and we've got the Pinterest boards to prove it. Get ready to break out the scented candles, miniature pumpkins and all things plaid — The Everyday Hostess, Kate Haaf, is giving us some expert tips on how to create the most Instagram-worthy tablescapes of the season.
Love You Brunch
What better way to spice up your fall get-togethers (and practice social distancing) than by hosting an outdoor brunch amid the color-changing leaves? That's exactly what Haaf had in mind when she curated this
festive tablescape with friend and vendor, Lindsay Davenport Photography.
"I really wanted to hone in on the fall colors since we would be brunching outside, and I had the perfect auburn-based color palette already laid out for me in one of my favorite blanket scarves, which I draped on the table diagonally," she explains. "I chose two main colors from the scarf to highlight: brown for the tables and chairs and orange for the napkins and miniature pumpkins laid throughout the centerpiece. I'm a big fan of metallics and love to glam things up as much as possible, so I added gold silverware and beaded glass chargers from my wedding to make things a bit more exciting."
According to Haaf, the personal touches are what bring a tablescape like this together: "Doing what you can with what you already have is a great way to get that customized look without spending tons of time or money on the presentation. I made most of the food myself, and I also ordered some custom paper invitations from an Etsy shop, which I added to the place settings to make everyone feel right at home."
Apple Fall Picnic
All tuckered out from the corn maze or pumpkin patch? Cuddle up with your significant other and enjoy some cider and caramel apples at this cozy fall picnic for two.
"I wanted to create a more intimate setting for this tablescape, so I thought a picnic in the park would really bring that to life," Haaf says. "My inspiration was a large burlap throw that I ended up displaying the food and drinks on, and I used the same blanket scarf from before as the tablecloth. I really like to incorporate natural elements in my designs during the fall, so I added the tree slabs and in-season flower arrangements to make it a bit more earthy. The pillows and blanket contribute to the coziness of the space, and I brought in the metallic wine glasses for that extra element of sophistication."
When recreating this fall tablescape, Haaf has one piece of advice: tailor it to your comfort. "A romantic date night is all about bringing special moments to even the most basic evening. It doesn't have to be showy or expensive — you can just gather up the throw pillows and blankets from your living room and bring that intimacy outside."
Friendsgiving Dinner
Thanksgiving will look a bit different this year, but that doesn't mean you can't set the table for fewer guests. Take a peek at this pre-COVID Friendsgiving tablescape Haaf designed around a handmade wooden box.
"Since I really like the look of mixed metals and neutrals for the holidays, I took that idea and ran with it when I dreamt up this design," she says. "I saw this cool wooden box centerpiece on Pinterest and couldn't find a similar one anywhere, so I contracted a vendor to replicate it for me. Then I created my own flower arrangement with pinecones, leaves, gourds and candles, which I incorporated with the rest of the table by adding miniature pumpkins to the place settings. I also did a lot of layering to bring out the different metals, including gold beaded chargers with copper chargers on top, then (literally) tied it all together with burlap bows around the chairs."
If you're going to design a more sophisticated Friendsgiving tablescape this year, Haaf says layering is key: "Generally speaking, the more plates you have stacked on top of one another the more formal your place settings will look. Still, I almost always place something decorative on the top plate to add that personal touch."
Colorful Fall Tablescape
Most of us are accustomed to seeing the same yellows, oranges, reds and browns when it comes to fall decor, but Haaf isn't shying away from non-traditional colors in this pastel fall tablescape.
"I'm always looking for ways to mix up my designs, so during a time where traditional fall colors are used (and sometimes overused), I drew inspiration from a painting I have hanging on my wall called 'Pastel Me A Story,'" she explains. "I pulled the blues, pinks and sage green from that piece, as well as the chinoiserie pattern on my ceramics, and had a friend who makes velvet pumpkins create a custom variety in those colors. Every color in a tablescape should be replicated several times, so I added the pink candles and turned the green napkins into little bows on the plates. Then I used the gold beaded chargers, metal silverware and layered plates to elevate the place settings a bit."
The takeaway from this non-traditional fall tablescape? Don't be afraid to experiment. "People tend to have a certain idea of what holiday tablescapes should look like, but there are no rules saying you can't play with the different colors and items you already have at home," Haaf says. "Just start with one element you love — whether that be a pattern, texture or focal point — and let the inspiration come to you."
theeverydayhostess.com instagram: @the_everyday_hostess