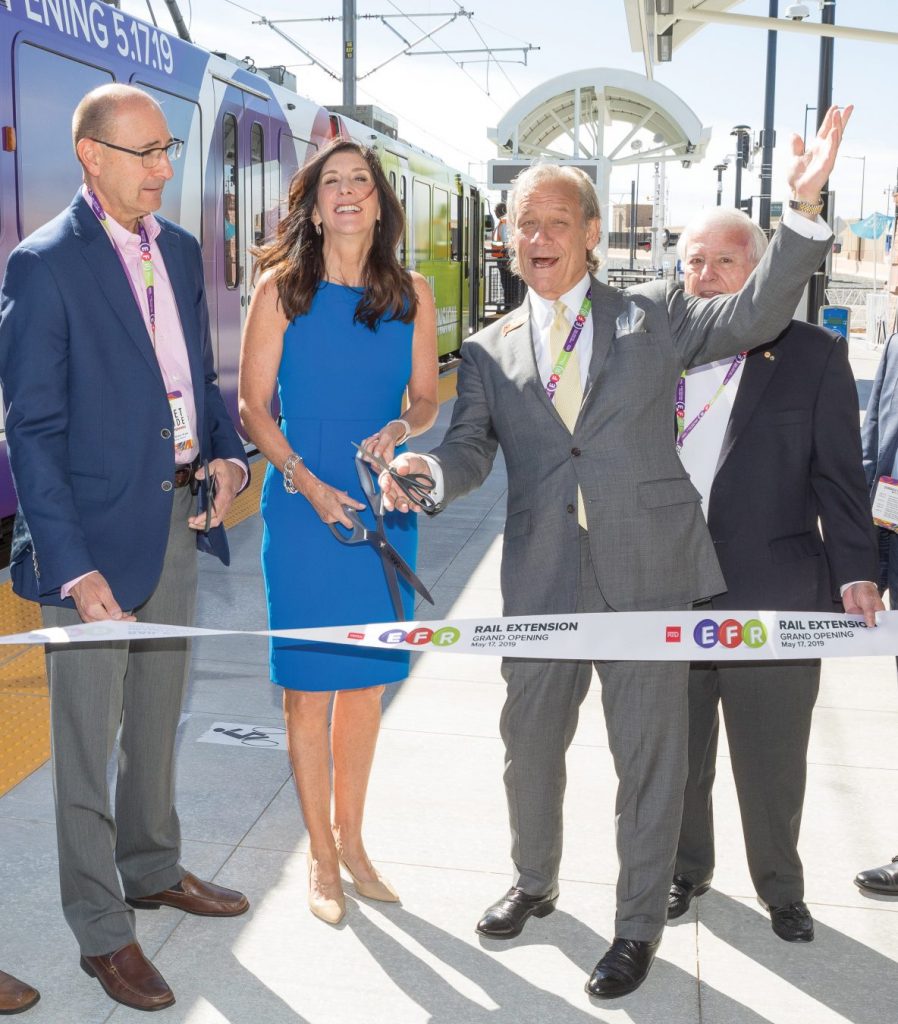 Jackie Millet knew there would be challenges when she began her second term as mayor of the City of Lone Tree, but like all of us, never expected a global pandemic to be one of them. "It was March 16 when my whole world changed. Essentially, everything came to a stop that day in Lone Tree," Millet says. Everything, of course, except Mayor Millet (it rhymes with "ballet").
This is not the first time Millet has waded through office waters amid an unwelcome crisis. "I began getting involved in the city in 2008 in the middle of the Great Recession. We really had to hit the ground running back then. That was a good training ground for this, at least in terms of the financial impact," she says.
So, at the cusp of her second term, Millet stood nonplussed by the difficulties ahead and got right back to work—armed with the know-how that made her a great fit for the job in the first place. An engineer by profession and problem solver by nature, Millet was drawn initially to city government to work on Lone Tree's planning commission. After eight years on city council and four years as mayor, she was sworn in for her second four-year mayoral term in May—during a virtual Zoom meeting.
ONE OF THE FAMILY
"My family says that Lone Tree is my third child. I really feel so blessed that we could put down roots here," she says. Millet moved to Lone Tree when her children, now in their early 20s, were 2 and 4½ years old. But it wasn't until the pandemic shutdown, when the kids returned home from college, that they saw the care that went into governing their 25-year-old sibling.
"I was working at home, too," Millet says. "I had some tough personal conversations with city employees and business owners coping with COVID who were trying to figure out when it was safe to go back to work. I don't think my kids realized until now the full weight of what I do."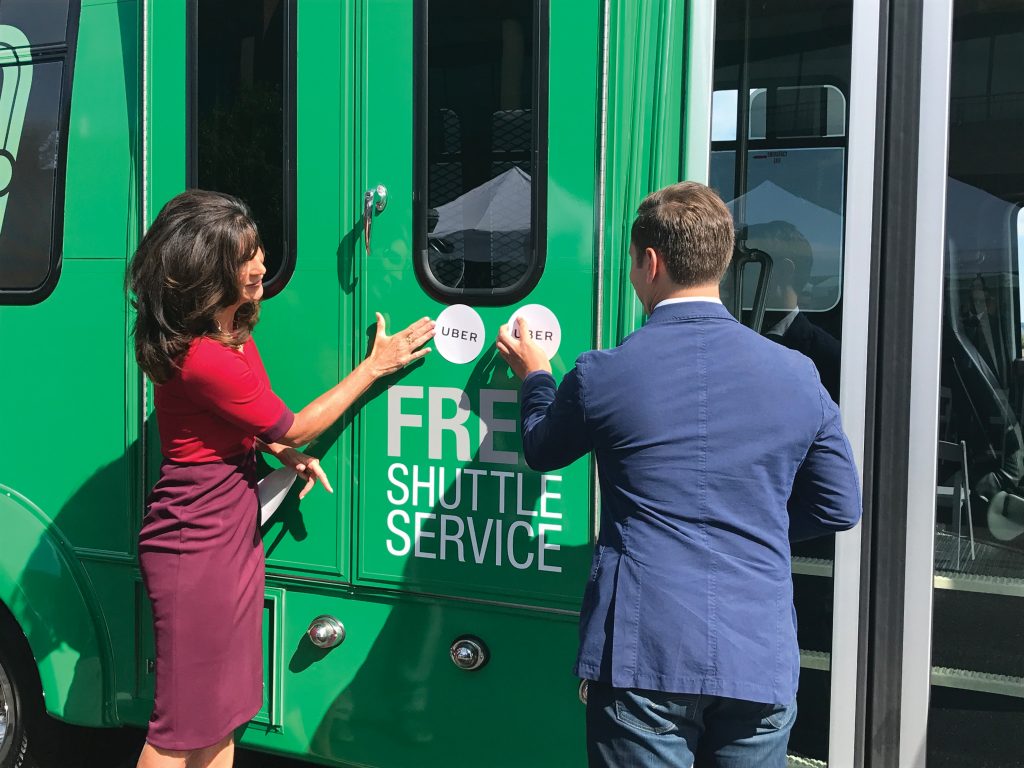 OVERSEEING A RAPIDLY TRANSFORMING CITY HAS BEEN AN ACCOMPLISHMENT
Lone Tree has made impressive strides, Millet says. Not that long ago, the city was unknown to most residents in the Denver metro area. "Then Lone Tree became known for Park Meadows or offices on I-25 with employment opportunities," she says. "Now, we have our own identity. … We're proud of the companies that have chosen to locate or expand here."
Millet has also watched her home grow through her strong focus on transportation planning: "We now have a robust multimodal system with three stops on the RTD Southeast Rail Extension. We also invested in the expansion of E-470. And the system of bike and pedestrian paths continues to expand."
MILLET'S SECRET WEAPONS TO GETTING HERE
The mayor attributes any success she has had to the efforts of the Lone Tree city staff: "We have an assembly of the most talented and productive people in the city's history."
Another key resource is her enthusiastic willingness to sit through long hours of meetings in her leadership roles with the Denver Regional Council of Governments and other organizations. It's all about being in the right place at the right time: "My involvement with these organizations at least puts Lone Tree at the table when decisions are being made," she explains. "If I'm there, I can advocate for the city—as we've seen, problems don't begin or end at any border."
Economic development was always at the top of Millet's agenda, but it's not the only point of pride. She notes the Lone Tree Arts Center's nationally recognized programs and the notable preservation of Schweiger Ranch, which now includes Tall Tales Ranch, a working ranch for adults with developmental disabilities. As a mom, Millet also touts the Teen Court program, which diverts first-time teen offenders and leaves them without a court record. "When I was growing up, the judicial system was more forgiving of teens who did something stupid," she says.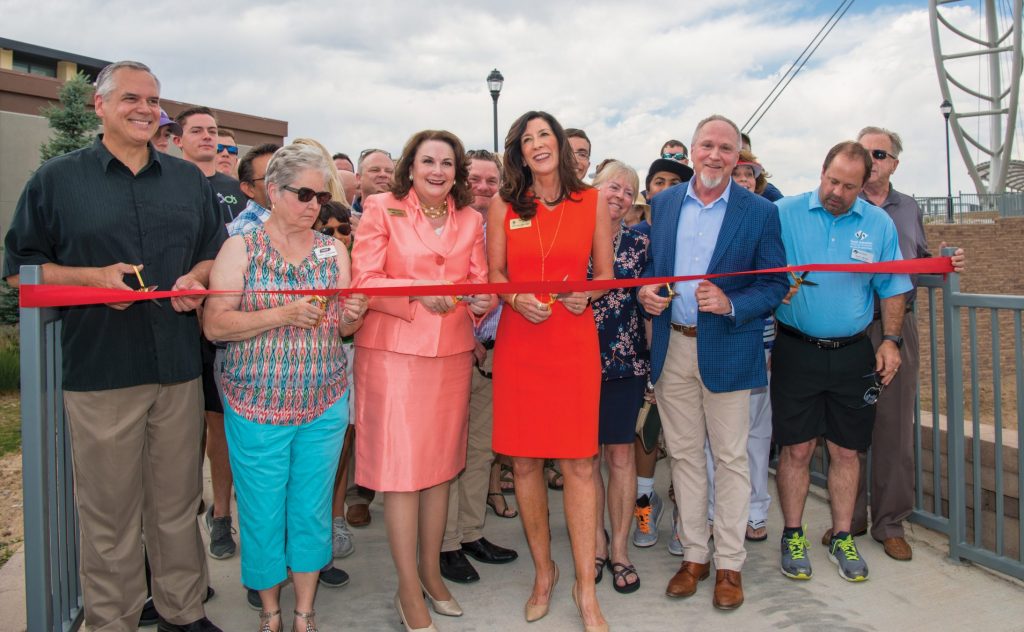 MOVING FORWARD
"We will more than double the population gradually over the next quarter century as the east side of town develops," Millet says. For the mayor, one of the surest signs that Lone Tree has matured thus far as a city is the deep level of community involvement: "There are hundreds of volunteers who make all the commissions, programs and organizations work. It's humbling."
Planning for the future of those organizations, programs and more hasn't stopped despite COVID-19. "I got a note thanking me for making sure everyone wore masks. I got another note telling me that I'm the stupidest mayor ever—and worse—for requiring masks in public places," Millet says. "No matter what, my north star has always been fact-based decision making. We may have more virtual ribbon cuttings for a while, but I'm confident we'll navigate the next few years in good shape."
TELL US MORE
What is the most fun thing you get to do as mayor?
"I have the privilege of welcoming 10,000 Lone Tree guests to our annual Independence Day Celebration. We have quite a party every year and it is a well-loved tradition in our community. Unfortunately, this year's celebration became another casualty of COVID-19."
What are you reading this summer?
"The Jesuit Guide to (Almost) Everything by James Martin, SJ—given these turbulent times I very much appreciate the focus on spirituality."
What are your favorite takeout cuisines and dishes?
"I love the array of dining and takeout options in Lone Tree, so it's hard to pick! However, since I love Indian food and sushi—and find them challenging to make at home—I'd say those are my favorite takeout orders. I also enjoy a beautiful grilled piece of salmon."
What's your favorite Colorado summer destination (outside Lone Tree)?
"We head to the mountains to hike during the summer. Steamboat Springs and Telluride are favorite spots. There are some beautiful places in Douglas County for day hikes, too."
What is your favorite form of chocolate?
"Salted dark chocolate caramels—yummy!"