Local retailers make gifting fun and easy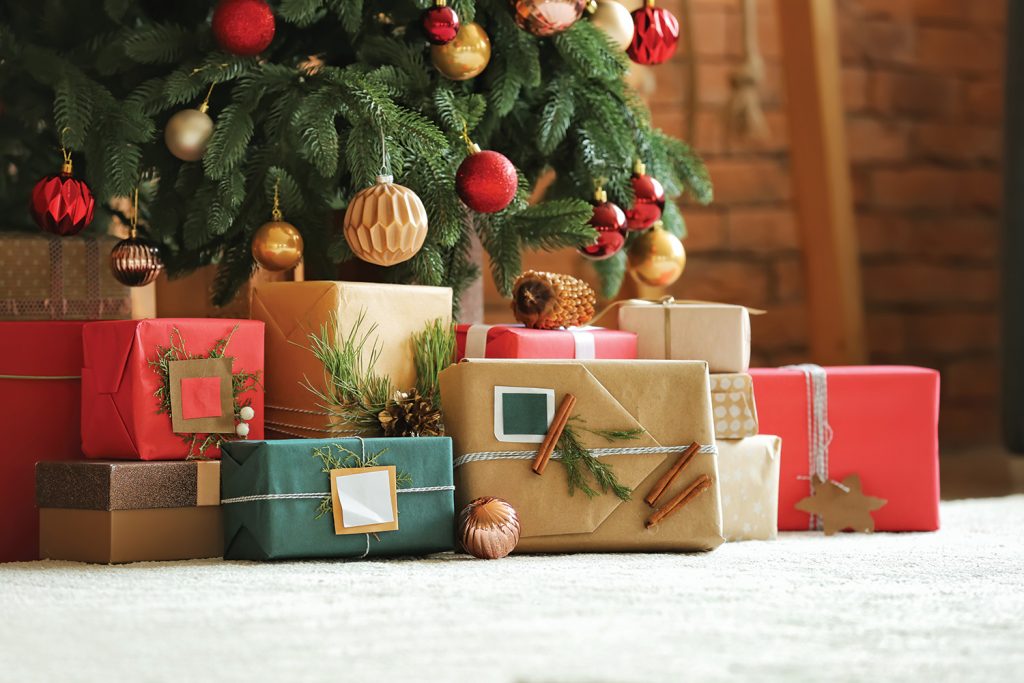 The loved ones in your life are in for a treat this year! We've curated gift ideas for all your favorite people. From the sports fan to the reader, the athlete to the creative—and everyone in between—you'll find the perfect presents for delivering holiday joy throughout the season.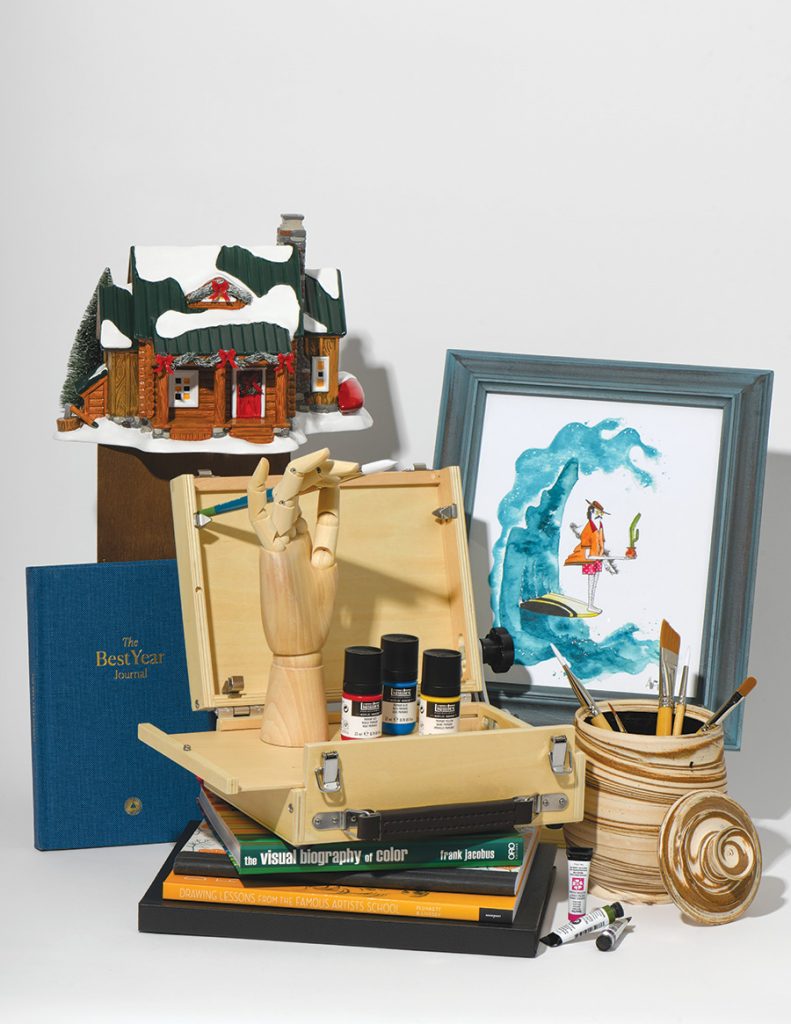 The Creative
Driven by urge to create beautiful things, this person can never have too many supplies or sources of inspiration.
Guerilla Painter ThumBox 6×8, $111; Daniel Smith Jean Haines' Master Artist Set, watercolor tubes, $65; Liquitex Acrylic Gouache Primaries Set, $28; Jack Richeson & Co. Wooden 10˝ Female Right-Hand Manikin, $41; Art books: The Visual Biography of Color, $35; Drawing Lessons from the Famous Artists School, $25; Decomposition Book (blank book), $10; Canson Hardbound Sketch Book, $14; Paint brushes, $3–6 each; Guiry's. Handmade pot for paint brushes by Gabby Kelly, $40; Watercolor painting by Allan Thomas, $75; Tulip Gifts and Cards. The Best Year Journal, $22, PaperSource. Country Living Holiday Collection Pine Ridge Cabin, $150, St. Nick's Christmas Store.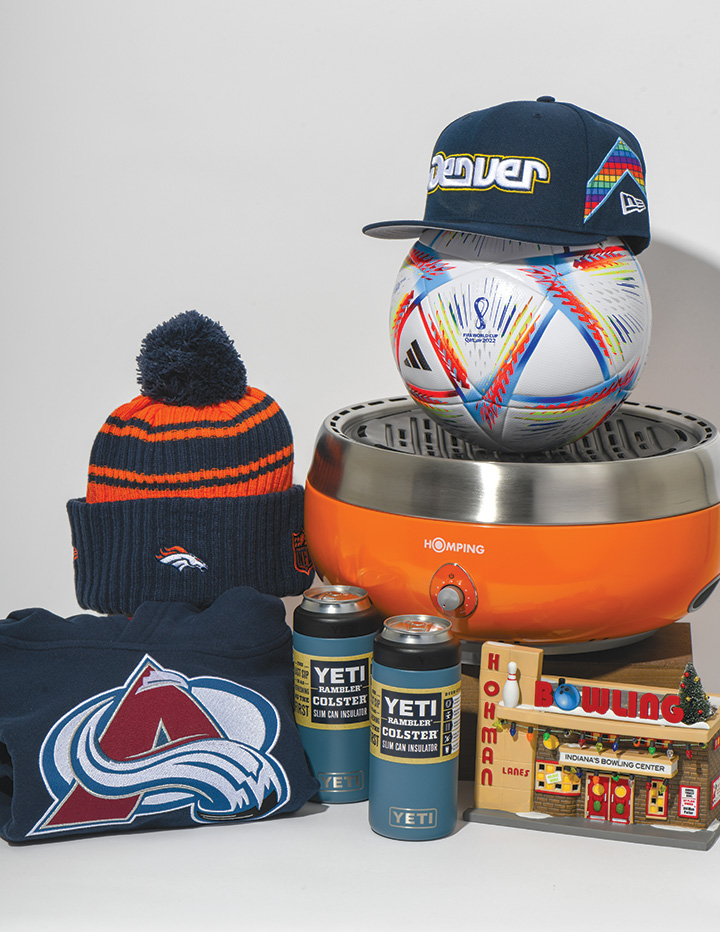 The Sports Fan
Let the tailgating begin for whatever sport(s) this fan loves.
Broncos knit, fleece-lined stocking hat, $34; Avalanche prime fleece pullover hoodie, $45; New Era Men's 2021-22 City Edition Denver Nuggets blue 59Fifty fitted hat, $42; Adidas FIFA World Cup Qatar 2022 Al Rihla training soccer ball, $30; Dick's Sporting Goods. Rambler 12oz. Colster Slim Can Cooler, $25 each, Yeti. Homping Grill: UltimatePortable Charcoal BBQ Grill in orange, $199, Amazon. A Christmas Story Village Hohman Lanes Bowling Alley, $108, St. Nick's Christmas Store.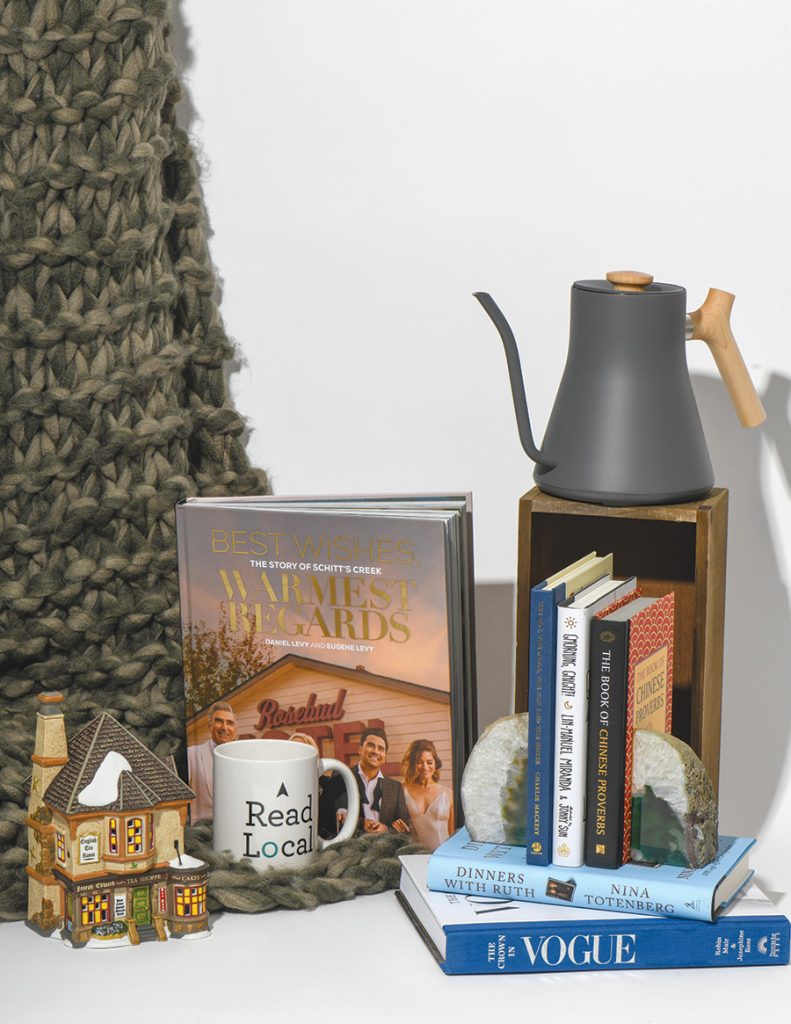 The Reader
What reader would resist a crisp winter eve cuddled up with a favorite book?
Agate bookends, $55, West Elm.Fellow Grey Stagg Kettle with wooden handle, $195, Crate & Barrel. Read Local mug, $12; Books: The Boy, The Mole, The Fox and The Horse, $23; Best Wishes, Warmest Regards: The Story of Schitts Creek, $40; GMorning, GNight!, $22; Book of Chinese Proverbs, $15; Dinners with Ruth, $28; The Bookies.Chunky hand-knit throw, $149, Pottery Barn. The Crown in Vogue, $30, Waterstones. Dickens' Village Series Joseph Edward Tea Shoppe, $100, St. Nick's Christmas Store.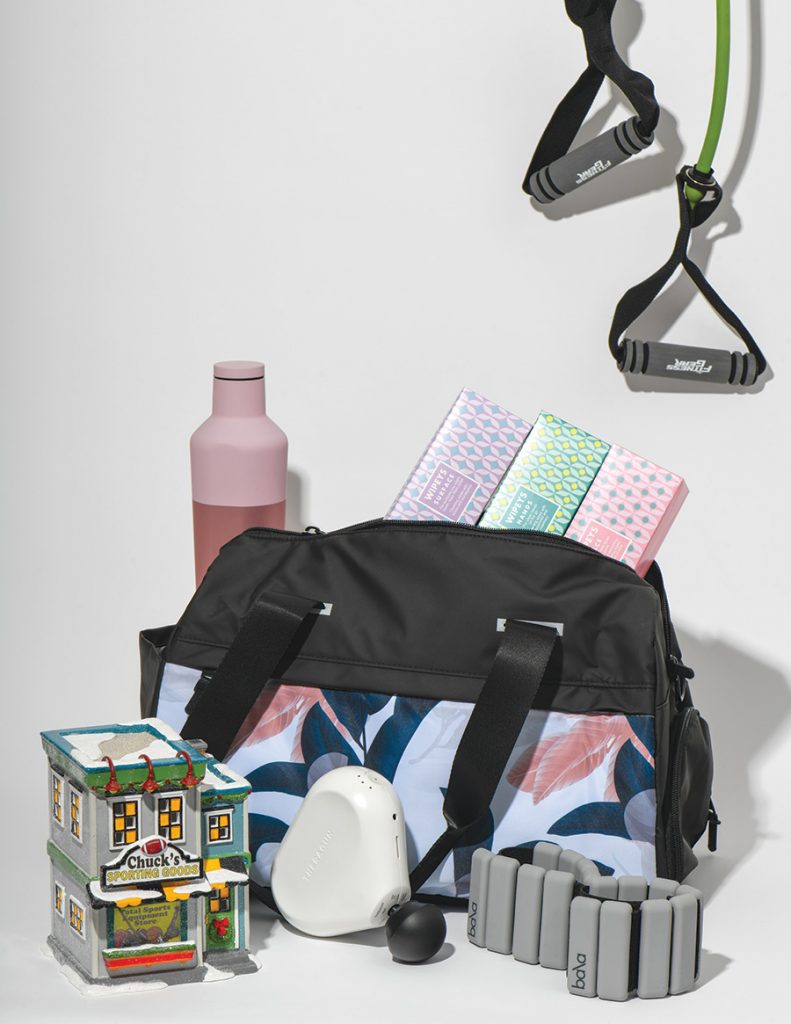 The Athlete
All the staples your favorite athlete needs to work up a sweat.
Vooray Trainer Duffle, water-resistant gym bag with shoe compartment and wet-gear pocket, $70, Vooray. Bala Bangle Classic wrist weights, $65, Athleta. Therabody Theragun Mini, $200; Fitness Gear Resistance Tubes, $17; Dick's Sporting Goods. Corkcicle 16oz. Canteen, pink two tone, $25, PaperSource. Peanuts Chuck's Sporting Goods, $159, St. Nick's Christmas Store. Wipeys biodegradable, non-toxic and all-natural antibacterial wipes, $24/box, Wipeys.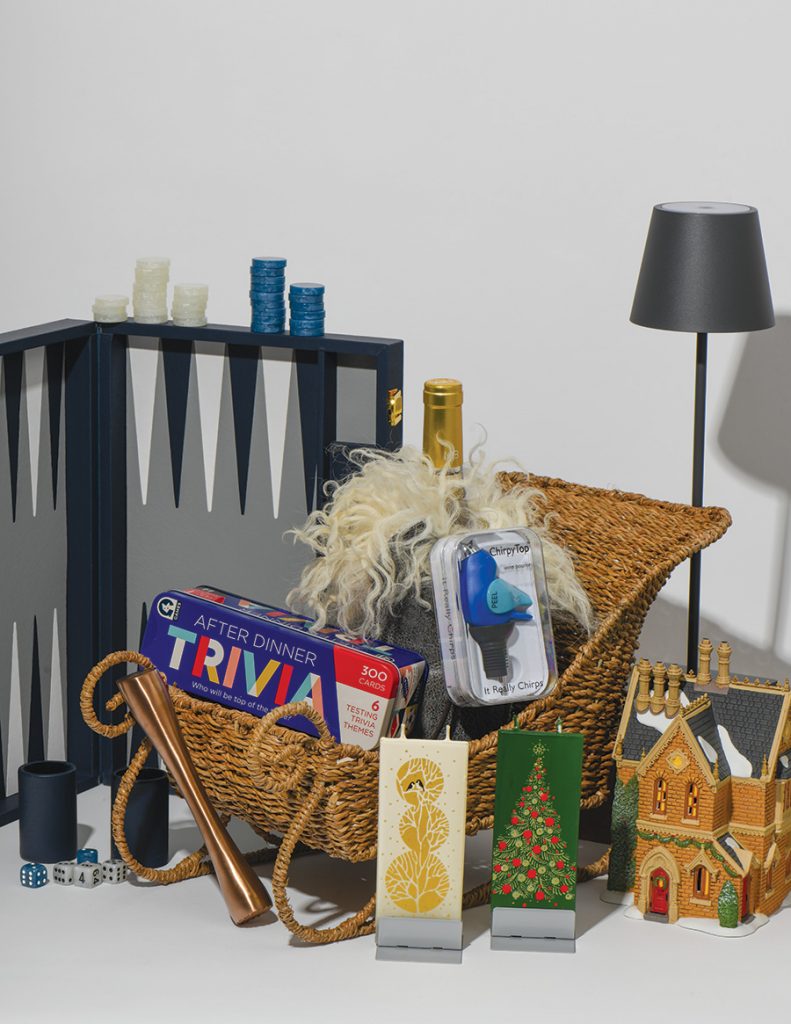 The Everyday Host
You know the one—always having friends over for wine and game night.
Woven Sleigh centerpiece, $88; Copper muddler, $14; Poldina Pro 15˝, dark gray, rechargeable lamp, $179, T is for Table. Leather Backgammon set, $169, Mark & Graham. Kywie Amsterdam wine chiller, $145, Hygge Life. Sun Goddess by Mary J Blige Pinot Grigio Romato 2021 750ml, $20, Heritage Wine & Liquors. Flatyz hand-painted candles, $19 each; Chirpy Bird Top wine pourer, $30; Tulip Gifts and Cards. After Dinner Trivia, $21, The Bookies. Dickens' Village Series Covent Garden Manor, $165, St. Nick's Christmas Store.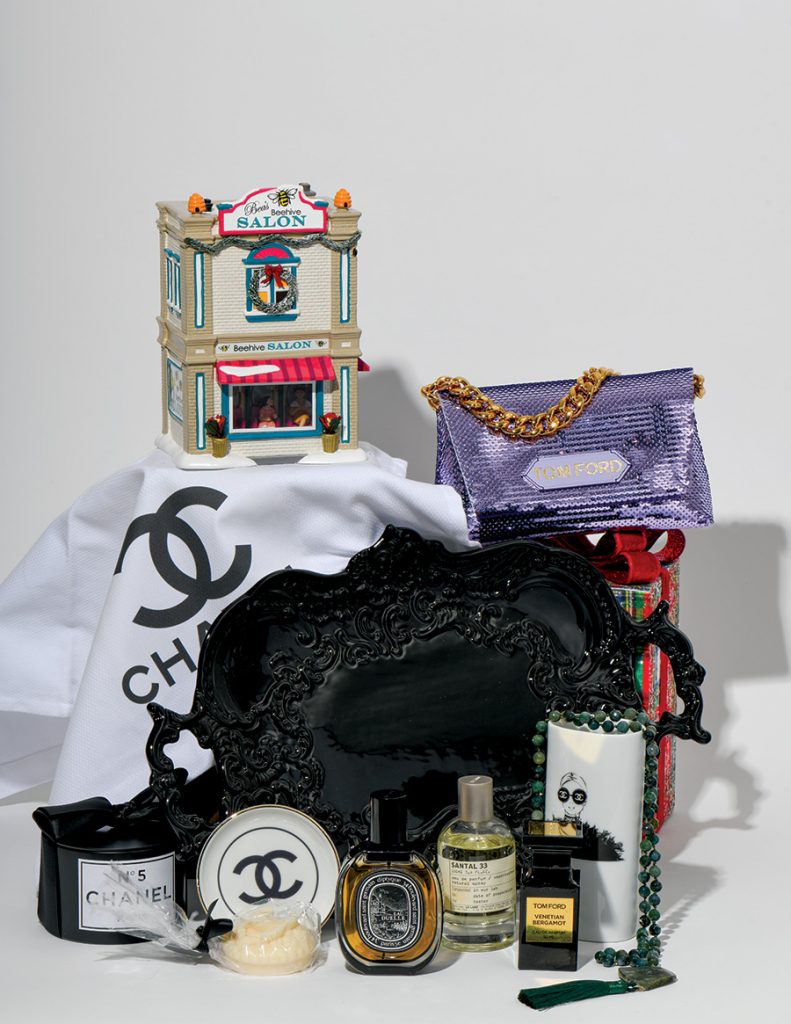 The Woman Who Has Everything
There's always that one woman who is so hard to buy for … no worries, we've got her covered.
Finezza Baroque black tray, $126; Chanel fashion tin candle, large, $60; Chanel Hidi bud vase, $34; Chanel soap, $22; Chanel trinket tray with gold edge, $126; 10˝ plaid package, large, $26; T is for Table. Mala beads necklace by Loki, $75; Tulip Gifts and Cards. Tom Ford label chain mini sequin evening bag, $1,690, Nieman Marcus. Tom Ford Venetian Bergamot Eau De Parfum 50ml, $285; Le Labo Santal 33 Eau De Parfum 3.4 fl.oz., $310; Diptyque Eau Duelle Eau de Parfum 75ml, $205; Nordstrom. The Original Snow Village Bea's Beehive Salon, $240, St. Nick's Christmas Store.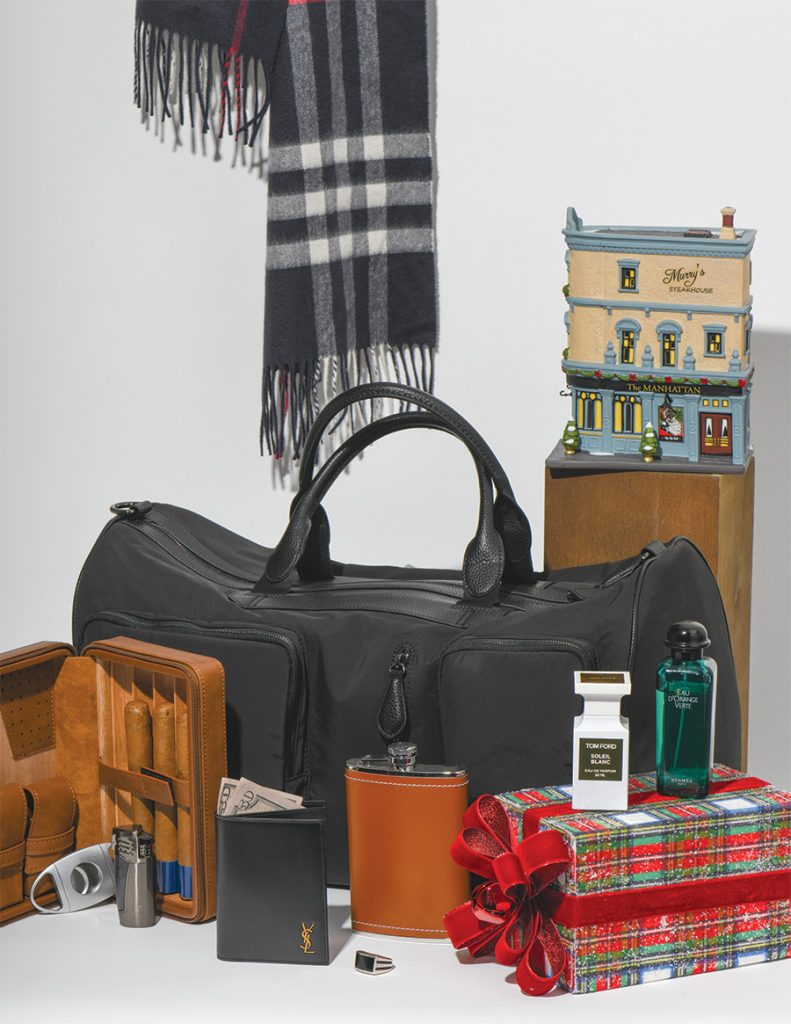 The Man Who Has Everything
He never "wants" for anything, but we've gathered some gifts he'll love, nonetheless.
Ted Baker London Holdall weekend duffel bag, $265; Tom Ford Soliel Blanc Eau De Parfum 50ml, $285; Nordstrom. David Yurman black onyx, streamline bevelled signet ring, $595; Men's Saint Laurent (YSL) wallet, $375; Nieman Marcus. Travel cigar humidor, $88, Stanley Pappas Fine Cigars. Flask 80oz., stainless steel and tan leather, $52; 10˝ plaid package, large, $26; T is for Table. The Classic Check Cashmere Scarf, $520, Burberry. Hermès Paris Eau D'Orange Verte Eau De Colonge 3.38 fl.oz., $142, Hermès. The City Collection: The Manhattan, $172, St. Nick's Christmas Store.
RESOURCES
Amazon, amazon.com 
Athleta, Park Meadows
303.708.8504; athleta.gap.com 
The Bookies, Denver
303.759.1117; thebookies.com 
Burberry, Cherry Creek Shopping Center
303.388.2700; us.burberry.com 
Crate & Barrel, Park Meadows
303.649.9922; crateandbarrel.com 
Dick's Sporting Goods, Park Meadows 720.479.0600; dickssportinggoods.com 
Guiry's, Centennial
303.770.2572; guirys.com 
Heritage Wine & Liquors, Centennial
303.770.8212; heritagewineandliquor.com 
Hermès Denver, Cherry Creek Shopping Center
303.388.0700; hermes.com 
Hygge Life Shop & Café, Avon
970.331.5745; hyggelife.com 
Mark & Graham, markandgraham.com 
Nieman Marcus, Cherry Creek Shopping Center
303.329.2600; neimanmarcus.com 
Nordstrom, Park Meadows
303.799.3400; nordstrom.com 
PaperSource, Cherry Creek North
720.828.5910; papersource.com 
Pottery Barn, Park Meadows
303.792.2136; potterybarn.com
St. Nick's Christmas Store, Littleton
303.798.8087; stnicks.com 
Stanley Pappas Fine Cigars, Greenwood Village
303.792.2519; stanleypappas.com 
T is for Table, The Shops at SouthGlenn
303.347.9988; shoptisfortablecolorado.com 
Tulip Gifts and Cards, Welshire Plaza
303.757.22678; tulipgiftsandcards.com 
Vooray, vooray.com 
Waterstones, waterstones.com 
West Elm, Cherry Creek North
303.320.1001; westelm.com 
Wipeys, travelwipeys.com 
Yeti, Cherry Creek North
720.204.2041; yeti.com