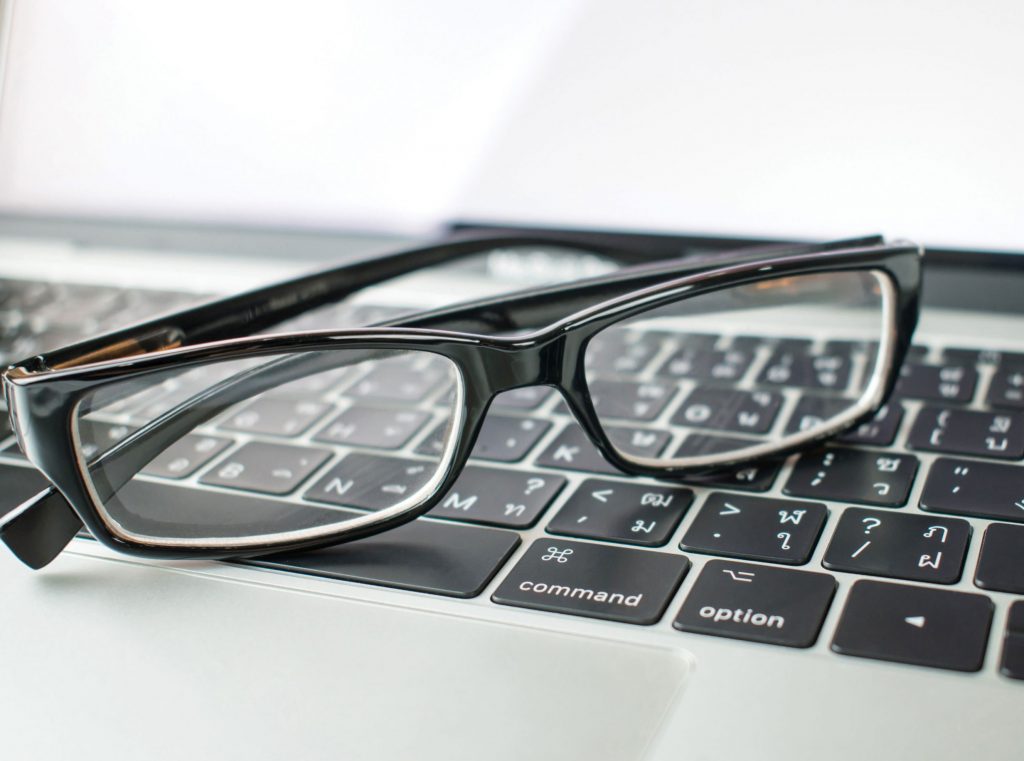 The fact of the matter is your phone, tablet and computer screen is keeping you up at night. Multiple studies show that artificial blue light (or high-energy visible light that comes from sources besides sunlight, if you want to get technical) emitted from technology can reduce the duration and quality of sleep, and cause you to wake up more frequently in the middle of the night. Blue light also contributes to digital eye strain and can cause afternoon headaches, dry eyes or blurry vision.
When it comes to reducing the effects of blue light, things gets murky when you begin browsing blue-light-blocking glasses. Some early adopters claim the newly popular eyewear treatment, which can be used for prescriptive and non-prescriptive specs, is a life changer. Others (including some scientists) say the accessory's usefulness is a myth. Most are still just trying to figure out what to shop for. Optician Charlotte Mattox from Castle Rock EyeWear is here to ease the learning curve.
ALMOST EVERYONE IS A CANDIDATE FOR BLUE LIGHT PROTECTION
Limiting your screen time is objectively the best way to combat the problem, but that is often easier said than done. "Lenses will protect to a varying degree," says Mattox, but they cannot protect from all of it. Mattox insists on blue-light lenses if you spend eight hours or more in front of screens per day.
WHAT TO LOOK FOR WITHOUT A PRESCRIPTION …
All blue-light-blocking lenses are going to have a tint. That tint directly correlates with the amount of blue-light waves blocked—generally, somewhere between 30 to 90 percent. According to Mattox, light yellow shades will do an alright job, but the real winner is a dark orange or amber lens.
… AND WITH A PRESCRIPTION
The goal, says Mattox, is to find a lens that will block the greatest amount of blue light, provide all necessary vision correction and have a tint that is tolerable to the wearer. Just like non-prescription lenses, orange and amber are going to offer the most protection. Fun fact: If you opt for an anti-reflective lense coating (the optician says most people do), there may already be some blue-light-blocking properties in your specs.
DO THE GLASSES LOOK GOOD?
As far as frames for Rx-wearers go, choices have blossomed. Mattox recommends Gunnar and, for more style options, a brand like eyebobs, where glasses can be special ordered without a formal prescription. For some people, the lens color can be a real deal breaker.
IF YOU CAN'T STAND TINTED SPECS, KNOW THERE ARE OTHER SUPPOSEDLY HELPFUL TOOLS OUT THERE
Utilize filters built into your devices to automate the amount of blue light you are seeing. Just head to your devices' display settings and look for something like "Night Mode" or "Night Shift." The setting can be left on indefinitely or timed to turn on and off with sunset and sunrise. This can be an even better practice for kids. There are also screen protectors for all devices from brands like EyeJust or Ocushield that are said to filter blue light without distorting screen color.
SEE CLEARLY NOW
Castle Rock EyeWear
The Village at Castle Pines
303.663.2034