Photos by Paul Winner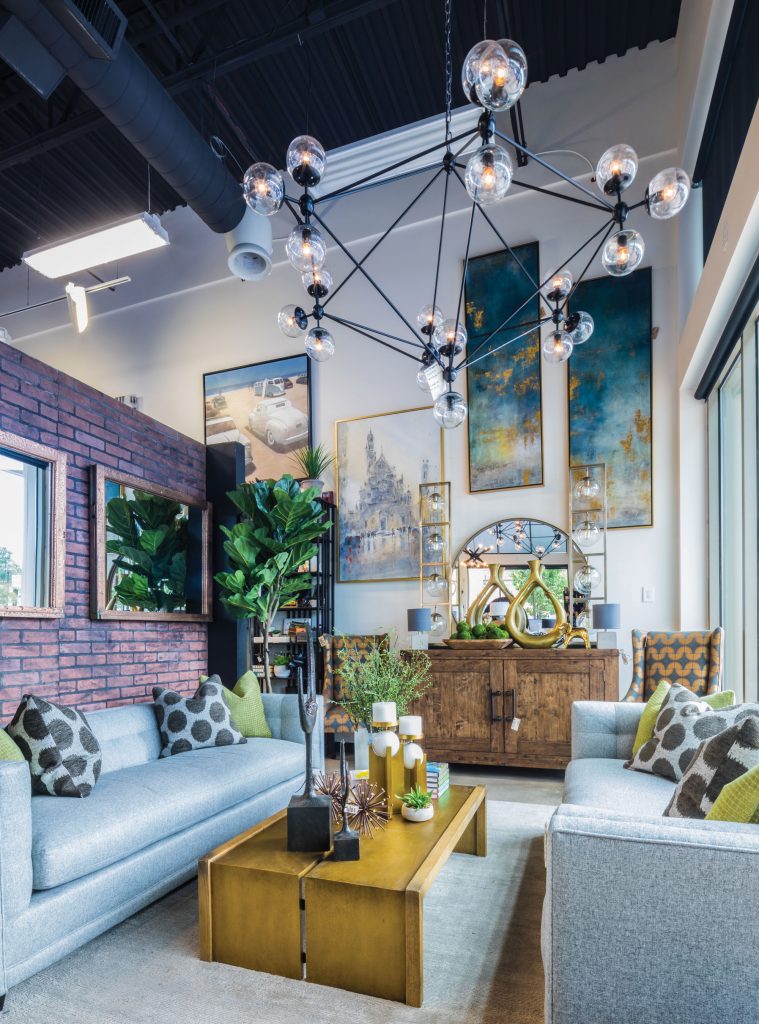 Decorating (or redecorating) the house is never as easy as it seems. To make a space unique—with pieces you haven't seen at a friend or family member's house and that aren't copied straight out of a lookbook—takes time and a knack for discovery. The mother-daughter duo behind lulu's furniture and decor, thankfully, know a thing or two about both.
Christy Vranesic Brant (mother) and Caitlin Marsh (daughter) have filled their revered boutique, which moved into the Cherry Hills Village area (and a bigger storefront) last year, with rare, distinct home pieces for more than a decade. We asked them to share some of their searching secrets.
SEEK OUT SOLID SHOPS
The best way to find hidden gems is through word of mouth, says Marsh: "I always look for local shops because you know they're not corporate and will most likely have different items."
In other words, keep away from big box stores. "Nothing there is going to be unique," says Marsh. Brant and Marsh prefer designated markets for furniture and gifts (their favorites are in New York) and estate sales, in addition to local artisans.
"A lot of bloggers are in-the-know on cool places off the beaten path, too," says Marsh. Start with Denverdweller.com, who put out a list that Marsh recommends.
One more thing: "Avoid the internet," says Brant. "Everybody has access to all that stuff all the time."
SHOULD WE TRY TO WORK DIRECTLY WITH A DESIGNER OR CRAFTSMAN?
Absolutely, says the pair. "As a consumer, if you are not design-oriented nor good with spatial planning, don't have spare time or just don't know what you're doing, then I would absolutely work with someone who does," says Marsh.
KNOW THE DIFFERENCE BETWEEN A GOOD ANTIQUE AND A BAD ANTIQUE
It can be really hard to spot a bad buy unless you're in the business, says Marsh, so be wary. "Ever since American Pickers came out and it became cool to 'reclaim' and 'repurpose' things, prices have gone way up and authenticity isn't like it used to be," Marsh warns. If you aren't sure about an item, compare prices and information at multiple shops. A good place to start? Watson and Co. on South Broadway in Platt Park. "They know what they are doing and have great pieces," Marsh adds.
DOES UNIQUE HAVE TO MEAN ECLECTIC?
What is unique is going to depend on you and your style. No matter what, just start with pieces you love when designing a room, says the duo. For some, starting with the "bones" of the room—the bigger staple pieces like a sectional in a family room or table in a dining room—is easiest.
Overall, don't purchase too many matching pieces, such as an identical love seat and sofa. Mixing up patterns and colors creates a fun aesthetic.
BE OK WITH WALKING AWAY
Don't be discouraged if you can't find the best piece right away; keep looking. "The right piece is out there, don't opt for something that you don't really like," says Marsh.
ALSO, SAY NO TO TRENDS
You are, after all, looking for unexpected pieces. "Talk to people with a style you like and get their two-cents [on what they avoided]," Marsh advises. Overall, Brant and Marsh recommend saying no to barn doors, rug-layering, shiplap and industrial-farmhouse and farmhouse-chic looks.
GO TO THE PROS
lulu's furniture and decor
Kent Place
303.756.2222