By Lisa Truesdale
Photography Courtesy of Cheyenne Mountain Zoo

How Cheyenne Mountain Zoo's ONGOING CONSERVATION EFFORTS are making a difference for
endangered animals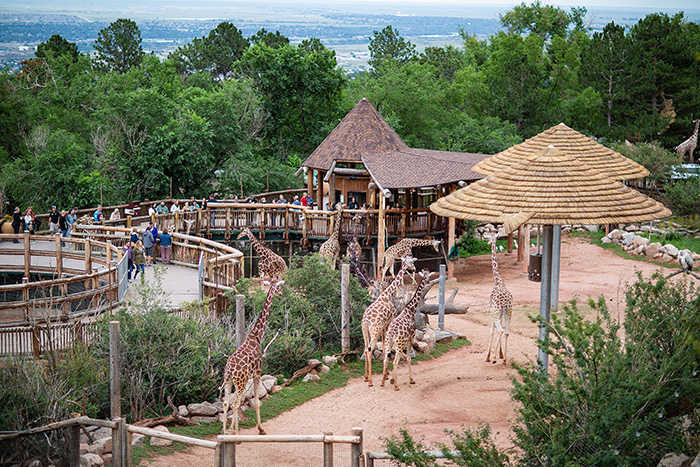 In July 2020, an adorable new resident arrived at Cheyenne Mountain Zoo in Colorado Springs via FedEx cargo flight. Spindly legged and wobbly kneed, the eight-week-old baby moose had been orphaned in the wilds of Alaska at just six days old and sent to The Alaska Zoo in Anchorage.
"The Alaska Zoo reached out to us because they knew we had room and the right habitat," says Rachel Wright, Cheyenne Mountain Zoo's public relations manager. "Miraculously, the timing worked out, and it was bittersweet, because we had lost our thirteen-year-old moose to old age just weeks before that."
Atka, celebrating his second birthday this month (May 2023), is just one of the brightest stars at the zoo, which is perched on a mountainside south of The Broadmoor. "It's so fulfilling to know that we could give Atka another chance," Wright says. "I didn't know I loved moose until I met him, but he's an absolute joy."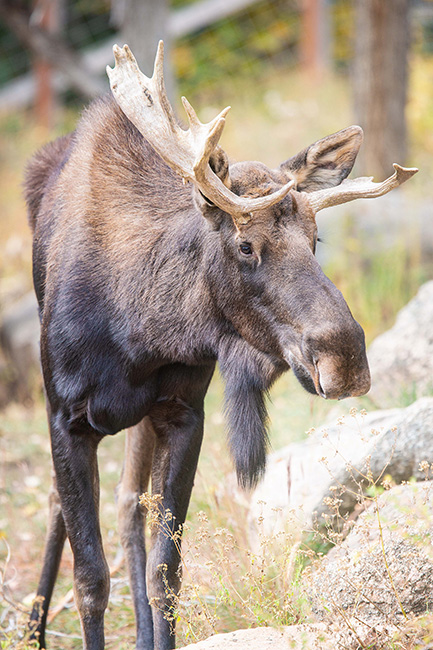 Of the more than 5,300 establishments in the U.S. that call themselves a zoo or aquarium, the nonprofit Cheyenne Mountain Zoo is one of only about 230 to be accredited by the Association of Zoos and Aquariums. AZA accreditation means an institution has consistently met rigorous standards regarding the care of animals, education, science and wildlife conservation. Cheyenne Mountain Zoo consistently exceeds AZA's standards, yet conservation is where it really stands out, and what has earned it the respect of other zoos around the country.
One ongoing conservation project involves endangered Mexican wolves. "They're one of the species now recovering in the wild, thanks in part to zoos," says Wright. "We participate in a species survival plan with U.S. Fish and Wildlife. They monitor packs of wild wolves, and when a litter is born in the wild, if the
timing is right, we or another participating AZA zoo can introduce zoo-born babies into the wild, and the mom adopts them." The ultimate goal, she explains, is that when those babies grow up, since they have a different lineage, it strengthens the genetics, so the entire species can thrive and be more diverse. Other successful programs help reintroduce endangered black-footed ferrets and Wyoming toads into the wild in the U.S., and help protect Amur tigers in the Russian Far East.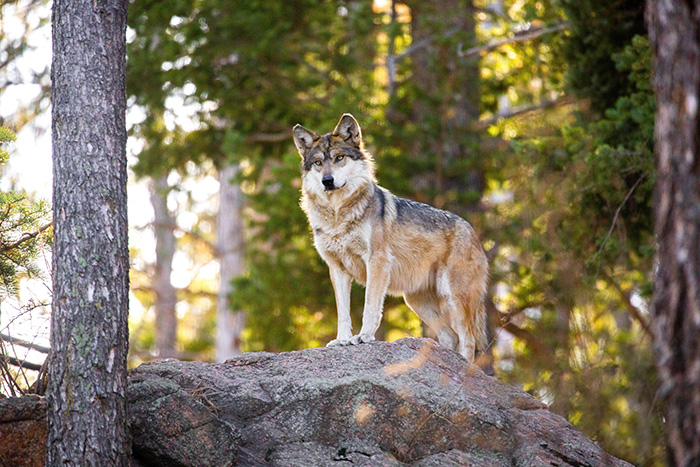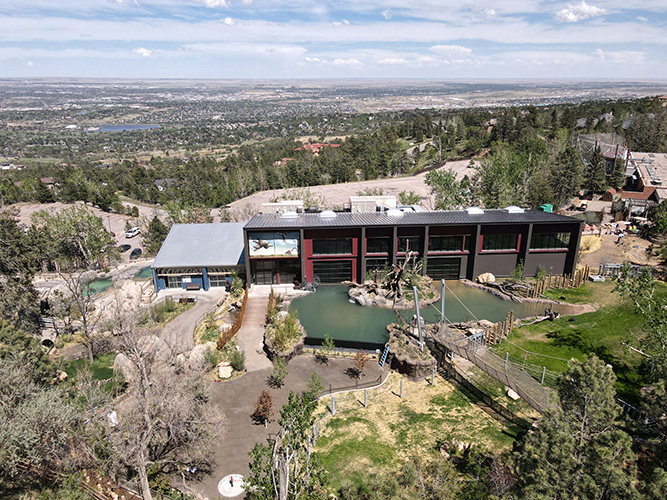 Plus, the zoo is just fun to visit, as its 20,000 or so member households (and hundreds of thousands of other visitors annually) can attest to. In fact, this year, Cheyenne Mountain Zoo was voted No. 4 Best Zoo in North America and its Rocky Mountain Wild was named No. 2 Best Zoo Exhibit in North America by USA TODAY 10Best Readers' Choice Awards. While observing the zoo's wildly diverse animal population of rare, iconic, native and endangered species—like grizzly bears, African penguins, gorillas, leopards, hippos and a 17-member giraffe herd—visitors can also actively participate in the zoo's conservation efforts.
May through October, elephant or giraffe feedings are available for a small fee. "Elephant feedings help support our frontline partner in Kenya, working to protect the African rhinos and big-tusker elephants," Wright says.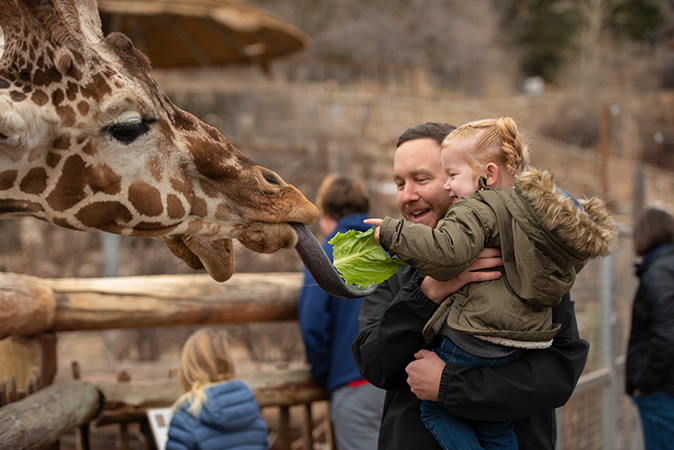 For the Quarters for Conservation (Q4C) program, each visitor is given three tokens they can use to "vote" for their favorite projects (and also throw in some loose change if they wish). "There are big colorful kiosks in the entrance plaza," explains Wright. "As you visit the animals, listen to keeper talks and read the signage throughout the zoo, you can decide which projects inspired you the most, then put your tokens in the kiosks representing those conservation efforts." Q4C has raised more than $4 million since its inception in 2008, and it's an effort that has since been adopted by other zoos.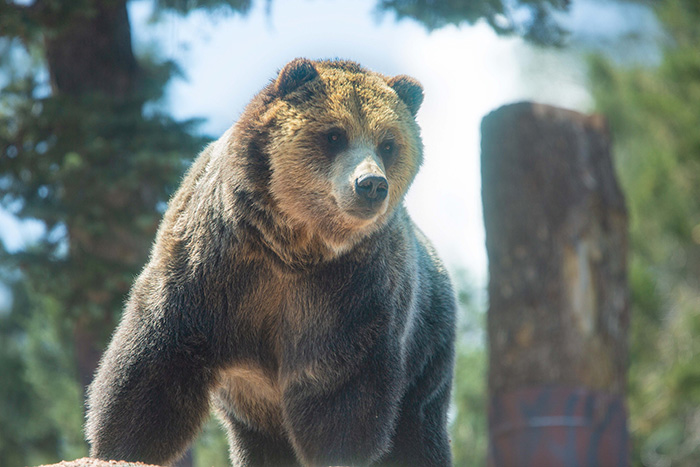 The zoo is also passionate about educating consumers about the dangers of non-sustainable palm oil, used in popular products like cookies, crackers, shampoo and pet food. It can be harvested sustainably, but when it's done non-sustainably, it contributes to the destruction of millions of acres of rainforest in Borneo and Sumatra, home to Sumatran, Bornean and Tapanuli orangutans. "Last year, we released a free international mobile shopping app," says Wright. "You can just scan a barcode and see if that company is using sustainable palm oil. If they aren't, you can choose a different company that is."

Although the staff is sometimes subjected to anti-zoo sentiments, Wright says they know how to answer the skeptics.
"We understand it, but it's an outdated view of modern zoos," she says. "If you want to know that you are spending money supporting a worthwhile organization, make sure they are AZA-accredited, like we are. As soon as you walk into the zoo, we're encouraging you to get into the conservation mindset. And just by visiting, you're making a big impact.
Cheyenne Mountain Zoo
4250 Cheyenne Mountain Zoo Rd.
Colorado Springs
719.633.9925
cmzoo.org

Advance tickets are required, and some days sell out.