There is perhaps nothing better than a fresh Colorado peach from our farmer's markets. They make the perfect backdrop for cool and bright warm-weather mocktails and frozen treats.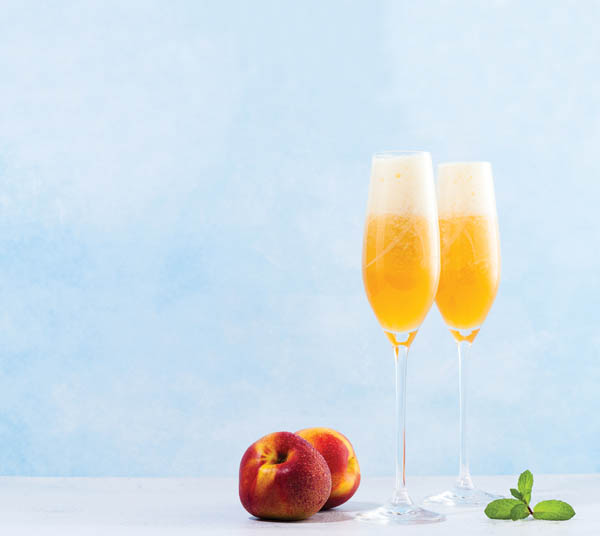 Sober-Style Peach Bellini
The Bellini champagne cocktail dates somewhere between the 1930s and 1940s, by the Giuseppe Cipriani, the owner of Harry's Bar in Venice, where the likes of Ernest Hemingway, Truman Capote and Orson Welles frequently hung out. Anywhere grapes grow well, so do peaches, which means like Colorado, Italy has an abundance of the fruit in summertime. Cipriani was enamored by Italian peaches and the 15th century Venetian painter Giovanni Bellini. He captured his love for both in the cocktail made from peach purée and Venetian prosecco, named for the artist. We've dried out the recipe here for non-drinkers. But the base is the same whether you use non-alcoholic or traditional prosecco. Makes 4-6 drinks.
INGREDIENTS
2 fresh ripe Colorado peaches
Chilled sparkling dry Prosecco*
Method
Peel and pit peaches. Place in blender and puree. Add 1-2 Tablespoons peaches to the bottom of each champagne glass. Top with dry Prosecco.
*We recommend Gruvi's Dry Secco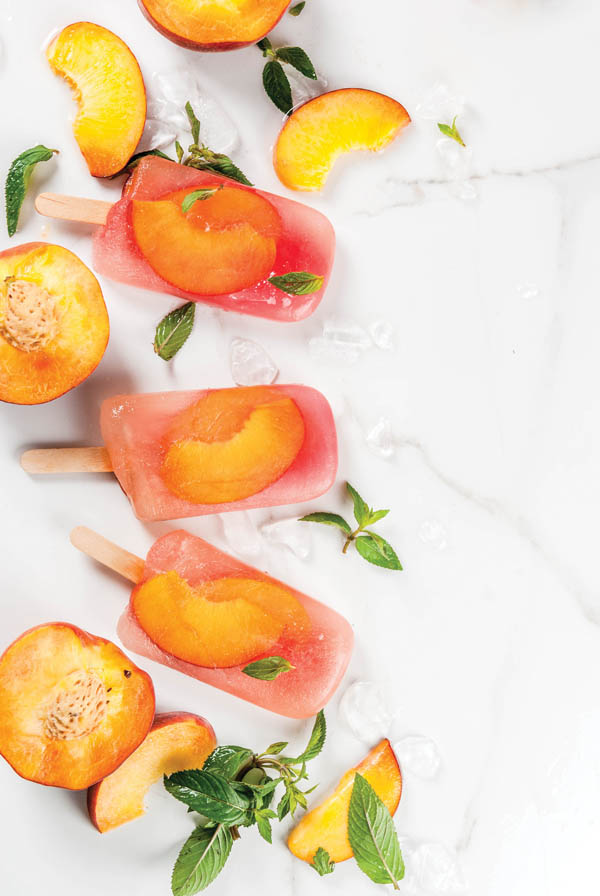 Peach Dry Lemonade or popsicles
INGREDIENTS
3 ½ cups water, divided
3 ripe peaches, pitted, peeled and chopped
¾ cup to 1 cup sugar (less if peaches are very sweet)
¾ cup lemon juice
Mint or basil garnish
Method
Place 2 cups water in a saucepan. Add chopped peaches. Bring to a boil and take the heat down to a simmer for 8-10 minutes. Purée in a blender and cool.

Place remaining water, lemon juice and peach purée in a pitcher. Serve over ice with garnish.
For popsicles, pour lemonade into molds and freeze until firm.
N/A, You Say?
AWAKE is America's first, full-service, sober bar. The menu is comprised entirely of non-alcoholic dry beverages, including beers, wines and
mocktails. It also has a bottle shop where you can stop by to purchase just about any non-alcoholic beverage available. For the Peach Bellini, we chose Gruvi's bubbly, non-alcoholic Prosecco (called Dry Secco). It's made with handpicked wine grapes and has a semi-dry, tart and floral finish.
AWAKE
2240 Clay St., Denver
720.379.7665; awakedenver.com