By Kathryn O'Shea-Evans
For many Coloradans, the secret to surviving "safer at home" with their sanity intact was sipping a topnotch cocktail. AvidLifestyle turned to local bar experts — including a designer, beverage caterer and even a Sicilian sommelier — to suss out what exactly you need to live your best bar life, from accoutrements to Colorado's own tipples. Here's, advice we'll cheers to.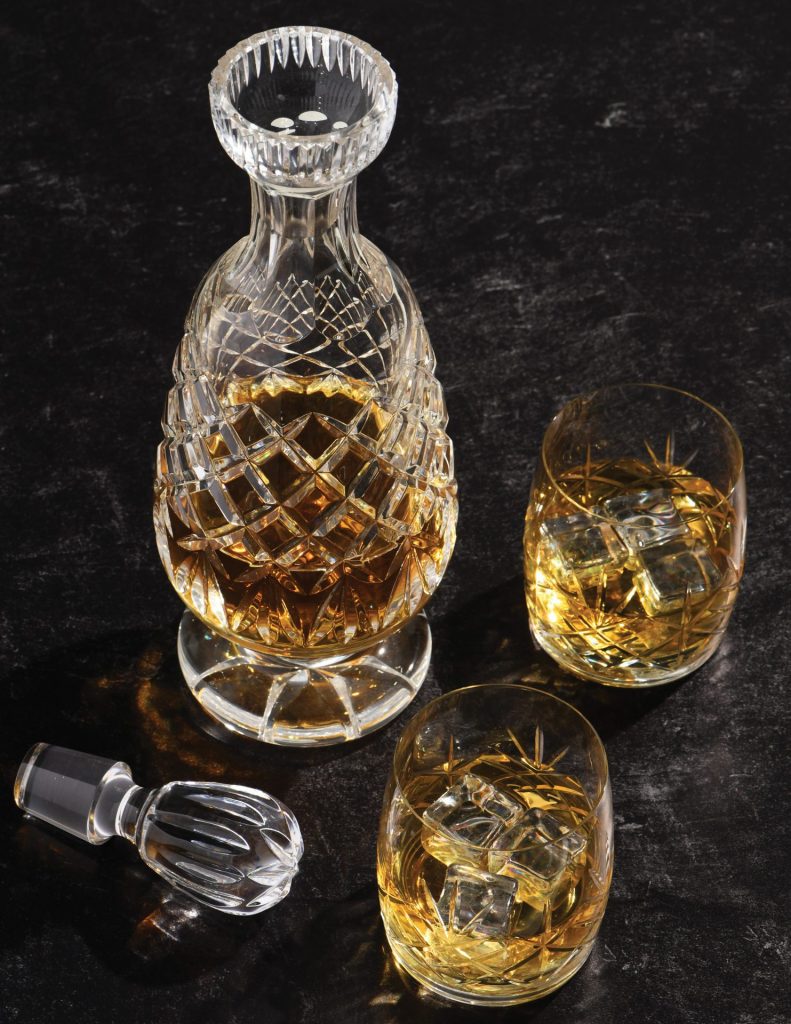 Step 1: Build Your Dream Bar
It's possible to design a home bar that's every bit as alluring as the Ritz, Paris's Bar Hemingway or the King Cole Bar in Manhattan's St. Regis — the secret is laying the right foundation. "A well- designed, well-stocked bar is a really nice thing to have, because it gets people out of your kitchen [when entertaining]," says designer Katie Schroder of Atelier Interior Design. A few elements to consider: installing a dedicated bar sink (again, so there's no need for guests to invade your cook-space when you're whipping up dinner) and a beverage fridge. "Zephyr makes one with double French doors I love; it can hold two cases of wine, but also beer, sodas, and Perrier, which is great for self-service." When it comes to the design of the bar itself, Schroder is a fan of floating shelves. "It's very user-friendly for people to grab glasses for themselves. Some people feel weird about opening up people's cabinets; maybe they're not close friends." Another tip: make sure your bar's countertop is hard-wearing enough to take a beating. "Don't have a wood countertop! Try quartz composite, a faux marble that can hide a bit of mess with its veining. You won't worry about putting bottles on it, drinks, or even ice." If you're not sure where to place a bar, it's worth considering the unexpected. "We just did a project in Cherry Hills where the bar is under a set of stairs in an older home. You can make use of every nook and cranny. Even an entry coat closet you don't use could be repurposed into a home bar! It's great to be able to shut the door on it if you don't want to see it, or to lock the bar away if you have teenagers in the house." Beyond that, Schroder recommends adding a bit of good old-fashioned fairy dust with gold accessories. "Gold, gold, gold! A gold tray with glasses on it; gold shakers; etched glasses with stirrers. All of that stuff is so fun, it can even make a nonalcoholic glass of Kombucha a celebration."
Atelier Interior Design 303.455.1644; atelierid.com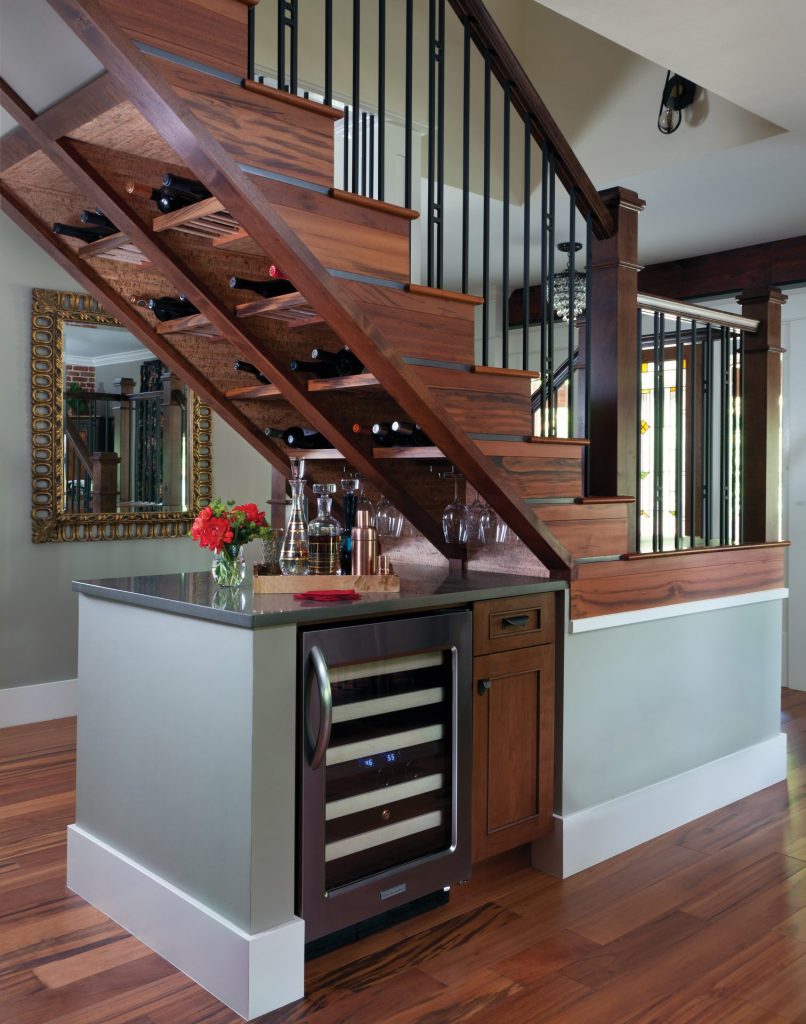 Step 2: Get Spirited
Once you have your physical bar in place, it's time to outfit it with a
bevy of beverages. For insider tips, we reached out to Taylor Nixon, founding member and owner of beverage catering company Oak & Olive, which specializes in providing (ahem) top shelf bar service for private parties, including everything from bartenders and glassware to signature cocktails and even molecular gastronomy, like liquid nitrogen. "Covid-19 has changed the way we do things; we wear masks, gloves, and are fastidious in our cleaning efforts," he says, adding that they do everything from garden weddings to socially-distanced holiday parties. He broke down the necessary bar accoutrements for us:
The Glassware: Beyond your typical wine and beer glasses, it's worth investing in festive cocktail glasses. "You can make nearly all cocktails in rocks glasses, but to elevate the experience, I recommend martini, coupe, margarita and collins glasses. In general, have as many rocks glasses as your typical party size, plus an extra four. Always good to have a couple extra in case an accident happens, or to put your olives in something pretty!
The Bartender's Kit: Every bartender worth his or her (margarita) salt needs a few accessories to make cocktails. "A bartender kit generally consists of a shaker, bar spoon, strainer, muddler, peelers and a knife for slicing up whatever the garnish may be. A jigger is also really useful to measure portions out; they normally come in single shots and double shots."
The Fixin's: You'll need five base spirits: vodka, whiskey, gin, tequila and rum. "There are lots of different styles for each, but I prefer potato-based vodka like Tito's, because it's smoother; and rye whiskey, because it has a sharper palate for whiskey-based cocktails," he says. Add mixers — including cointreau, sweet and dry vermouth, bitters and other liquors, such as St. Germain, depending on your favorite cocktails. You'll want to have citrus like lemon, lime and navel oranges on-hand, plus bountiful non-alcoholic options, such as Coke, ginger ale, club soda and tonic water. And remember to be inventive for a memorable night. "We do a spicy margarita with jalapeños, and a Manhattan with cherry and blackberries." We'll toast to that.
Oak & Olive 720.266.4346; drinkoakandolive.com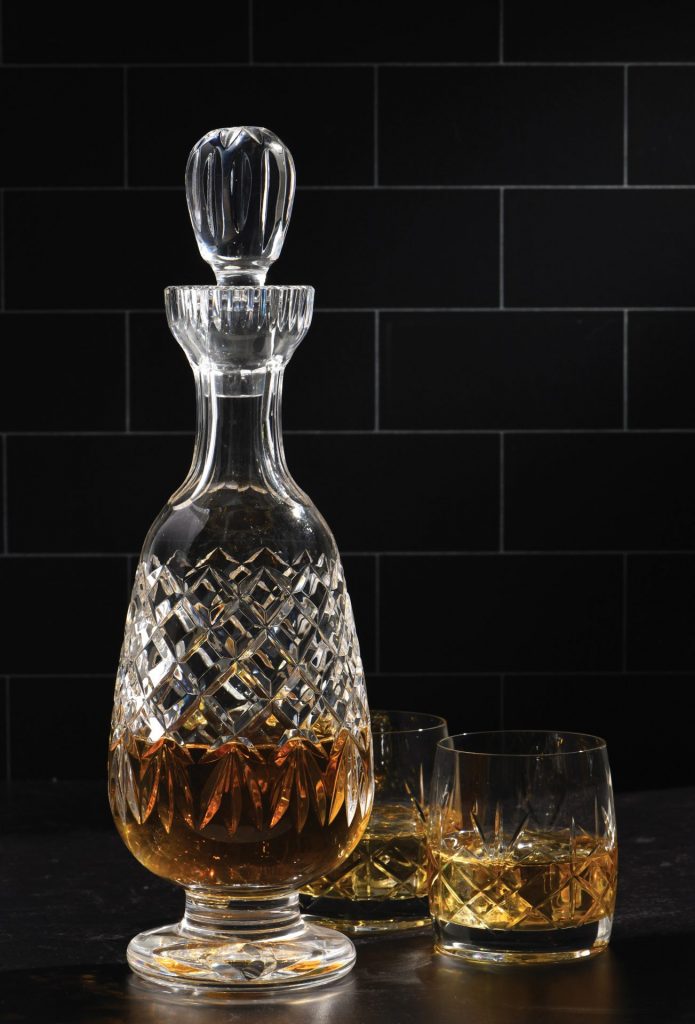 Step 3: Sip
Staple Wines
In-the-know oenophiles have long flocked to Venice Ristorante & Wine Bar, a trifecta of Italian restaurants with a location in Greenwood Village, to indulge in a delicious evening. We chatted with general manager and sommelier Nunzio Marino, who has lived in Denver for 32 years. "I love wine!" says Sicily-born Marino, who does all the wine ordering for the restaurants —which have approximately 500 labels, from whites and reds, to sparkling and dessert wines. "80% of our wine is from Italy," he says. Their authentically Venetian restaurant is the spot for dishes ranging from note-perfect gnocchi primavera in citrus chardonnay wine sauce to linguine mare with scallops, manila clams, mussels and more. No surprise, Marino delights in advising which is the perfect wine to accompany each plate, but still — he has his go-to wines. "My favorite is a Cabernet Franc and Pinot Noir; in summertime, we sell a lot of rosé, which goes with any kind of food," he says. "I usually bring a riesling to a dinner party because it goes very well with a diversity of appetizers thanks to its high level of acid." Another go-to: "I like blended wines, like Super Tuscans," he says, referring to the red Tuscan blends that often include merlot, cabernet sauvignon and syrah grapes. "They're a beautiful wine that don't overpower food."
Pairings Make Perfect: Sommelier Nunzio Marino on which wines to pair with what wishes
Salmon: Van Duzer Pinot Noir, from Willamette Valley, Oregon
Grilled Lamb Chops: Pio Cesare Barolo, Piedmont, Italy
Risotto con Funghi e Tartufo: Fontanabianca Langhe Arneis, Piedmont, Italy
Venice Ristorante & Wine Bar 720.482.9191; veniceristorante.com