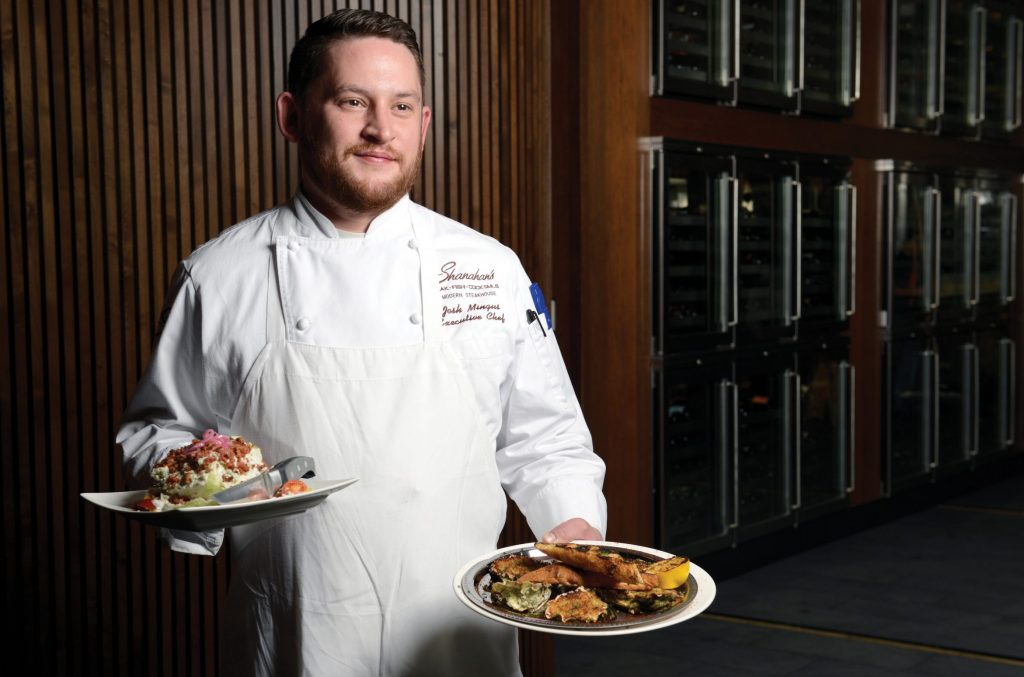 For someone who's about to get bombarded with a full dining room of high-class carnivores, Josh Mingus is remarkably composed. Then again, Mingus, the executive chef of Shanahan's Steakhouse, is accustomed to doing 300—sometimes 400—dishes a night.
Occasionally glancing down at his memo book, scribbled with handwritten notes, Mingus is a chef who takes his job more seriously than most. He's the personification of professionalism, a trait that wasn't lost on managing partner Marc Steron, who hired Mingus after a single interview. Mingus, who's spent more than two decades working in kitchens and moved from Alaska to the Mile High City in the fall of 2017, had been in Denver all of one week before Steron offered him an executive sous-chef gig. Within a year, he was quarterbacking the kitchen inside former Denver Broncos (and Washington Redskins and the former Oakland Raiders) head coach Mike Shanahan's shrine to steer.
What makes the affable chef tick? We sat down with Mingus just before a Thursday night rush to pick his brain about perks, dog bones, his most embarrassing moment in the kitchen and the steakhouse's insanely popular prime rib.
THE PERKS ARE DEFINITELY COOL. "A guest invited me to his house to practice my targeting skills on his shooting range, and I've been taken to a lot of basketball, baseball and football games, including a Broncos vs. Cleveland Browns game where we had club-level seats. Overall, I've had quite a few 'holy crap, that was a memorable day' experiences since working here—especially the first time I cooked for our concert series. We did around 700 covers [or orders]. Talk about an eye-opener."
"OUR GUESTS LOVE THEIR DOGS, as evidenced by the fact that I often get requests to cook our 22-ounce cowboy steak—always well done—for the pooch. Guests also ask to take home the Tomahawk bones. You always know where that thing is going."
DON'T BE SORRY; JUST BE BETTER. "That's the advice that resonates with me, and it applies to more than cooking; it also speaks to professionalism. You need to have an action plan in place for everything and always do better the next time."
"MY BIGGEST KITCHEN DISASTER happened when I was educating a couple of cooks on how to properly use the 'claw' knife technique which, when done correctly, means I can pick my head up and look around without cutting my fingers. Except, low and behold, I cut myself. Takeaway: It was a great way to completely embarrass myself in front of the people I was trying to show off to. And the moral of the story: Pay attention to what you're doing, even if you're doing it right."
"EVERYONE IN MY KITCHEN MUST RESPOND WITH 'YES, CHEF,' whether they're addressing me or one of my three sous-chefs. I don't have that rule because I'm on a power trip; it's to reiterate the fact that we're working in one of the most professional kitchens in Colorado, and that's the level of respect that's required."
"IF MY STAFF ISN'T IN UNIFORM, I 'll send them home for not wearing the proper attire. The kitchen should represent the same high expectations and attention to detail as the dining room and bar."
"I'M MOST PROUD OF THE FACT that we've had two perfect health inspections in a row since I've been executive chef. It's not easy to achieve a perfect health score once, much less twice. That's amazing. We also have the highest ranking on OpenTable for steakhouses in the Denver Tech Center area."
"I'VE COOKED FOR DREW BARRYMORE, Mike Shanahan, Peyton Manning and Jon Voight, but I would have loved to cook for the late and great Robin Williams. He was always an inspiration to me growing up, and I feel like he would've been truly fun to dine with."
"THE WILLINGNESS TO GO THE EXTRA MILE makes a great chef. If, for example, a guest wants to know what the Tomahawk looks like before they eat it, I'll go into the walk-in, pick a beautiful steak, put it on a platter and present it at the table. I then always follow up with the guest—more than once—which really makes a difference."
SUNDAY'S FINEST
While Shanahan's is renowned for its unassailable steaks and service, the celebration isn't for the faint of wallet—which is why the Sunday night prix fixe dinners, priced at $49 or $59 per person, are a steal. The menu's magnum opus? Prime rib, a culinary cornerstone of yesteryear opulence. "Our Sunday night prix-fixe menu accounts for about 75 percent of why people come in and, on average, we sell about 75 orders of prime rib," shares Mingus, adding that the kitchen goes through close to 100 pounds of whole rib roasts on any given Sunday night.
Those roasts—crusted with salt, pepper, fresh garlic, dried thyme and rosemary—are tenderized and baked in a 275-degree oven for three hours. The hand-cut planks, delivered to tables on sizzling stark-white plates, are drizzled with clarified butter and paired with housemade creamy horseradish and herb-flecked jus. The prime rib is coupled with a choice of soup or salad, side dish (mashed potatoes, asparagus or steamed broccoli, depending on price bracket) and dessert.
This signature slow-roasted, prime-grade prime rib is also making an appearance on the steakhouse's Easter menu, a three-course feast priced at $69 per person. "The prime rib creates a perfect celebration on Easter Sunday," promises Mingus.
EAT HERE
Shanahan's Steakhouse
South Syracuse Street
303.770.7300