The first Sunday of summer in Colorado Springs brought more brume than vroom to the 100th Broadmoor Pikes Peak International Hill Climb. With fog and snow shrouding the 4,725 feet between the starting line and the 14,115-foot summit—with few guardrails between the asphalt and steep drop-offs—this year's tortuous 12.42-mile, 156-turn "Race to the Clouds" became even more treacherous than usual for the field's 76 drivers.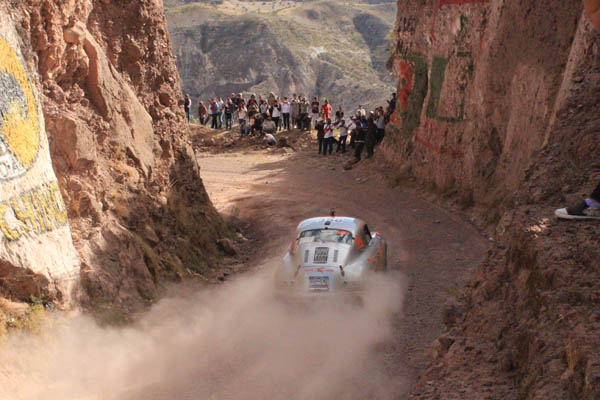 "I wouldn't have had it any other way," says Renée Brinkerhoff, the 66-year-old endurance racer from Sedalia who navigated the pace car around turns called "Devil's Playground" and "Bottomless Pit" in her ascent of "America's Mountain."
"I love a challenge, and this was right up my alley."
Since 2013, when she envisioned herself racing a car, Brinkerhoff has tackled some of the roughest terrains on all seven continents. In doing so, she has raised awareness and funds to combat the global scourge of child trafficking.
Driving a vintage 1956 Porsche 356, the founder and star of the Valkyrie Racing team won her first rally, the Sport Menor class of Mexico's perilous 2,000-mile La Carrera Panamericana. She would become the first woman to place in the iconic rally four times.
After that fourth competition, she had an epiphany more profound than the one that put her in a race car. "Because I was one of the only women competing and because of our success as a team in this race, people wanted to know who I was and what I was doing," she remembers. "I realized we had a voice and had to use that voice every time someone put a microphone in front of my mouth. We wanted to use this car literally as a vehicle to effect change."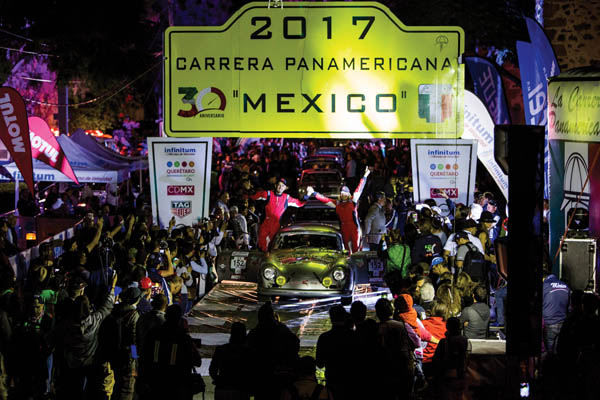 She knew that child trafficking, the area in which she wanted to effect change, was "a really hard topic, very difficult for people to want to hear about. And it seemed very insurmountable in so many ways." But after a chance meeting with an FBI agent tracking down child pornography peddlers and seeing a random man on a shuttle bus consuming the smut on his smartphone, she knew the cause had found her. "Child pornography fuels child trafficking," she explains, adding that it affects 1.2 million children annually.
"If you really want a big voice and you really want to effect change," she says, "you need to do something out of the box."
So, Valkyrie Racing created the nonprofit foundation Valkyrie Gives and initiated the Project 356 World Rally Tour. Brinkerhoff would compete in the Targa Tasmania in Australia, the Caminos del Inca in the Andes of Perú, the 36-day Beijing-to Paris Motor Challenge and Kenya's East African Safari Rally.
Giving interviews on each continent, she brought attention to child trafficking. She identified, vetted and supported NGOs in eight countries that helped shelter and protect vulnerable groups. She even went undercover as an investigator to get evidence to supply to law enforcement.
"I've talked to traffickers—I've seen the girls they're selling on their phones. I've sat with the young girls who are being sold," says the mother of four who home-schooled her children. "It's really difficult, but it's changed my life and those of the kids who are being trafficked."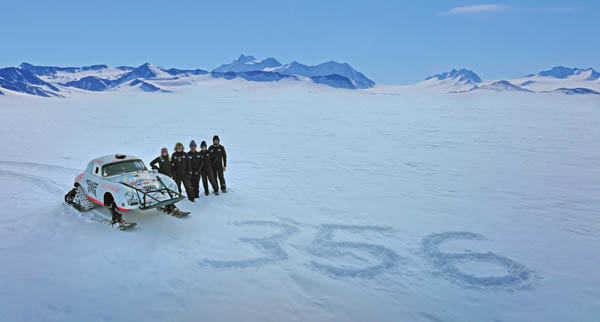 Last December, with her race car transformed into a one-of-a-kind "Polar Porsche" (complete with steerable skis and Snow Cat-like rubber tracks replacing the tires), Brinkerhoff traversed 356 miles of Antarctic topography in five days.
Antarctica marked the completion of the Project 356 World Rally Tour, but Brinkerhoff's drive to eliminate child trafficking remains in high gear. This year, Valkyrie Gives has dispatched more than $130,000 to five anti-trafficking NGOs. Brinkerhoff recently returned from her third deployment to Southeast Asia, where she worked undercover to combat trafficking.
What may or may not have started as a lark has evolved into a crusade to combat a global crisis. Valkyrie Gives raised more than $700,000 towards its $1 million goal. "However, we don't plan to stop there," Brinkerhoff says. "We are all responsible for these children."
For more information: valkyriegives.org