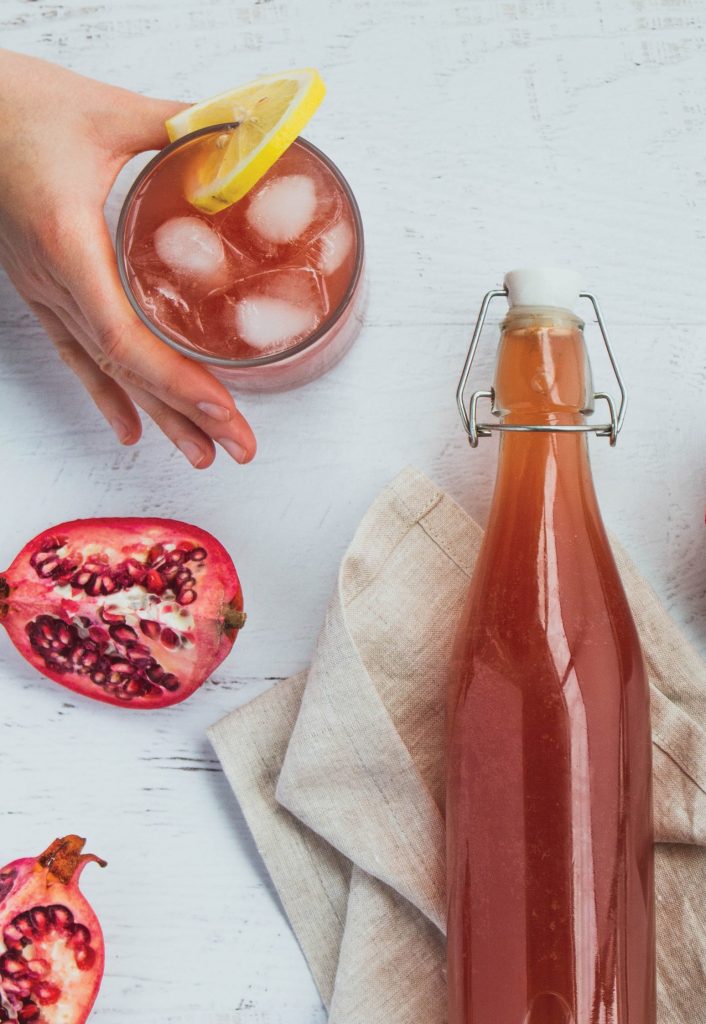 When it comes to maximum probiotic benefits, not all fare is created equal. Take fermented fodder: To get the best perks—a happier immune system, a soothed gut and even decreased anxiety—food and drinks have to be fermented and processed in a way that highlights microbes responsible for health boosts. And proving the existence of those live guys even in treats designed around health, some experts say, can be tricky due to lack of microorganism testing. These goodies aim to pass on all the wholesome advantages a probiotic item can muster, plus celebrate the tangy taste of fermentation.
NÉKTER JUICE BAR CHARCOAL SKINNY LEMONADE + PROBIOTICS
When you need to clean up your act, see this detoxifying cocktail, mixed using lemon, agave nectar, coconut charcoal powder and added probiotics. At 140 calories, it's a non-fermented, nonfat, low-sodium and low-carb refresher that claims to reduce bloating and help skin glow as it draws toxins from the body. Nékter's new Classic Detox cleanse system also uses added prebiotics and probiotics.
Nékter Juice Bar, Greenwood Village, 720.501.2300
BOP & GOGI KOREAN GRILL KIMCHI JEON
A toothsome way to taste how fermentation upgrades flavor is Bop and Gogi's Kimchi Jeon (or pancakes). The vegan appetizer is packed with stir-fried kimchi. A daikon radish kimchi is also on the menu.
Bop & Gogi Korean Grill, Centennial, 303.799.1139
VIBE FOODS PROBIOTIC SUPERFOOD OATMEAL
At Vibe Foods, morning goodness is served as warm coconut- or maple-flavored gluten-free oatmeal with quinoa and amaranth, boosted with probiotics and 15-plus grams of whey protein. It's only 260 high-fiber calories before adding toppings like strawberries, blueberries, bananas, almonds or peanut butter. Pair it with a cup of The Happy Belly: a blend of fresh lemon juice, stevia, prebiotics, probiotics and ginger.
Vibe Foods, Lone Tree, 303.662.1723
TRUBUCHA CITRA HOPS KOMBUCHA
Lone Tree's two-family "kombrewery" has been producing non-pasteurized, non-GMO, organic kombucha since 2016. This seasonal sipper is infused with fresh mango, raspberry, dragon fruit, tart cherry and ale-like Citra hops. The taproom, which opened in 2017, has 23 other rotating flavors on hand.
Trubucha, Lone Tree, 303.515.6500
PROBIOTICS TO GO
Colorado's microbe boom extends to grocery store shelves, with many locally made 'alive' foods available at Natural Grocers, Sprouts Farmers Market, Tony's Meats and Market and more.
PICAFLOR LIVE-CULTURE SRIRAWCHA HOT SAUCE: Fermented organic cayenne and Portugal peppers from Longmont's McCauley Family Farm fill this zesty, but not harsh, refrigerated sauce. Picaflor's fermented pepper and vegetable flakes are also packaged as dish toppings.
FARMHAND ORGANIC GREEN CHILE KRAUT: Westminster-based Farmhand transforms salt and local organic cabbage and chilies into probiotic kraut for grilled sausages. Also: Farmhand Organic Daikon Kimchi.
LIME MINT MOJITO DOCTOR D'S: This Louisville-bottled sparkling water kefir, cultured with probiotics, also comes in mandarin orange, grape, hibiscus and more.