Photos: E.J. Carr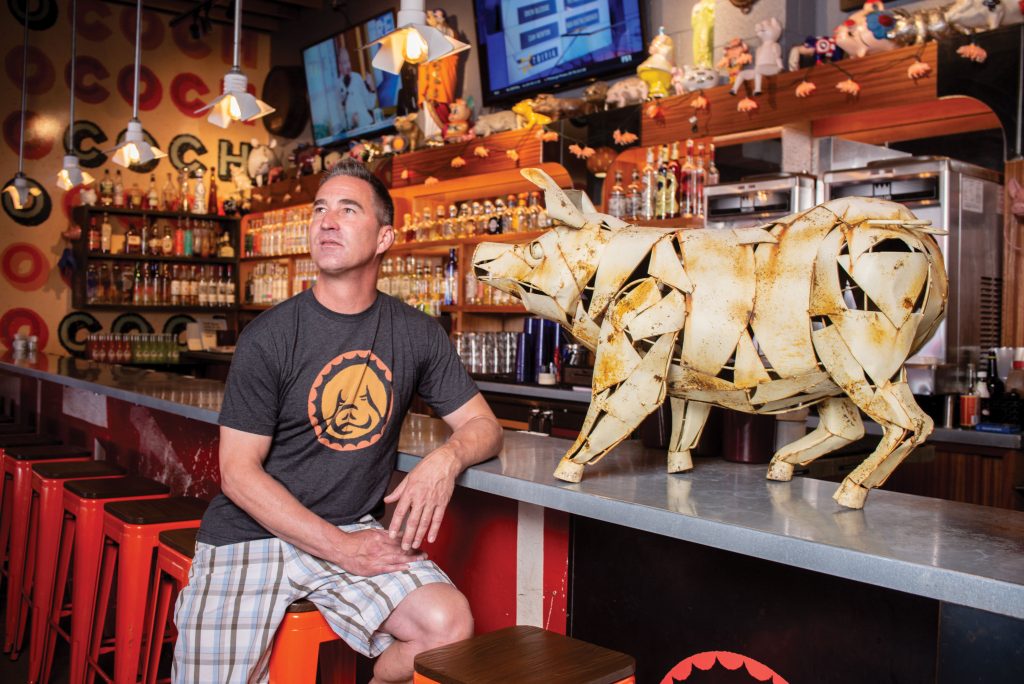 Restaurateur Johnny Ballen (above) has always had a passion for pork. His interest in whimsical, kitschy porcine statuettes, however, is new—and accidental.
Famous for his vintage attire and unrelenting obsession with hunting for antique and vintage treasures to refurbish, Ballen was in the planning stages for Old Hampden's pig-themed restaurant Cochino Taco—cochino is Spanish for pig—when he discovered a cast-iron pig sporting a saucy grin at an estate sale. "It really spoke to me, and so I had my graphics guy make my logo out of it," he says.
He hung the original in the eatery when it opened in 2016, and then family and friends started showing up with their little piggy discoveries. Eventually his customers took notice, bringing in their own handcrafted porkers. Soon enough, Ballen found others to add too.
It is now hard to imagine Cochino Taco without the pig figurines of all kinds covering the shelf behind the bar, holding court on the patio and bookending the exterior sides of the restaurant in the form of murals. Ballen also has more at home, waiting for their places of honor in the second location of Cochino Taco, which recently opened on South Broadway.
Some of the pigs are porcelain, some are wooden and some are made out of pottery; there are even a couple made out of old gas cans. And they come from around the world, with quite a few hailing from Mexico.
Ballen, a metro-area native who is also known locally as Johnny Beans, a moniker he took on when he ran The Squeaky Bean (now closed), confesses to falling in love with most of the pigs. But his current favorite is a set of pig saltand-pepper shakers enjoying some, well, sexy time.
"I also love these two female pigs, one of which I got at an antiques place on Broadway, and the other I found at an estate sale," he says. "They're old-school 1950s pigs. They're super cool."
Any pig is welcome to join the collection—which Ballen estimates numbers "more than fifty and still less than a hundred"—but he's starting to appreciate the simpler ones because they're easier to clean. (Sometimes keeping the figures up to health code par can take more time than Ballen would like.)
Customers, friends and family have continued giving him pigs for the new location. Mostly, though, people swing by Cochino Taco to experience the pig in taco form—namely, carnitas, pork belly, pork shoulder and fried pig ears.
"I buy out all of the cast-iron pigs I can find on eBay," Ballen says, who shops only for the types in that material now. "I don't know their history, but I paint them cool colors. It makes me smile knowing that they'll be part of people's dining experience." You might call that going whole hog.