Leslie Stanford launched DTC Nutrition in November 2019 with a tagline that had a lot to prove for a drink shop situated between two boutique fitness studios in Orchard Plaza: "We call what we do 'healthy fast food,'" she says. In a state where wellness is such a common focus, Stanford wasn't interested in giving locals another health fad to follow. Rather, "DTC Nutrition is a way to supplement what people are already doing in a healthy, active lifestyle," she says. "Most people know how to eat well, or they have a theory of eating well, but it can be tough sometimes to really live that out."
So, her menu is on-the-go friendly (orders via text message are encouraged). And its sips—meal-replacement and pre-/post-workout protein "smoothies," teas, energy drinks, protein coffee and more—are loaded with key factors of daily nutrition, with one noticeably pleasant difference. "It all tastes surprisingly good," Stanford says. She and her team, for example, specifically designed some DTC Nutrition drinks to taste like your favorite flavors of ice cream. (Hello, cake batter and Thin Mint taste-alikes!) All that to say, the "healthy fast food" slogan holds up—especially after a look at the ingredients in three staple blends.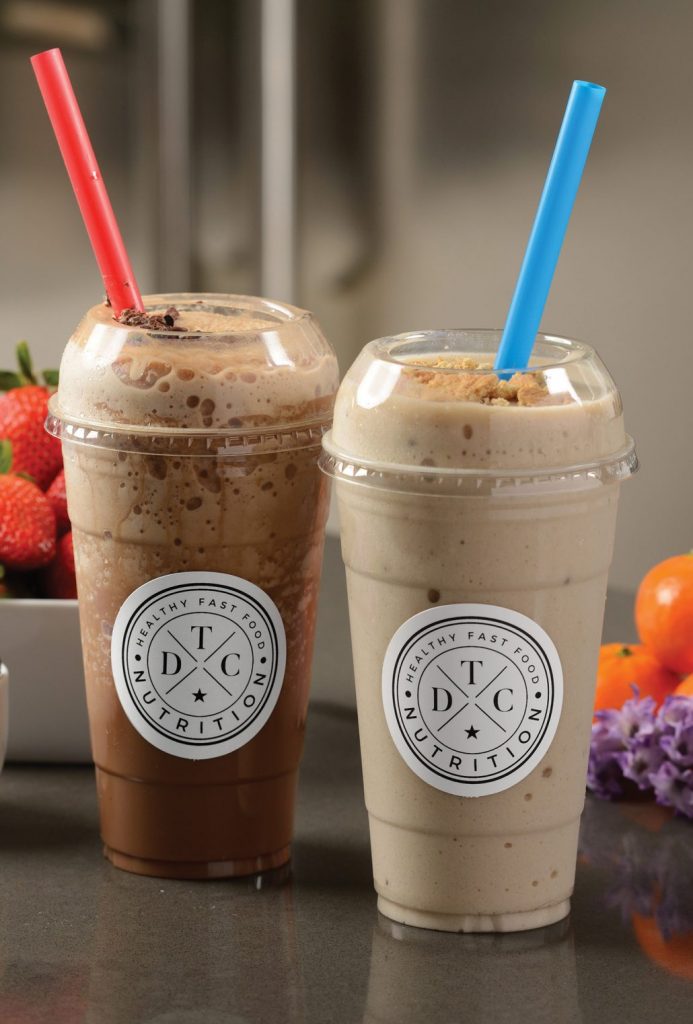 THE VIKING SMOOTHIE
Viking Power Elite is one of two gyms that share a wall with DTC Nutrition. Øyvind Gulbrandsen, a Viking Power Elite co-owner, had a hand in creating one of the nutrition bar's most popular smoothies. "The Viking Smoothie assists in muscle recovery and repair, and supports muscle growth immediately after a workout," says Stanford.
What does it taste like? A mocha (i.e., it's made with coffee lovers in mind).
When to drink it: "Packed with 39 grams of protein and 80 milligrams of caffeine, this smoothie is best pre- and/or post-workout," says Stanford.
What the nutrition label would say: The Viking Smoothie also has 290 total calories, 16 grams of sugar and contains two Herbalife protein powders.
Herbalife24 Rebuild Strength in chocolate: The powder's whey and casein proteins and tri-core protein-amino blend are said to help rebuild muscle and speed recovery; iron, an essential ingredient for blood-cell production, enhances your body's oxygen-carrying capacity; branched-chain amino acids keep growing muscles, too.
Herbalife High Protein Iced Coffee in mocha: Whey protein helps rebuild muscles; two grams of sugar and 80 milligrams of caffeine support a quick energy boost.
BLUEBERRY SCONE SMOOTHIE
This is DTC Nutrition's take on morning baked goods.
What does it taste like? Your favorite semi-sweet berry pastry.
When to drink it: As one of the shop's meal-replacement offerings, "this smoothie is ideal for breakfast or lunch," says Nick Sikonski, partner at DTC Nutrition.
What the nutrition label would say: The Blueberry Scone smoothie contains five Herbalife mixes and has a total of 270 calories, with 24 grams of plant-based protein, 25 milligrams of caffeine and 24 essential vitamins and minerals.
About the five Herbalife mixes: Herbalife Formula 1 Healthy Meal in cookies n' cream and dulce de leche, and Herbalife Protein Drink Mix in vanilla, satisfy hunger and fill the smoothie with 21 vitamins and minerals; Herbalife Prolessa Duo helps you feel fuller quicker and is said to aid in decreasing body fat; and Herbalife Green Tea in pomegranate brings a nice kick of caffeine and supports the body's antioxidant activity.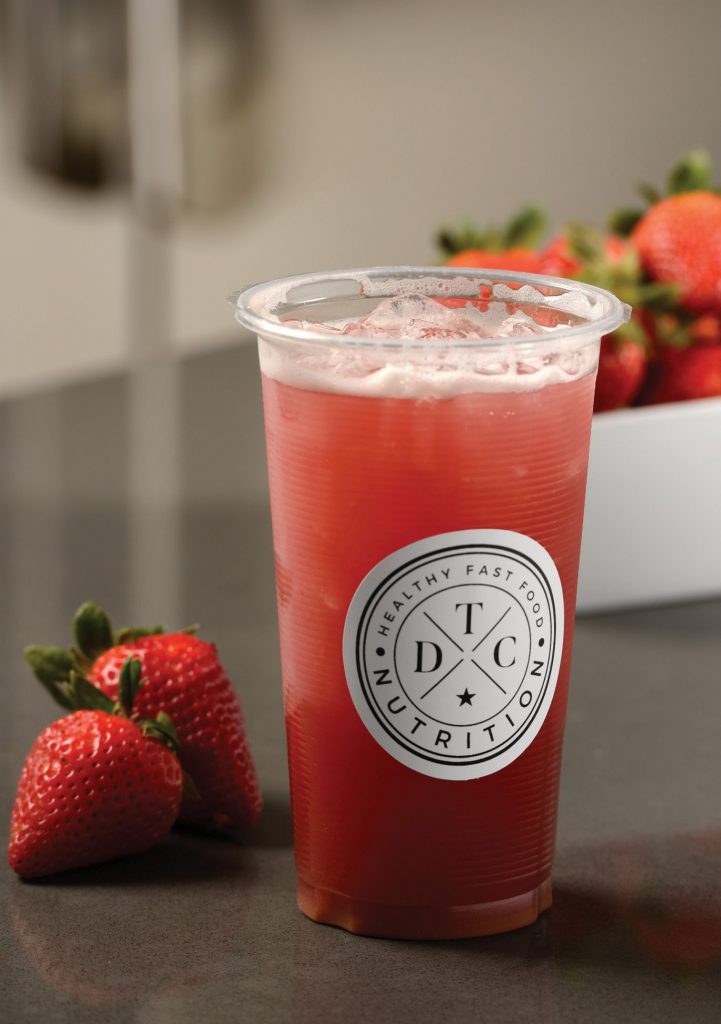 PIKES PEAK TEA
Think sweet tea, but with less sugar.
What does it taste like? This brew (served cold) has a slight berry flavor.
When to drink it: Pikes Peak tea helps with energy, so it's best sipped in the morning or early afternoon.
What the nutrition label would say: Contains vitamin C; vitamins B6 and B12 for energy support; aloe for digestion and absorption; green, black and oolong teas for energy support and metabolism; and ginseng and guarana for even more energy, enhanced focus and mental alertness.
WANT TO TRY MIXING THESE UP AT HOME?
DTC Nutrition also sells the products used in their recipes for that very purpose. These are a few of the additional grocery items Stanford recommends having ready at home:

FRESH PRODUCE
spinach, kale, nuts and seeds, berries

SPICES
cinnamon, nutmeg, turmeric
WHAT TO KNOW ABOUT PROTEIN COFFEE
In a nutshell, protein coffee is a coffee-flavored and "coffee rich" protein powder added to water to make a drink. DTC Nutrition's protein coffee is the same Herbalife High Protein Iced Coffee mix that's in the Viking Smoothie. The powder comes in two flavors: mocha and house blend (flavored like a café latte). Both are served over ice.
From a health perspective, the mix has 15 grams of protein, 80 milligrams of caffeine, 2 grams of sugar and comes in at 100 calories. When it comes to flavor, "the house blend tastes like a richer classic cup of coffee and Mocha tastes like a richer mocha," says Stanford. "We like to think of it as a 'functional coffee,' as it adds that important macronutrient—protein."
IMBIBE HERE
DTC Nutrition
Orchard Plaza
Curbside pickup is available as long as stay-at-home and dine-in closure orders are in place.
720.310.0012