By Heather Shoning
CHILES ARE NOT just for topping a burger or eating relleno-style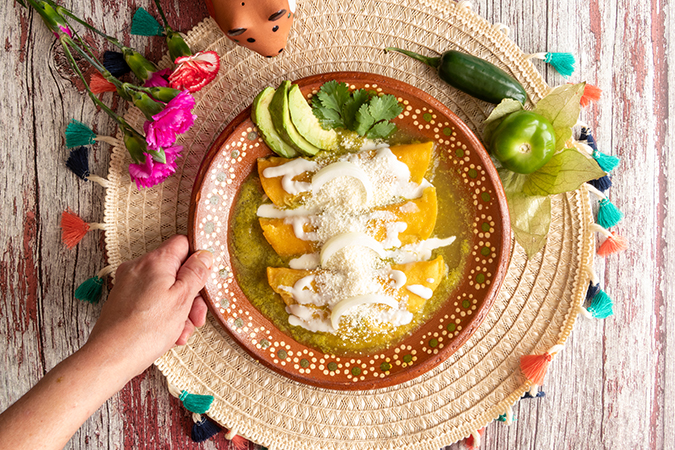 The smell of roasted chiles is in the air—don't you just love it when you run across one of those big, spinning barrels in a shopping mall parking lot or at the farmers market? Mmmm. While there is another nearby state that tries to claim chile fame, we known Pueblo chiles top the pepper list.
The popularity of roasted chile peppers in Colorado can be traced back to our rich agricultural heritage and cultural influences. In the early 20th century, Hispanic immigrants began settling in Colorado, particularly in the southern part of the state. They brought with them traditional foods and cooking techniques, including the roasting of chile peppers and introduced the flavors to the local population.
The southern region of the state has a warm, semi-arid climate with abundant sunshine and fertile soil, making it ideal for growing chile peppers. The annual tradition of the "chile harvest" played a significant role in popularizing roasted chile peppers in Colorado. During the harvest season, typically in late summer or early fall, farmers and local communities come together to celebrate the abundance of chile peppers. Festivals and events, such as the Pueblo Chile & Frijoles Festival showcase the flavors and culinary uses of roasted chile peppers, attracting visitors from around the state and across the country.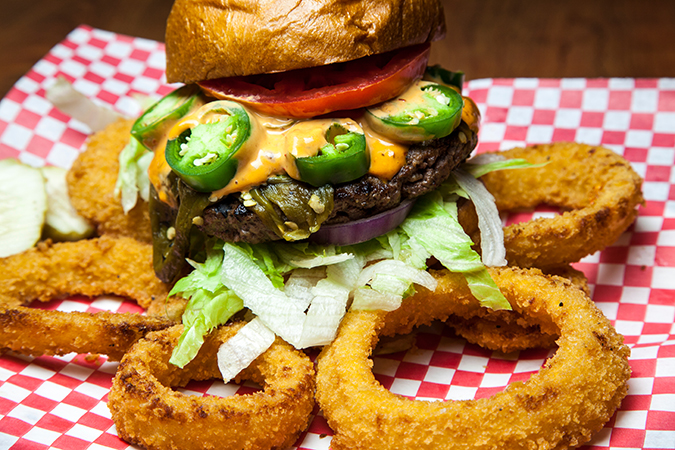 Roasted chile peppers have become firmly embedded in Colorado's food culture, so we invite you to take a turn whipping up one of these creative chile pepper–based recipes for your family and friends.
Pueblo Chile & Frijoles FestivalFor location, times and ticket prices,
visit pueblochilefestival.com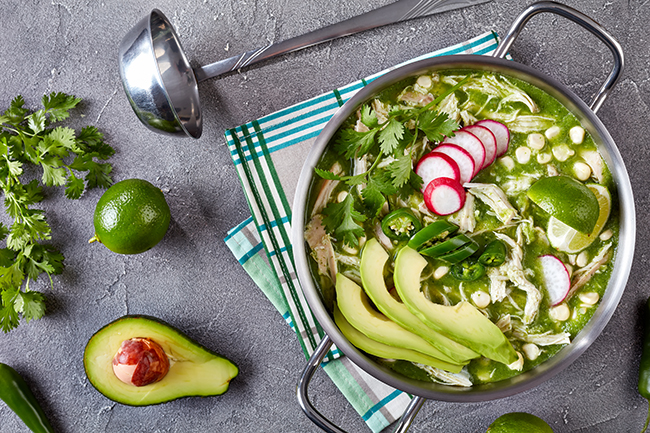 Chicken Pozole Verde
PREP TIME 10 minutes
COOK TIME 1 hour
Ingredients
2 pounds boneless skinless chicken thighs
1 pound tomatillos, husks removed and rinsed
1 large onion, chopped
3 jalapeño peppers, halved
(remove seeds if you don't want it spicy)
2 cloves garlic
1 tablespoon dried oregano
(preferably Mexican oregano)
1 teaspoon kosher salt
6 cups broth (chicken or vegetable)
1 handful cilantro, stems and leaves
2 (15-ounce) cans white hominy, drained and rinsed
Toppings: lime wedges, sliced radishes, Mexican oregano, thinly shredded cabbage, diced onions, cilantro
Instructions
In a large pot, add chicken thighs, tomatillos, onion, jalapeños, garlic, oregano, salt and broth. Bring to a boil over high heat. Reduce heat to low, cover partially, and simmer for 40 minutes until chicken is fall-apart tender.
Transfer chicken to cutting board and shred with a fork. Set aside.
Using a large, slotted spoon, carefully transfer the cooked tomatillos, onions, jalapenos and garlic to a large blender. Add in a cup of the cooking liquid and the cilantro, and blend until completely smooth.
Pour the blended mixture back into the pot and stir in the shredded chicken and hominy.
Bring to a simmer over medium-high heat and cook uncovered for 15 minutes.
Taste and season with more salt, if necessary.
Serve with fresh lime juice, thinly shredded cabbage, sliced radishes, cilantro, diced onions and Mexican oregano as optional toppings.
*Recipe adapted from isabeleats.com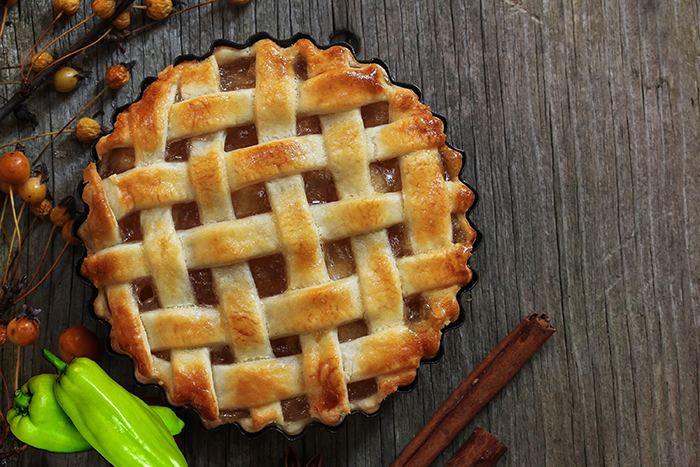 Photo By Shutterstock.com/ vm2002
Green Chile Apple Pie
Ingredients
1 box premade double-crust pie crust
(or make your favorite scratch recipe)
2 tablespoons all-purpose flour
1 teaspoon lemon zest, grated
1 tablespoon fresh lemon juice
¾ cup granulated sugar
1 tablespoon brown sugar¼ teaspoon ground nutmeg
¼ teaspoon ground cinnamon
⅛ teaspoon ground allspice
¼ teaspoon salt
7 ounces medium-hot green chiles, roasted, peeled and chopped
4 pounds of Gala apples, peeled and sliced ¼-inch thick
¼ cup cheddar cheese, shredded
1 egg white, lightly beaten
Turbinado sugar
Instructions
Place pie crusts unopened on the counter to come to room temperature.
(Or make your own from scratch.)
Add flour, lemon zest, sugar, brown sugar, nutmeg, cinnamon, allspice, salt and green chile to a large dutch oven or 6-quart pot.
Place apple slices into the pot with the spices and stir to coat. Set the apples over medium heat and cover.
Cook, stirring occasionally, for 15 to 20 minutes until the apples are soft. Stir in lemon juice. Scoop filling out with a slotted spoon onto a rimmed baking sheet to cool, discarding excess liquid in the pot.
Unwrap one pie crust onto a clean work surface. Gently place it into the pie plate, pressing it down into the bottom and along the sides. Sprinkle the cheddar cheese evenly into the bottom of the crust. Cover with plastic wrap and place in the fridge to chill and set.
Move an oven rack to the lowest position and set oven to 500 degrees F. When the apples have cooled, remove the pie plate from the fridge and fill to the brim with the green chile apple filling. Unroll the second pie crust. Cut slits on top, or get decorative and cut it into lattice strips.
Place the crust on top and crimp the top and bottom pie crusts together in a decorative fashion.
Brush egg white over the top crust with a finger or a pastry brush. Sprinkle turbinado sugar over
the crust.
Place pie on a baking sheet and then on the bottom rack of the oven. Adjust temperature to 425 degrees F. and bake for 25 minutes.
Rotate the pie and lower the temperature to 350 degrees. Bake for an additional 30 to 35 minutes until the crust is nice and golden brown. If the crust is browning too deeply, carefully cover the edges with aluminum foil to prevent more browning.
Remove from the oven and let cool for 1 hour before serving.
*Recipe adapted from goldilockskitchen.com