JUST THE RIGHT LOOK for any holiday gathering
HOLIDAY PARTY SEASON can be the most wonderful time of the year. Gathering with friends and family, so much food and drink, and lovely decorations spreading holiday cheer.
It's a great time to wear items of clothing from your closet that do not make as much of an appearance throughout the rest of the year. It's an opportunity to play, be creative and step outside your everyday uniform. Whether you are celebrating with your family and friends, colleagues, or attending a black-tie event, here are some top looks for any gathering.
This Halston Ultrasuede jacket and pant set from Garbarini is a go-to for a casual, yet incredibly elevated look. The removable belt and hip-patch pockets designed with a classic and modern silhouette will have you longing to wear it all season long. Layer with a black turtleneck underneath for a laid-back night or switch out the belt with something more lavish for a soiree.

This dress made a splash on the ST. JOHN fall runway. The eloquent red fabric paired with a cleverly designed intarsia woven panel skirt, make this dress the perfect holiday piece for your closet. The timeless shape allows for endless accessory pairing, enabling it to be worn over and over, constantly achieving a different look. And if you really want to polish off your look, ST. JOHN may or may not have designed the most exquisite matching double-knit, three-quarter-sleeve jacket that is equally as chic.
Square Neck Woven Panel Dress, $1,295 at ST. JOHN, Cherry Creek North, 303.377.7572, stjohnknits.com
Halston Ultrasuede Jacket, $645; Halston Ultrasuede Pant, $495 at GARBARINI, Cherry Creek North, 303.333.8686, garbarinishop.com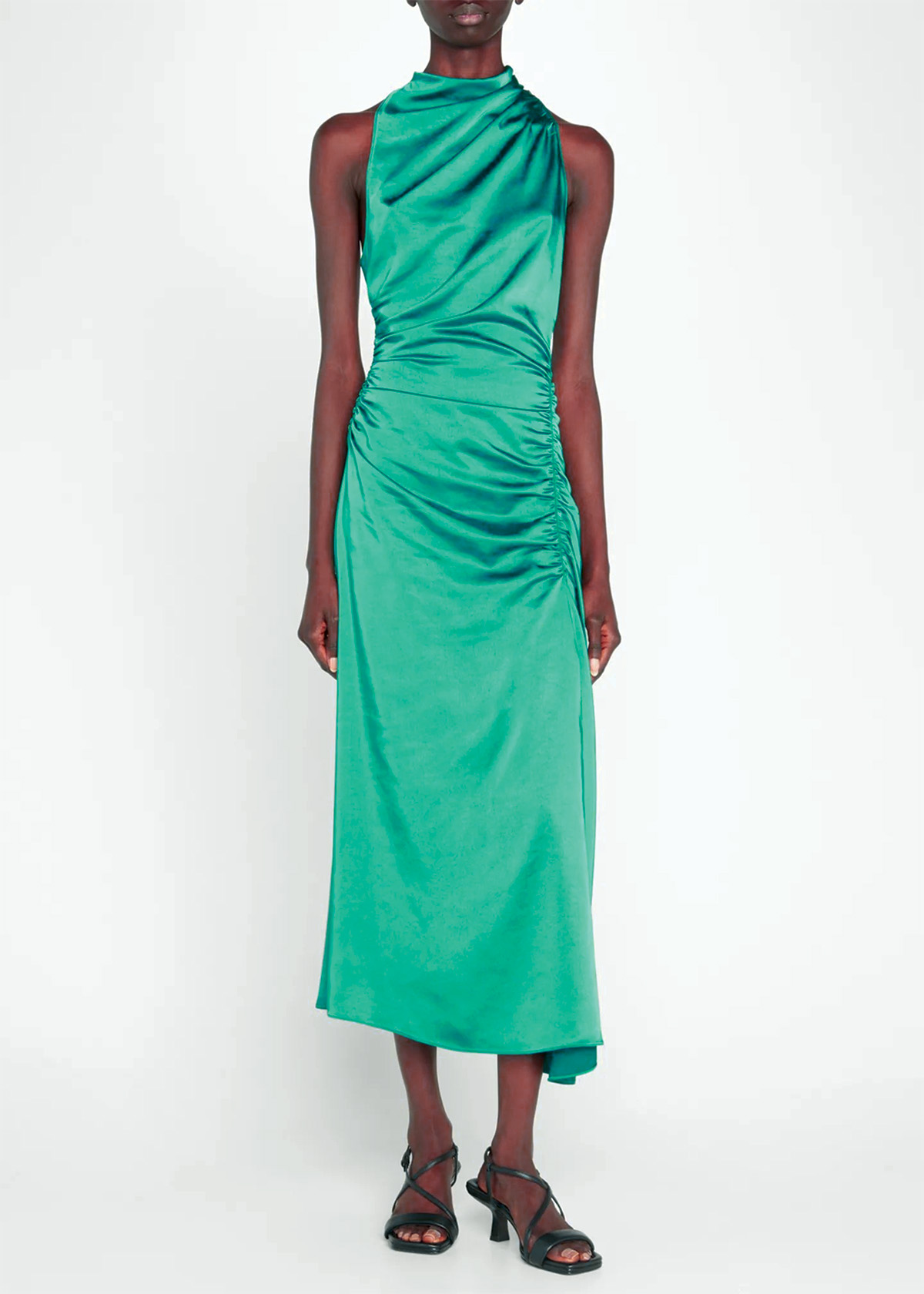 Every fabulous holiday outfit would not be complete without the perfect party shoes. Aquazzura is definitely having a moment, but these black Martini Pumps 105 from A Line Boutique are particularly special. The avant-garde mesh leather paired with dainty crystal straps elect these shoes holiday-season worthy. Not only are they a whimsical revision on a classic pump but they look great with both informal and posh looks all party season long.
Bold colors should be front and center in your holiday closet. If you need a little inspiration, look no further than to this A.L.C Inez dress. Between the dazzling emerald fabric and elegant high necklace, this dress is what dreams are made of. Speaking of color, keep warm as you dash from one party to the next in a stunning Italian shearling coat in turquoise from Dan Sharp Luxury Outerwear.
Don't forget to add some serious sparkle to your holiday look. This 18-karat yellow gold and diamond bracelet from Mark's Diamonds features modern rope rings married with white gold pavé diamond loops. It's the definition of holiday glamour. Style it with every holiday look—formal or family gathering—to ensure you will sparkle all season long.
A.L.C. Inez Dress, $495 at A LINE, Belleview Station DTC, 303.773.8200, aline-online.com
Italian shearling coat, $3,795, at DAN SHARP LUXURY OUTERWEAR, Cherry Creek North, 303.333.6666, dansharpluxuryouterwear.com
Aquazzura Martini Pumps, $1,150 at A LINE, Belleview Station DTC, 303.773.8200, aline-online.com
Diamond Bracelet, $16,186 at MARK'S DIAMONDS, Cherry Creek North, 877.566.5524, marksdiamonds.com