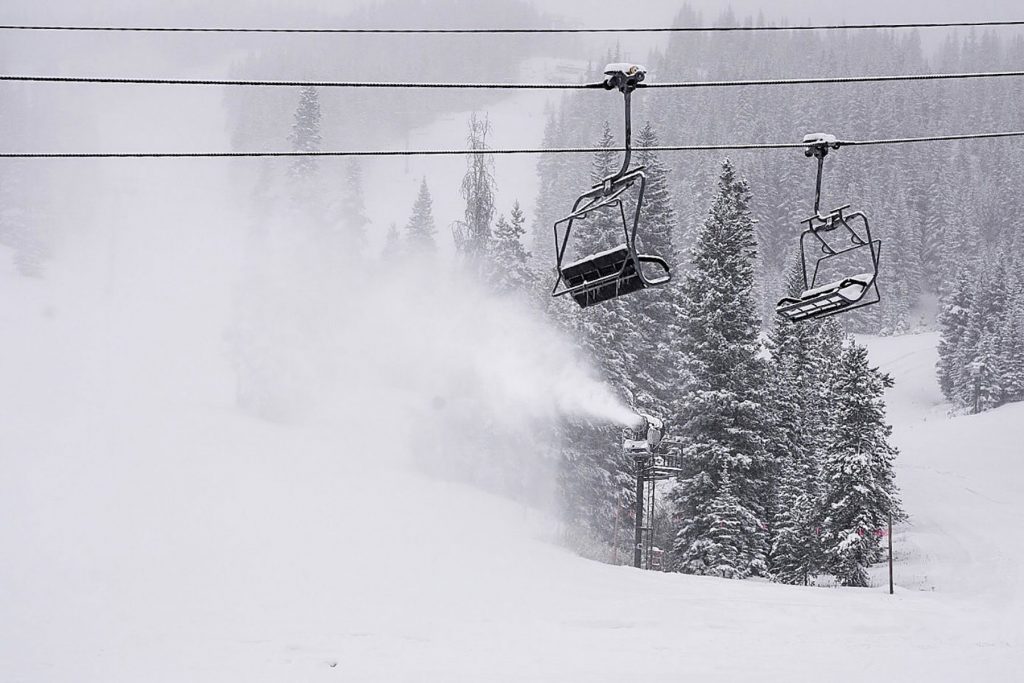 For me, the choice is obvious: As soon as winter swoops in, I'll be on Vail Mountain. Known for its back bowls, a wide variety of trails and now even more diverse terrain thanks to expansive snowmaking upgrades, Vail is one of the best places to play in Colorado powder. (Not to mention an après glass of Veuve Clicquot at The 10th is an ideal way to end the day.) But this season, classic downhill skiing just wasn't having the same effect. So, I went in search of unique on-mountain activities. Here, what peaked my curiosity—pun intended.
A TASTE OF HISTORY
What's better: to learn about Vail's good old days through firsthand research or to clip into skis and let the mountain do the talking? Vail Resorts guest services manager Jeff Wiles prefers the latter, which is why he's introduced guided Legacy Tours this season. Available Tuesdays at 1 p.m., the trek starts at the Mountain Safety Center atop chair four (also recently transformed into a museum). The journey brings to life Vail's roots, which were previously only displayed with Legacy signs visitors could tour on their own.
With 19 different stops, Wiles and I dashed across the mountain in search of the prominent Legacy displays, where my history lessons waited. Take Riva Ridge run: one of Vail's first trails, it's named after a key battle the U.S. Army's 10th Mountain Division won during World War II. Soldiers who took part trained at Camp Hale about 30 miles away, and Pete Seibert, one of Vail Mountain's founders, was one of them.
Not visiting on a Tuesday? Guests can access a self-guided, less-tell-all map at vail.com.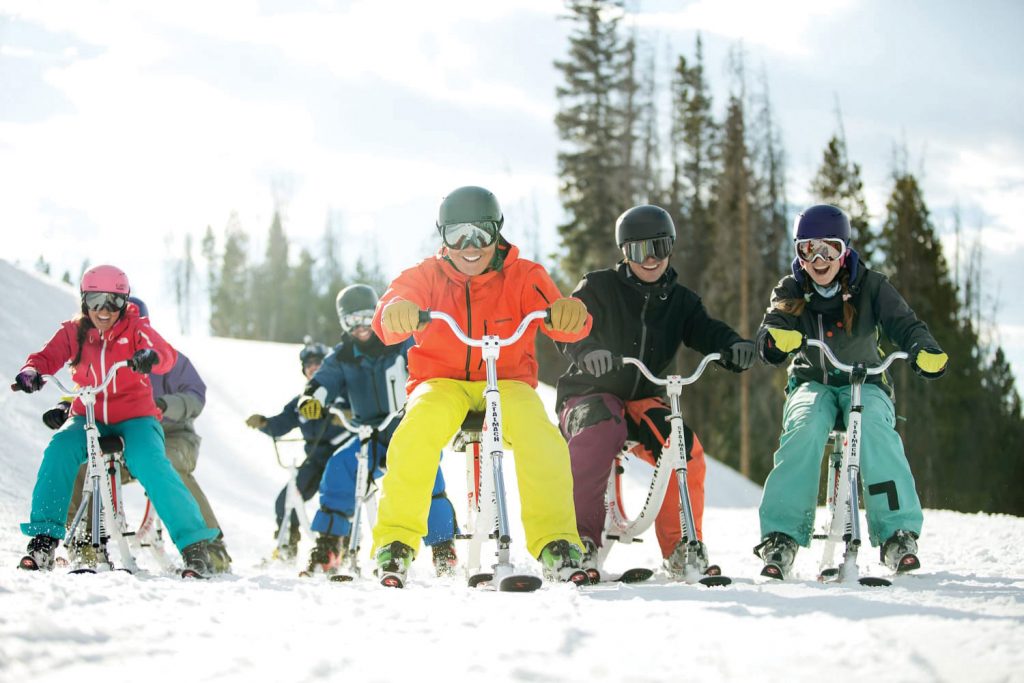 A THRILL RIDE
I still had gas in the tank when 5 p.m. came, so I took the Eagle Bahn Gondola to Adventure Ridge to tackle a run like a kid again—on a ski bike. Ski biking began in the 19th century, but has grown popular in Colorado within the last decades. Most say ski biking is for all ages and a range of skill levels—it's less strenuous than skiing or snowboarding and, though it does help to have ski or snowboard experience when learning to turn and stop, nonriders have been known to pick it up quickly. Vail requires bikers be at least 10 years old and be an intermediate skier or snowboarder.
In what felt like minutes, with outrigger-style skis placed over my shoes (no ski boots required) and a headlamp strapped on, I was racing my guide on a small bike outfitted with two short skis. With gravity doing all the work, I flew down a route I had skied earlier in a completely new—and, at times, way more thrilling—experience.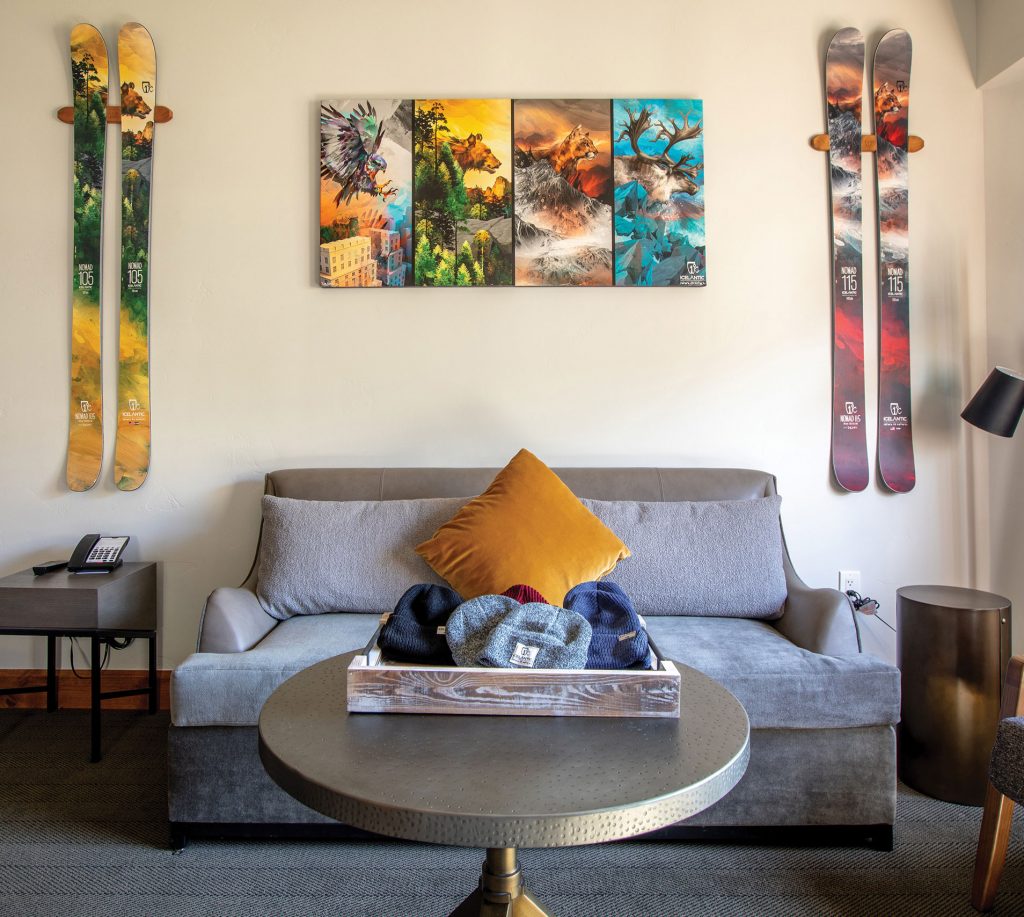 STAYING COZY AND CURRENT
To keep the whole trip really slope focused, stay at Vail Marriott Mountain Resort. The property has partnered with Golden-based Icelantic Skis to create a unique package this season: During the day you can demo select all-mountain and backcountry skis and, at night, take it easy in an Icelantic-themed Junior Timberline Suite. If you fall in love with the gear you take for a spin, you can purchase and have them sent home. Starts at $969, marriott.com