By Heather Shoning

Spruce up your OUTDOOR SPACE for summertime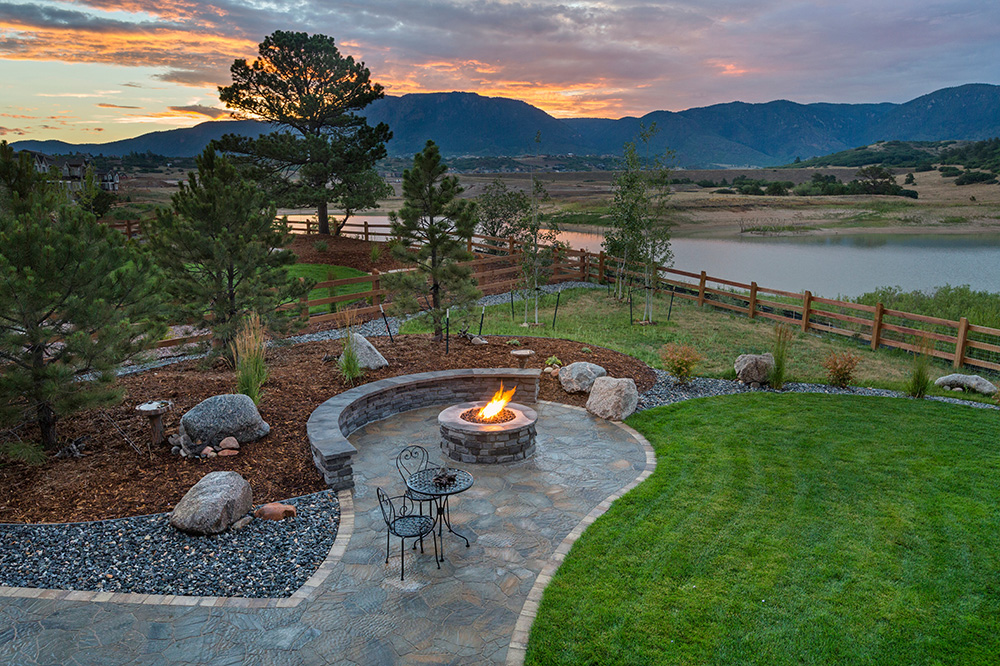 Summer is the season to settle in—outdoors. We're lucky enough to have beautiful weather and few pesky insects, so moving indoor life outside is easy and fun. But it will be even better when you incorporate these ideas into your yard for the ultimate in al fresco living.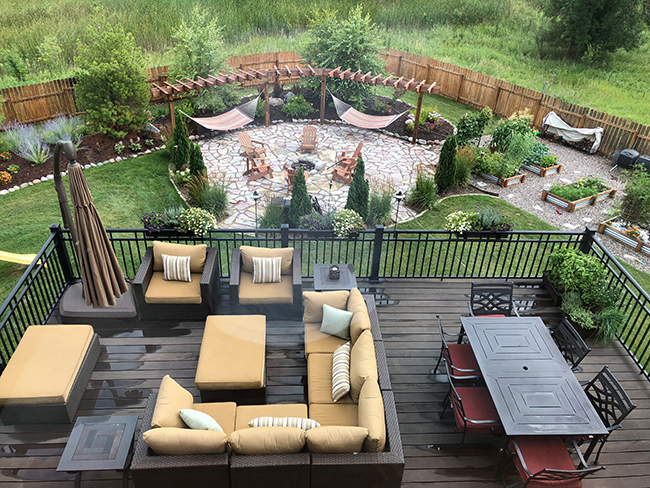 Seating Supreme
An easy way to make your outdoor space comfortable for a variety of activities and for entertaining is to create multiple seating areas centered around different activities. An outdoor kitchen or grilling area needs an adjoining dining table and chairs. But you don't necessarily want to sit there all the time. Add a comfortable seating area with outdoor sofas and chairs for engaging in conversation and seating centered around a beautiful built-in firepit for roasting marshmallows, ambiance and to take the chill off crisp evenings.
Joe Nguyen, owner of Dream Makers, a full-service landscaping and outdoor living design-build firm, has built a 22-year career of creating the ultimate outdoor living spaces for clients with everything from firepits to pools and spas, outdoor kitchens to sport courts and more. He says an important aspect of the design is to create connection and an easy transition from indoor to outdoor spaces. Repeat a color palette, create continuity between indoor furniture styles and those you select for outdoors, and one of the best ways to make the transition easy is by opening the house up with oversized sliding or accordion doors.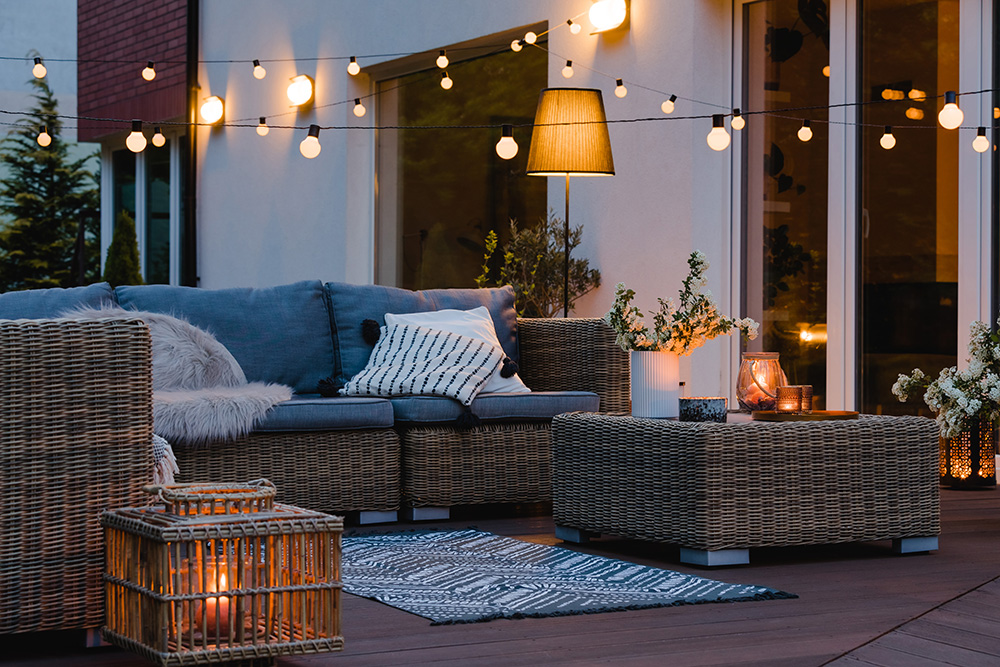 Moody Outdoor Lighting
In the same way that lighting can make a huge impact on the interior design of your home, it makes a statement outdoors, too. Layered lighting with independent controls—often easily managed through an app on your phone or iPad—is the perfect way to ensure you have just the right atmosphere for any outdoor activities.
"We try to be subtle with uplighting on trees and the house especially on large lots," says veteran landscaper and owner of New Line
Design, Inc., Dave Drummond. "We use layered lighting some with timers. It's really based on what the client wants."
Nguyen says complete lighting packages can run up to tens of thousands of dollars.
However, with that, you get complete control to create custom lighting scenes and even
color-changing lights to create greater variety and atmosphere as well as to decorate
for holidays.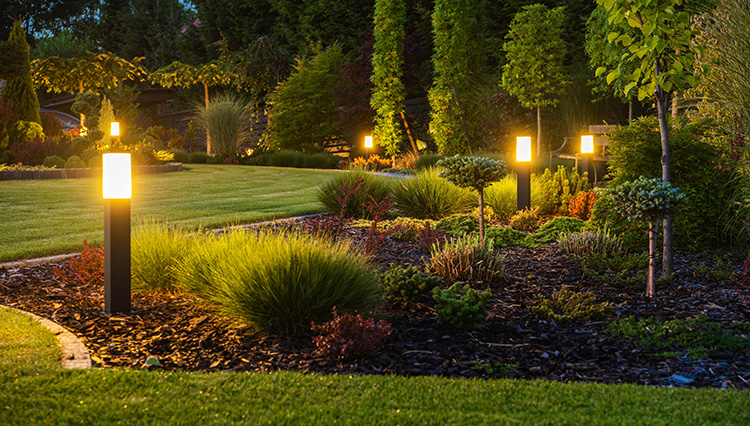 Plants for Privacy
Drummond says he's seeing many suburban communities moving away from privacy fences in favor of split rail. So, what are you to do about creating a visual break between you and nearby neighbors? He suggests a variety of plants can do the trick: "Bosnian pine stay fairly narrow. Evergreens are great for screening year-round including upright junipers." Trees and shrubs can be a great way to add color to your yard, as well. "You can get a lot of color from leaf change in the fall as well as flowering shrubs," Drummond says.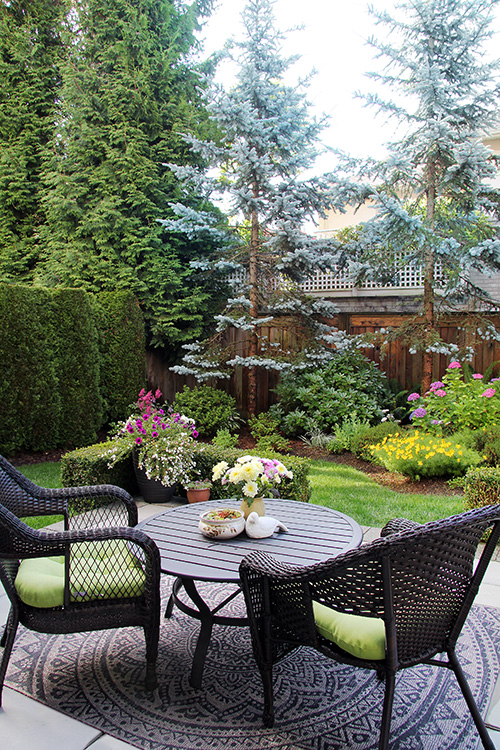 Move Out Front
Another trend both landscape professionals are seeing is people moving to the front yard. Nguyen says he sees younger families gravitating this direction so they can socialize with the neighbors while the children play. And they are opting for ambiance. "A lot of clients are doing a courtyard with firepit or fireplace out front," he says.
Drummond reports seeing this trend in 55+ communities. "People are moving to front yard outdoor spaces in newer communities, where people go on evening walks," he says.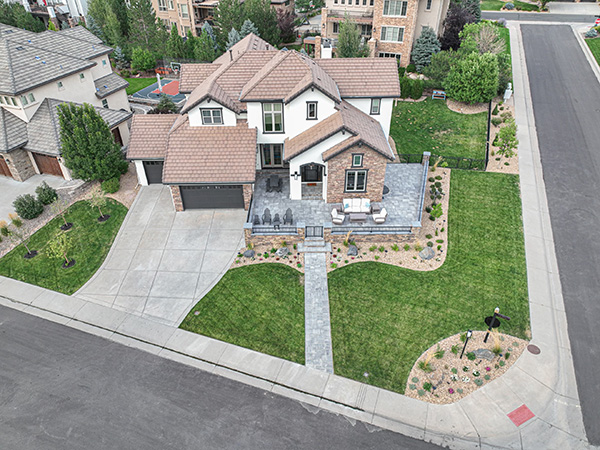 Photo courtesy of Dream Makers

Outdoor Office
As more and more people have moved to hybrid or fully remote work situations, there's an opportunity not only to have an indoor office—how about an outdoor workspace as well? It's the perfect chance to invigorate creativity. Because outdoor spaces have migrated to include kitchens, living spaces with televisions and more, it's not a big leap to go to an outdoor office. "More people are adding three-season spaces enclosed with frameless glass that can be all open or all closed," Nguyen says. "They are adding ceiling-mounted heaters for year-round comfort." It's the perfect solution for a home office.
Drummond says his clients are opting for multi-use outdoor living spaces which can include work-from-home setups. "We do a lot of gabled roofs with tongue and groove pine or cedar. We add fans, lighting and heating, and the spaces are open because we don't have bugs," Drummond says. "Every project is
different; it's what makes this industry fun."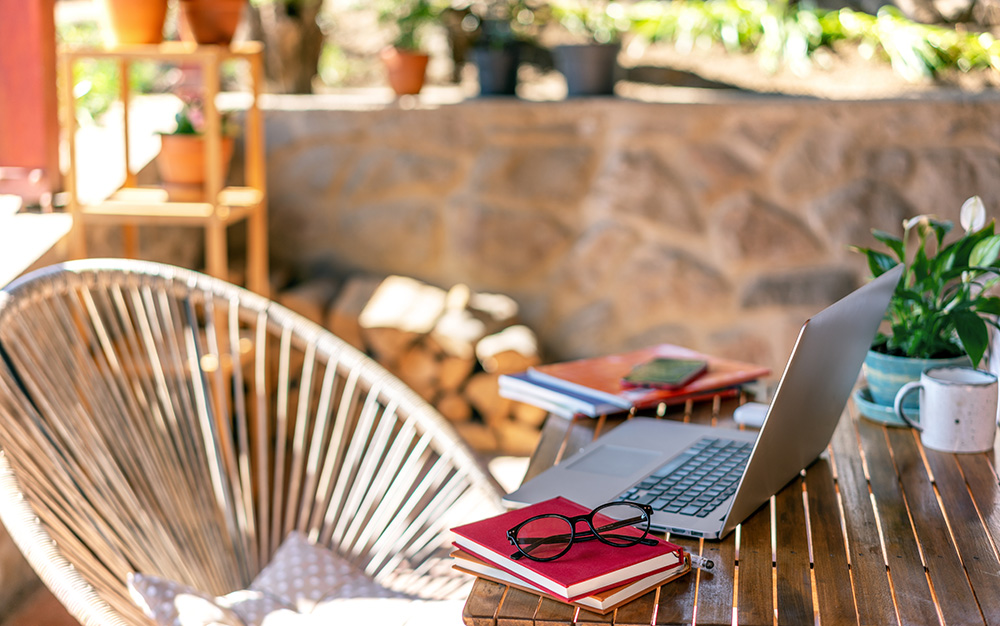 Photo by shutterstock.com/ Olesya Kuzenetsova (Right)
Photo by shutterstock.com/ WATISAK DUANGPRASIT (Left)