If you're a golfer or even a golfer wannabe, you've got to course-hop on the other side of the Divide—you could make a summer staycation of it. While there's a long list of great courses in the western part of our fair state, you won't want to miss Redlands Mesa in Grand Junction. Lose yourself on the rolling fairways of the best golf course on the Western Slope, according to the readers of our own Colorado AvidGolfer magazine. And while you're there, be sure to check out the evolving residential golf enclave.
Redlands Mesa has seen significant changes in the last handful of years as it's grown from a small number of golf club residents to a large community. Six years ago, this planned development had about 40 homes. Today there are 200 homes filled with golf-lifestyle-loving residents—many from the Front Range, and there's room for more. As such, under new ownership since 2019, the golf club has grown to match the residents' energy and enthusiasm.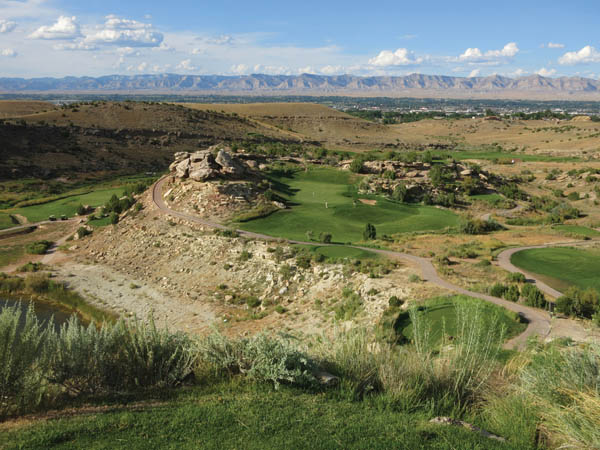 "The new culture, our vision and mission, is to provide a high-end resort living and lifestyle with a welcoming, fun culture," says Sandra Weckerly, general manager. "The staff is more approachable, our customer service is elevated, and we make it feel like a vacation resort experience whether you're local or visitor. Even our homeowners have noticed the difference, and they tell us they feel like they are in a resort every day."
Residents enjoy the resort-style pool with pool-side food and beverage service, and memberships are also available to Grand Junction residents. The onsite Ocotillo Restaurant and Bar is open to the public, as is the course, and Weckerly says they like to call it "upscale casual: we're the upscale, the guests can be the casual." While they serve dishes such as filet mignon and braised beef roast, they also serve fish and chips and a club sandwich, among many other mouth-watering dishes.
To further bolster the community aspect of Redlands Mesa, they are offering more events to welcome guests to the resort for reasons beyond just golf—in fact, a recent holiday brunch drew 400 visitors to the restaurant. "There are so many opportunities for outdoor recreation in addition to golf," says Weckerly. "Redlands Mesa is like living and playing in a national park—eat here, dine here, play here."
Redlands Mesa Golf Course
970.263.9270; redlandsmesa.com
Follow the link to Colorado AvidGolfer for more golf on the
Western Slope