Meow Wolf is not the only experiential art game in town. While it might be the best-known, there are a variety of experiential art venues and shows in the metro area. Still, a new, permanent installation—Green Mountain Falls Skyspace—opened in July in the new Red Butte Recreational Area on Highway 24, south of Woodland Park.
American artist James Turrell is passionate about light and space and has worked with light as a medium since the mid-1960s. He's possibly most known for this Roden Crater project that has been a work-in-process since 1977. Throughout this time, he has also designed more than 80 Skyspaces; this is his first in Colorado. Commissioned by the Historic Green Mountain Falls Foundation, the installation will be housed by Green Box Arts, an art-driven nonprofit, and it opened during the 2022 annual Green Box Arts Festival.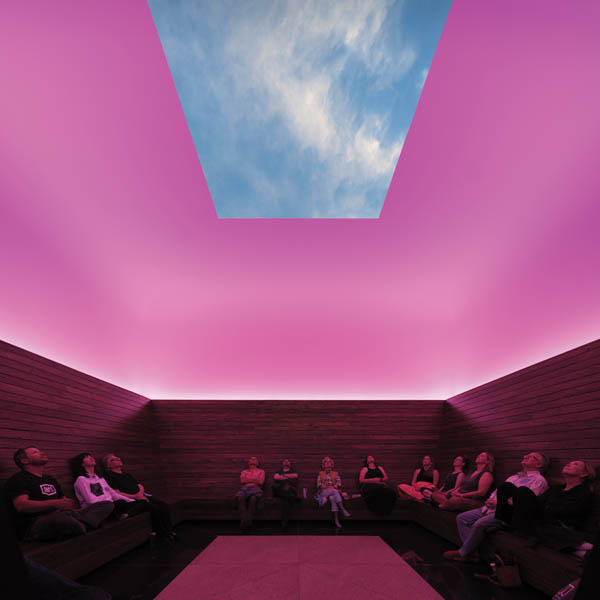 But what is a Skyspace? Well, this one is an 18-foot-tall stone, box-shaped structure with a retractable roof—one of few in the world that has one—allowing visitors to experience a "closed roof" show during inclement weather. Upon arrival at the art installation, participants must remove their shoes because of the pristine nature of the polished granite floor. Inside, they will lie on the stone floor or on wooden benches, and the space can accommodate 24 guests.
The art demonstration begins with warm lights as the Skyspace opens to reveal the natural elements above. This is where Turrell's mastery of the oculus—an opening in the center of a dome or wall that alters perception—shines. It's his personal invitation for you to feel the presence of light and space. During a scheduled showing, you'll experience kinetic light and color designed to foster a sensory and contemplative atmosphere that includes, of course, the light and space that is a derivative of the oculus.
Just getting to Green Mountain Falls Skyspace is an experience of its own. Visitors choose from one of two paths to access the art. The steeper Lower Turrell Trail is one-third of a mile with a 200-foot elevation gain; the half-mile Joyland Pittman Trail is the less steep route to the destination. You can book tickets for specific showtimes (see website for days and times) or choose to experience the art on your own. The trail system leading to the Skyspace installation is open Thursday through Sunday. The Skyspace is available to visit without a ticket, in its natural state, after sunrise and before sunset on days the installation is open unless the trail system is closed due to weather or maintenance.
For more information and tickets, visit greenboxarts.org/skyspace