By Kastle Waserman
Photography by Chrysti Burroughs
The ART OF SCOOTER brings joy with a twist of midcentury style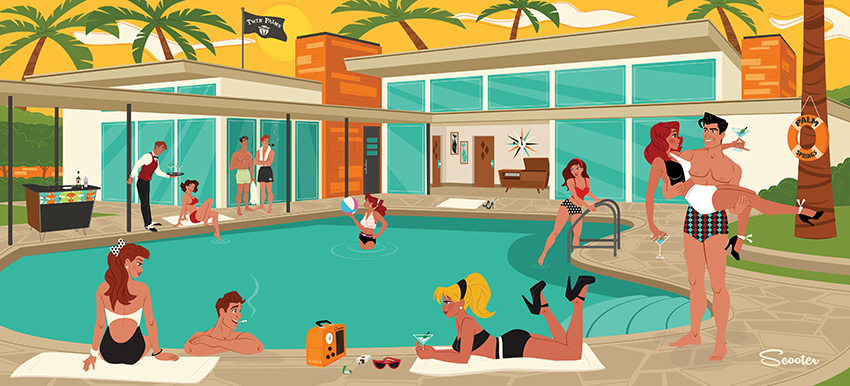 WhAT WOULD IT BE LIKE to step back into the midcentury? Take one look at the fine art paintings by artist Scooter, and you may feel you're at a swingin' party in the 1960s. From scenes in midcentury modern homes to vintage vinyl album covers to joyful couples in their best retro attire, his work goes back in time to romanticized happy days.
Scott Burroughs is the artist Scooter, based in Colorado Springs. He credits his mom for influencing his love of midcentury style. "Growing up, my mom decorated with midcentury modern pieces with the furniture and wooden cat sculptures," he says. "As a young kid, I didn't know anything about design, but I would look at them and think they were amazing."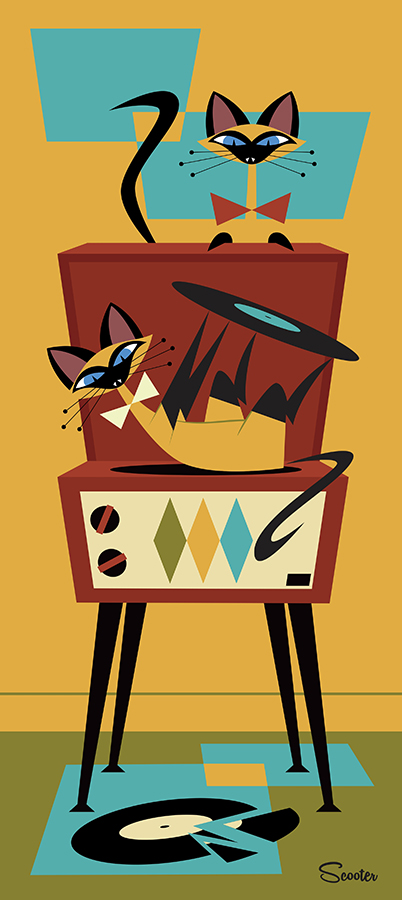 He says the nostalgia of the style compels him to put it into his art. But he didn't always know that fine art would be his future. As a child, he struggled with a learning disability. "I was a horrible student," he admits, "but I could always draw." He met a girl in high school that would later become his wife, and she encouraged him to go after his dream of art. Moving to California and discovering the Academy
of Art University led him to enroll as a sculpting major.
Then Disney came recruiting for an internship program. Burroughs says he didn't think much of it at the time. "They were offering free pizza, and I was a poor student, so I went to listen to their spiel to get a free lunch!" He says within minutes they convinced him to be a Disney animator. He switched his major to illustration and started working on a portfolio. He won the internship and a job for 10 years working on such films as "The Hunchback of Notre Dame" and "Pocahontas."
When the Disney studio closed, he and his wife were expecting their second child and decided to move back to Colorado to be close to family. He switched back to doing commercial illustration and began pursuing fine art using his love of retro style, painting midcentury scenes and iconic images.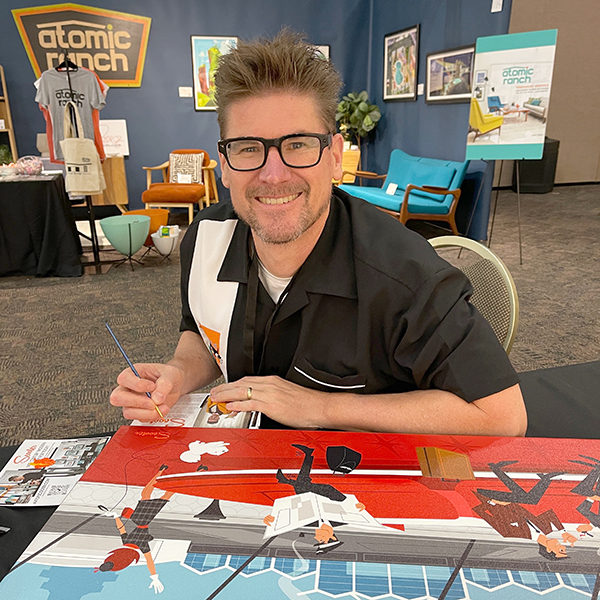 Artist, Scott Burroughs, aka Scooter
He uses gouache paint, an opaque watercolor that provides a bold, flat wash of color, allowing the focus to be on shapes and colors, which was a popular look for art from the 1950s through the 1970s.
Burroughs' art can be found at midcentury celebration events such as Tiki Oasis and Palm Springs Modernism Week. He also sells online and hosts online parties to promote the release of a new series. He and his wife also recently released a book, "Mid-Mod Happy Hour," featuring cocktail recipes, accompanied by his art.
Burroughs is adamant about using his art to give back. Proceeds from sales go to Acres of Love, an organization that helps orphaned and abandoned children in South Africa. He says he feels passionate about helping children after almost losing his youngest son. "When our son was 16 months old, he had a brain aneurysm, and he should have died. But he didn't," Burroughs says. "He had to relearn how to talk and move, but he got through it. It was a total miracle. So we have a place in our heart for any kid that's sick or going through difficulty."
For Burroughs, Scooter art is a way to bring joy and hope to people. "I don't do anything on the dark side. I want to inspire romance, lightheartedness and happiness."
Scooter
artofscooter.com