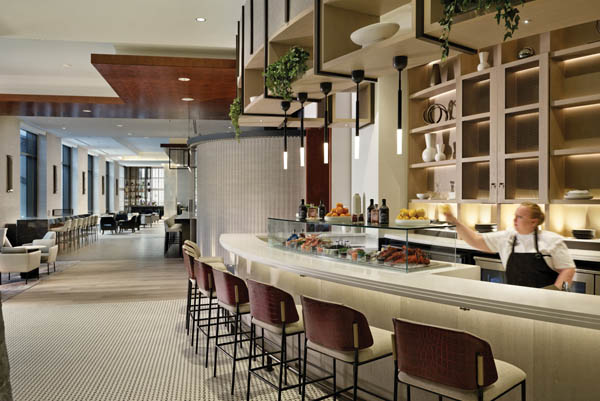 As Denver went deeper into lockdown, the Four Seasons used the time wisely to give the hotel, restaurant and bar a brighter look for brighter days ahead. Though the seventh-month renovation was planned long before the pandemic, it allowed the employees to step back and take inventory of their role and vision for the company and property itself.
"I am very proud of how our company has handled this time with care and forethought. They have worked closely as a family," says Thierry Kennel, regional vice president and general manager, Four Seasons, Denver. Kennel, who started with the Four Seasons as a dishwasher, says that the time away gave everyone a new perspective. "In the thirty-three years I have worked for the company, this is perhaps the biggest moment of achievement for all the hotels and employees. We came out of this with genuine care and support for one another and our guests."
From the first step inside, the space is a soft and elegant reflection of Denver's downtown spirit of luxury and sophistication. Soft-washed woods, understated lighting and modern appointments transitioned the space from a traditional vibe to one that suits Denver's overwhelming desire to get back out there and have some fun.
Just past the lobby, you will notice a big change—the new lobby Corner "bubbles" Bar, where Champagne takes center stage. Around the corner, the main bar is still the favored gathering place for locals. The patio, probably more important than ever now, extends the entertainment space with heaters for cooler weather and misters for summer warmth. The curvaceous EDGE raw bar frames the entrance to the restaurant. The restaurant is a grand, open, inviting space.
Just as the Four Seasons has always been a centerpiece that draws locals and guests to Denver's vibrant downtown sports, dining and entertainment venues, the newly renovated property is exactly what the city needs as people begin to venture out. "The food and service at the Four Seasons will always be the best," says Kennel. "The renovation creates a space that is memorable."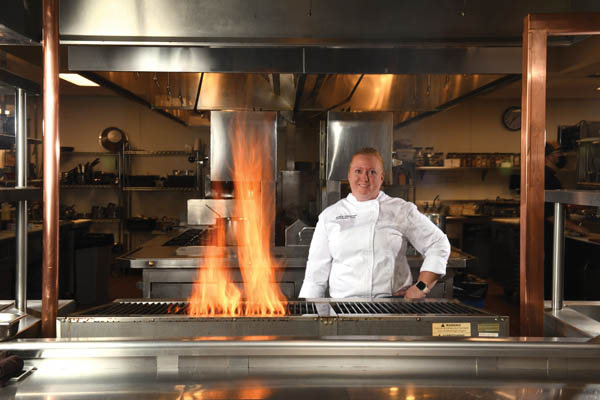 New Flavors to Old Favorites
The new menu at EDGE is a lot like Restaurant Chef Jessica Biederman. It's a little Southern sass, with a splash of New England plus meat- and-potatoes Midwestern and Mountain West steaks all rolled into one. The menu retains its steakhouse roots, but there is more to it now, which means you can invite your vegetarian or your adventure-eater friends and everyone will leave happy. "When we saw the new look for the restaurant, the new menu called for a more feminine, softer approach," says Chef Biederman. The prized aged steaks and premium cuts of beef are still there. But this also meant more seafood, vegetarian and vegan menu items that didn't seem like an afterthought or were on the menu just to satisfy a must-have. "Long past are the days when chefs have to push past the unguarded place in the pool," she says. "We used to say to people who had special food desires, 'You can swim with us, but stay in your space. People have dietary restrictions. They don't want steamed spinach on a plate and certainly shouldn't be punished for it."
Has she succeeded? Wholeheartedly yes. My dining companion, who likes everything but sways towards more traditional steak and fish, found plenty on the menu to satisfy him. And, my eclectic palette was tantalized with a Korean BBQ glazed cauliflower. It was like the best-selling cookbook, by Samin Nosrat, Salt, Fat, Acid, Heat in one single dish. "We don't want to hide behind it, let's embrace dietary wishes and use them as fuel to create more engaging entrées. Yes, it's hard," Chef Biederman admits. "But you can easily forget you are in a steakhouse if you have the best cauliflower, you've ever had." And it was the best cauliflower I'd ever had.
So where did some of the inspiration for the new menu come from? Chef and her roommate, a beverage director, took to the road during the pandemic. Work was non-existent so the next best thing was an extended road trip across the country. They ended up at an Oregon winery, where she worked as an intern and a harvest chef feeding the staff. "To see a beverage go from grape-to-bottle was humbling," she says. "People were working all day, getting stung by bees." She has a new found respect for wine after toiling in the vineyards. "The amount of things you learn in a harvest is disturbing. When you go to bed hurting, it's empowering."
The next stop was back home to her parents' home where she worked again in her first restaurant. "I had not seen many of these people in 15 years. We rehashed old memories, revisited dishes and put a new spin on them. Getting to work with a chef that you worked with as a colleague instead of a boss is fulfilling," says Chef Biederman.
Her final adventure brought her to Colorado and eventually to EDGE. As a teacher at the Escoffier Culinary School in Boulder, she learned about the new incoming workforce. "I learned about what they expect of us, what are their complaints and desires when working as a chef," she says. "At the end of the day, cooking is simply taking things from the ground and on the land it's all just food. We have to have a respect for the food and that what we are doing with it, is sustainable," says chef.
Chef Biederman's new menu also nods toward her previous home in Boston with the Four Seasons, especially the unexpected, tinned seafood served with Ritz crackers. For me, this was a food memory of watching Boston Bruins hockey with my dad on a weekend afternoon. But Portuguese tinned mussels on the Four Seasons menu? Who thought of this?
"So much of what we do is making food that other people like and sprinkle in things we like," says chef. What does she like? The menu at Saltie Girl, a small 25-seat restaurant in Boston. "There is nothing you can order that is bad. Their menu is humble and flawless on every level. I was sent there with this tinned fish." Though a board of tinned seafood and Ritz crackers is not expected at the Four Seasons, its simplicity and fun factor is a welcome change to the fuss of fine dining. "There is something so beautiful to that cuisine," agrees chef.
I asked chef, "What is to come in the upcoming seasons?" Her creative culinary mind is churning with ideas. "More of the same consistency, positive energy around the service and staff," she says, "while balancing our new with old dishes." As for introducing new things for Denver's expanding palate? "I like to take things that everyone remembers. Culinary arts is using food instead of a pen. You get to know us. I like people to find their story with our food. That might mean a new take on French onion soup with scallops or a butternut bisque inspired by a Starbucks pumpkin latte." Yes, please!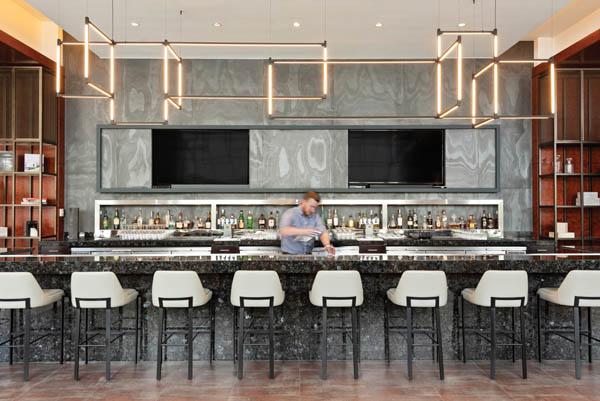 EDGE's New Take on Wine
When Tim Sorek, the sommelier for all the bars at the Four Seasons, Denver and the EDGE restaurant, was brought on, he inherited a massive amount of wine. Over the years, the collection grew with each sommelier. The renovation was the perfect excuse to begin to tailor the list to something that fit guests' preferences and the new menus. "I've been peeling back the past and deciding what fits and where I can find alternatives," says Sorek. For guests, that means more domestic and new world wines.
Sorek believes that the wine should suit the texture of the food. Yes, steak with Cabernet will always be king. But he finds that Denverites like to be adventurous in their wine choices. "Denver has so many small wine shops that are thriving," says Sorek. "This shows me that there is interest in exceptional smaller lesser-known wines."
Now that Restaurant Chef Jessica Biederman has added vegan, vegetarian and seafood dishes, the wine list is evolving too. For instance, the spicy and sweet Korean cauliflower, a new amazing vegetarian dish on the menu, needs bright and lively acidity such as a 2015 Salomon Undhof "Wieden & Berg" Gruner Veltliner, from Kremstal, Austria. Or even a red, such as the 2017 Bruno Giacosa Dolcetto d'Alba, from Piemonte, Italy.
Sorek says guests can expect to see more options on the wine list. "After quarantining, working from home and home schooling, people are excited to go out again. I want to stay ahead of what guests might want," he says. One example is a Four Seasons resident who loves sauvignon blanc, but there was only one selection on the menu. He quickly added more. "The secret to success in hospitality is to always find out what the guests want."
Three Bars for Four Seasons
When interviewing Andy Carroll, the bar manager for all three bars at the Four Seasons, Denver, I can hear the excitement in his voice. The last year has been tough on everyone, but especially for his profession. The renovation is alive and inviting for a space that locals already loved. And if the amount of people packed into the bar on the night, I visited is any indication, it's not likely to slow down. "Guests and residents visit the main bar at least once a day," says Carroll. If you remember the communal center table, don't worry, it's still there. Guests gather there like it's someone's kitchen island.
What is new, is the Corner Bar. The bigger space is all about Champagne, but not just any bubbly. This is the only place you will find Dom Perignon P2 by the glass. Why is this so special? In 2014, the Champagne maker changed the name of its late release to P2 and P3, to reflect the second and third plentitudes of development for Champagne. As the Champaign matures it goes through up to three plentitudes: P1, which is seven years; P2 arrives between 12-to-15 years of maturation and P3 after upward of 20-to-30 years. Each evolution adds to the complexity of the Champagne. In other words, Denver is lucky to have a P2 DP by the glass!
The bar also offers Dom Perignon 2010, Krug Gran Cuvee and Veuve Rose by the glass. And, if you are planning a holiday party, the Corner Bar can accommodate up to 100 guests for passed appetizers, wine, Champagne and other libations.
What are the EDGE Bar favorite cocktails? "The Strawberry Kiss has proven to be our most popular cocktail for the summer season," says Carroll. "It is made with Casamigos Blanco Tequila, a housemade Habanero and strawberry shrub and lime juice. It's sweet tart and ultimately refreshing," he says.
Another perennial off-menu classic is the EDGE Old Fashioned. "It's a classic smoked Old Fashioned that utilizes wood from our Barrel-select programs over the years."
Reserve Your Table
EDGE Steakhouse Bar & Grill
303.389.3050;
EDGErestaurantdenver.com/reservations
Plan Your Stay
Four Seasons, Denver
303.389.3050;
PHOTO CREDITS:
Chef portrait and ALL food and cocktail trio
Photos: Chad Chisholm
ALL interior shots with blurred people
Photos: Courtesy Four Seasons, Denver