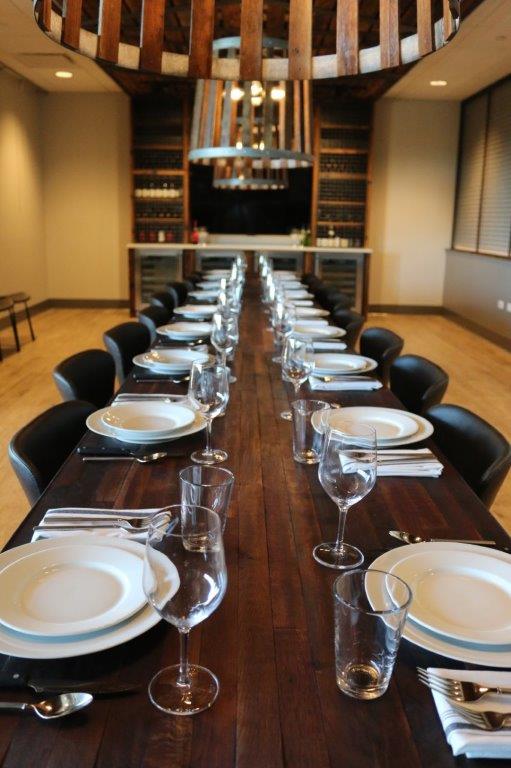 Red, white, rosé or sparkling? For Uncorked Kitchen, and every wine drinker reading this right now, whether or not to have a glass is never the question. The query is in what variety, exactly, to enjoy.
Centennial's cooking-class and wine-bar locale hinges on the idea of social wine and culinary experiences. As of Nov. 1, the company introduced a new extension to its mission: The Cellar Room, a 24-person sitting or 30-person cocktail-style entertaining room, located on the bottom floor of the large space.
Assistant manager and "Jane of all trades" Lindsay Joyce says people are usually confused when they first step into Uncorked, most expecting "just another cooking school. … But our whole brand is really about being welcoming to everyone and having people share a great meal together." Most visitors also note, she continues, that the building has an intriguing look and modern design–The Cellar Room is no different.
"The space is something that's a little bit more intimate and cozy, but still modern and sophisticated," Joyce says. The tables are made out of wine casks by an artist in California, the three light fixtures are made from old wine barrels and the room as a whole (complete with a private patio, catering menu, 70-inch TV and sound system) was designed by Roth Sheppard, a Denver architecture firm.
Beyond its atmosphere, the Cellar's selling point is versatility. "The space is going to be perfect for people who just want to have a more intimate dining experience with their family," Joyce says. "But it's also for people who want to have, say, a cocktail hour for a small, 30-person wedding reception."
Reservations are going in The Cellar Room books now.