By Jessica Hughes
ENHANCED MINDFULNESS for your overall well-being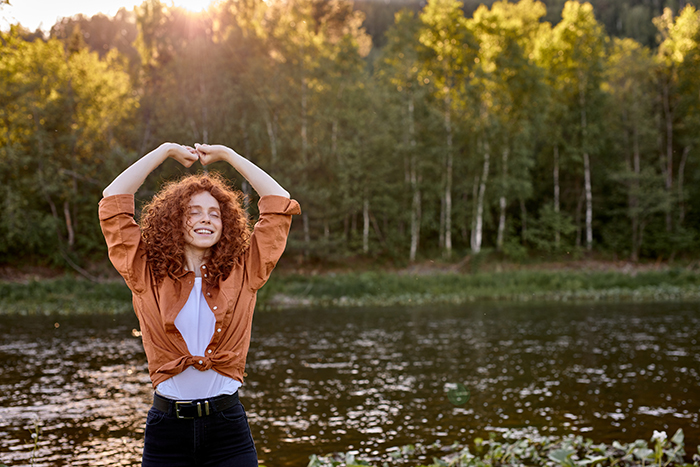 Heal your mind, body and soul through the Japanese art of Shinrin-yoku, also known as forest bathing—a mindfulness wellness practice of immersing yourself in nature through the senses in a relaxed—yet alert and purposeful—manner.
So, why forest bathing? It's no secret that a dose of the great outdoors is proven to reduce blood pressure, improve heart-rate variability, lower depression and anxiety levels, and give your immune system a boost.
The practice of forest bathing takes the simple act of being outdoors to another level by turning it into a mindfulness journey. And, no, this is not a hike—Shinrin-yoku translates to "nothing but wandering along." However, shoes and comfortable clothing are recommended to help keep your mind in the present, and not on any discomfort. "We may not even walk a mile," says Jon Gottsegen, certified forest bathing guide and owner of Denver-based Earth Yearning. "The point is to slow down, be mindful and attune to what's around you."
While one could argue that mindfulness can be practiced anywhere, it's important to consider it from the wellness point of view. "Being in nature enhances our well-being in ways that you can't get anywhere else," Gottsegen explains, "because we are in a relationship with nature."
When you embark on a forest bathing journey with Earth Yearning, the experience, which can last as little as an hour or up to several hours, is all about what you want it to be. It begins with a simple check-in of where you are now, both physically and mentally. Gottsegen encourages forest bathers to be intentional about stepping into the new space as they begin. "I describe it like crossing a threshold, where we enter into new land, leaving what's behind them out there."
Gottsegen leads a leisurely stroll with intermittent stops accompanied by deep breaths, intentional observations and an invitation to take a moment and observe all the five senses—touch, sound, smell, taste and sight. It's a time to pay attention to your current emotional and mental state and to notice any stiffness or pain in your body, then intentionally relaxing. "In forest bathing, we layer the benefits of being in nature with enhanced mindfulness practices," Gottsegen says.
Continuing to walk with that openness, the idea is to stay connected to all your senses—ultimately deepening your connection with the world around you and yourself.