By Kastle Waserman
STEPHANIE AGUILAR captures the animal spirit through art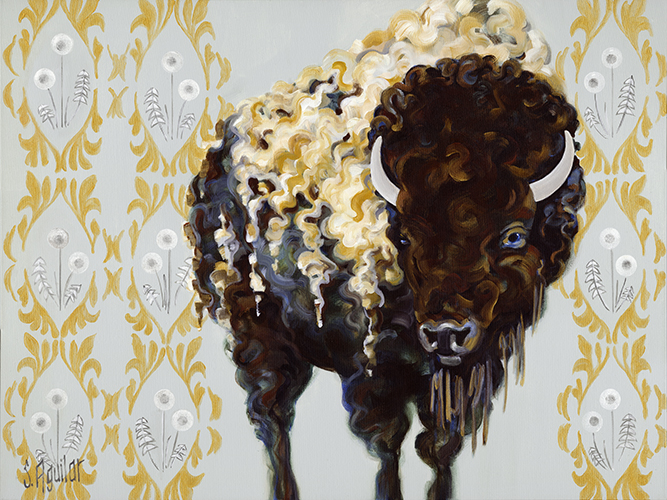 Playful images of foxes, stoic bison and fluttering hummingbirds fill Stephanie Aguilar's paintings with color and appreciation for the beauty and wonder of some of Colorado's most beloved wildlife.
Originally from Denver, Aguilar says art was something she grew up with. "My mom was a painter, and shegave artist talks at my elementary school."
But art wasn't Aguilar's first career choice. She studied interior design, graduating from the University of
Illinois. She went on to work for prominent architectural firms in Chicago and Los Angeles.
She eventually returned to Denver to settle and start a family, giving up her interior design business to raise her two daughters. That's when the art bug returned. "I was a full-time mom, and I needed an outlet for my creative energy."
She started taking classes at the Art Student League in Denver and Foothills Art Center in Golden, experimenting in open studio sessions and finding her own style. When she got a booth at the Art Student League's summer market, she got hooked on the idea that she could sell her art, noting that it came as a huge surprise when people actually wanted to buy it. But what she loved most was connecting with people who came to her booth.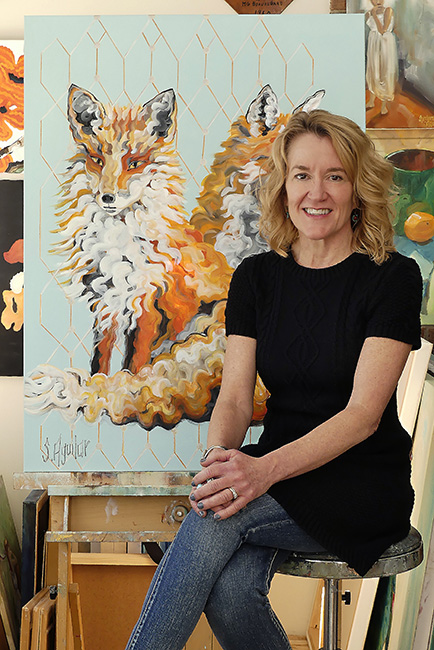 Right: Photo By aaron lowe. Left: Photo courtesy of Stephanie Aguilar
"I meet people, and the only thing we might have in common is a love of art or interest in a piece I've done. It's really special," she says.
Aguilar now sells prints and original paintings at markets around Colorado throughout the summer, usually meeting people who want commission pieces, which she works on in the winter months. "It's kind of a second career for me," she says.
Aguilar paints with oils and acrylics, but not at the same time. She often switches from one medium to another to make her work feel fresh. Other times, she will completely deconstruct what she's done in the past to prompt a fresh creative response. "I had an older painting, and I just started painting on top of it and letting the old come into the new, just as a way to reboot my head," she says. "I think every artist goes through periods of feeling stuck, and you have to find ways out of it."
Her current work consists mainly of animals and birds, but if you look closely, you'll see her love of interior design peeking through as the animals often appear in front of a patterned, wallpaper-style background. "I love the idea of this geometric
print with a large organic animal in front," Aguilar says. "I think if I had another life, I would be a pattern designer."
Aguilar says certain paints lend themselves to certain animals. "Most of my birds are oils because I use a technique of wiping paint off to soften the feathers. I'll use acrylics for the bigger animals with textured fur. I think the commonality between the two is my loose brush strokes and color palette."
While some of her animals may be posing and some may be in action, she says the goal is always to try to capture their tenacity and personality. "Animals are very intelligent, and they need a lot of strength to do what they do to survive. I try to show respect for the subjects that I paint."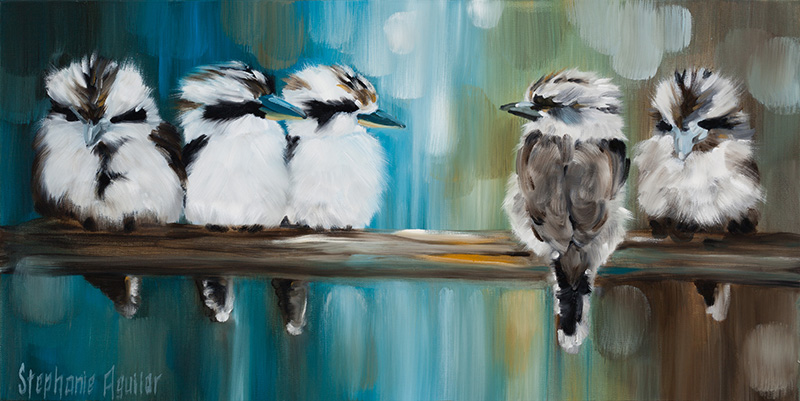 Time Out | Photo courtesy of Stephanie Aguilar
Stephanie Aguilar Art
720.810.3599
stephanieaguilarart.com