Indoorsy people have good reason to balk at camping, from the omnipresent bugs to the potential for a miserable, rain-sloshed getaway. That's where glamping—a.k.a. glamorous camping—comes in, with sumptuously outfitted "tents" (most equipped with luxe en-suite bathrooms) and amenities ranging from guided stargazing to butlers who will prep your post-hike s'mores. Yes, heaven *is* a place on earth.
Experiences that can only be described as idyllic are one reason why Denver-based Douglas Jackson, PhD, JD, booked a stay last summer with his girlfriend Dana Jacoby at The Broadmoor's Cloud Camp (broadmoor.com), home to 11 cabins and a glamping suite in a fire tower with a private outdoor hot tub. It "turned out to be a perfect few days," says Jackson, President and CEO of Project C.U.R.E., an international non-profit that delivers medical relief to people around the world—approximately 200 semi-truck sized containers of medical supplies and equipment every year. "It has become a favorite place of ours. And we went back two more times, bringing friends and family later in the summer and into the fall."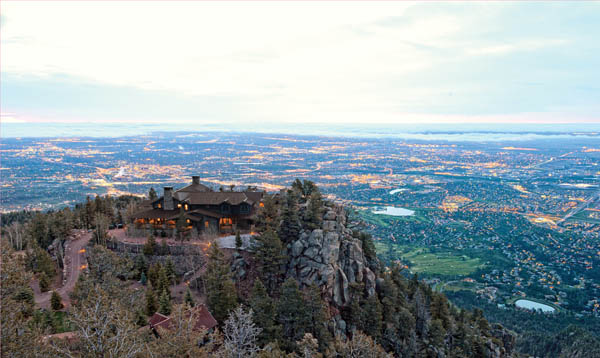 Not surprisingly, Jackson loves it so much he returns again and again. Cloud Camp sits some 3,000 feet above The Broadmoor on Cheyenne Mountain, overlooking a postcard-worthy 360-degree panorama that stretches from Pikes Peak to the fringes of Kansas. "Guests can be as active as they choose, hiking, riding the mules, practicing archery or playing pickleball," Jackson says. He especially adores dinners in the great room. "There is a fireplace at either end of the massive hall, reminiscent of the place where [Broadmoor founder] Spencer Penrose gathered with his friends decades ago. The room is appointed in some of the best Western art and memorabilia from [the current Broadmoor owner] Phillip Anschutz's private collection. The feeling is a blending of a homey mountain living room and a magnificent museum."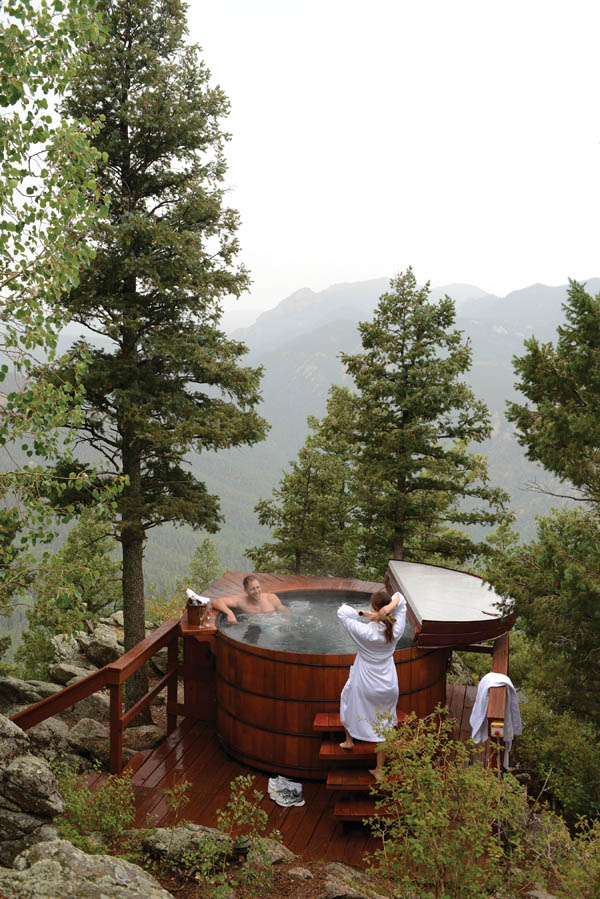 And pack your hiking boots, because you are still interacting plenty with mother nature—as much or little as you like. "Our first trip was on the 4th of July weekend," Jackson recalls. "As is customary in Colorado, a mountain rainstorm built over the Continental Divide and spilled down across the Front Range. It rained buckets for close to an hour. The fire was roaring in the great room and smoke curled out of the chimney. The huge drops pounded a rhythm on the corrugated metal roofs of the cabins. Just in time for the evening flag ceremony when the huge American flag [was] slowly lowered from the giant camp flagpole, the rain subsided and the sun began to stretch out over the plains below. At that moment, an intense rainbow began to emerge and settled precisely on the Stars and Stripes. It was a good reminder for all of the campers that despite a tough year, we had much for which to be thankful."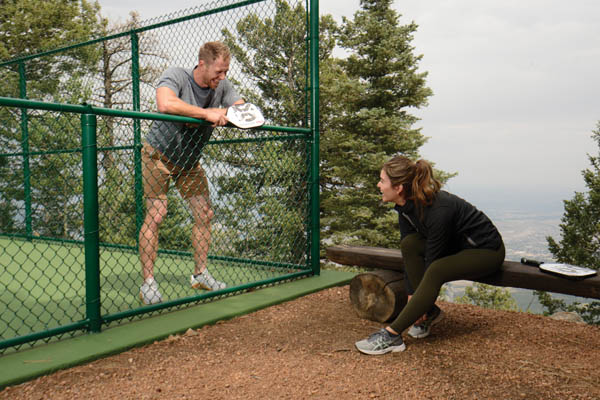 Here are a few of AvidLifestyle's other favorite spots that are putting the glam in glamping, from Vail to Santa Fe.
Dunton River Camp
Dolores, Colorado
Thanks to its brand new pangolin-shaped spa complete with local creek stone massages, there's never been a better time to indulge at Dunton River Camp, a former 19th century cattle ranch turned ultra-luxe all-inclusive stay. Their collection of Mountain Tents are fitted with oversized soaking tubs, king beds, gas stoves with thermostats, and loaner mountain bikes. duntondestinations.com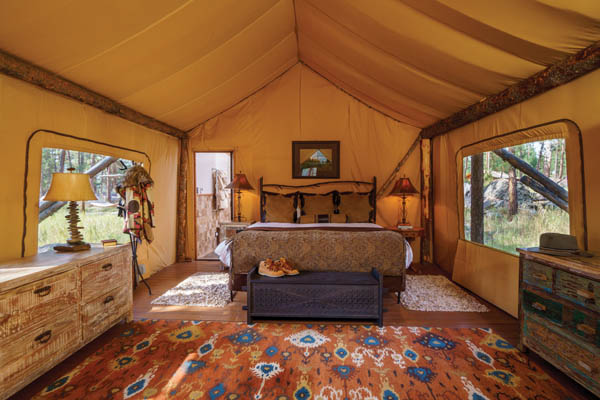 The Resort at Paws Up
Greenough, Montana
Before you ask: yes, dogs are equally pampered here. (Hence the 'paws up' moniker). But their bipedal owners love it too, partly because of the myriad bucket-list activities—archery, cattle drives, fly-fishing, hot-air ballooning and so much more. Book a Cliffside Camp One-Bedroom Tent for a sprawling 605-square-foot abode with a twinkling chandelier, copper soaking tub and doting butler. pawsup.com
Kitfox
Santa Fe, New Mexico
Newly opened on 160 private acres abutting a 10,000-acre preserve just 20 miles from downtown Santa Fe, this is a hiker's fever dream: there are some 30 miles of trails wending through the property. Book a canvas Queen tent with a platform bed and interiors that look culled from an Anthropologie catalogue, but be prepared to rough it a little (there are no en-suite bathrooms here, but plenty of Venture Wipes). staykitfox.com
Collective Vail
Wolcott, Colorado
A 1,000-acre ranch? Check. Activities like zip lining, wine tasting and whitewater rafting? Check. Gratis locavore breakfasts that include dishes like avocado toast drizzled with sage oil? Check. We love that Summit Tents include downy 1,500-thread-count linens on the king beds; rainfall showers in your private bathroom; and Frette robes for lounging après-hike. collectiveretreats.com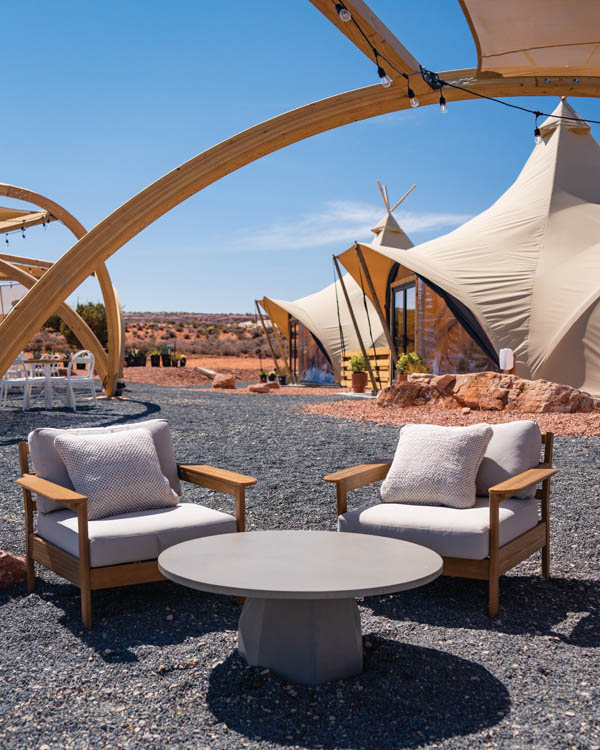 Under Canvas
Various National Parks
If you've been wanting to #getoutside in America's jaw-dropping "backyards," but you'd rather skip the well-trammeled campgrounds, Under Canvas is for you. They pitch safari-style tents with private bathrooms, living rooms and wood burning stoves everywhere from Zion to Glacier (see their website for a full list, including available dates), and outfit them with organic bath products, daily housekeeping and curated camp activities like fireside singalongs. undercanvas.com
Conestoga Ranch
Garden City, Utah
Did you spend hours playing the Oregon Trail video game as a kid? You might opt to pass on this lakeside ranch's tricked-out-tents in favor of a covered wagon inspired by 19th-century originals and built in Bear Lake, Utah. The hearty breakfasts here (on the menu: pulled pork biscuits and pancakes with whipped Slide Ridge honey butter and maple macerated berries) are delicious. While you're here, be sure to stop by Paris Ice Cave—where you'll spot ice year-round. It's the definition of cool. conestogaranch.com