By Lori Midson
Rare by Grist engages all your senses to pursue the Holy Grail of beer, and redefines the allure of a brewery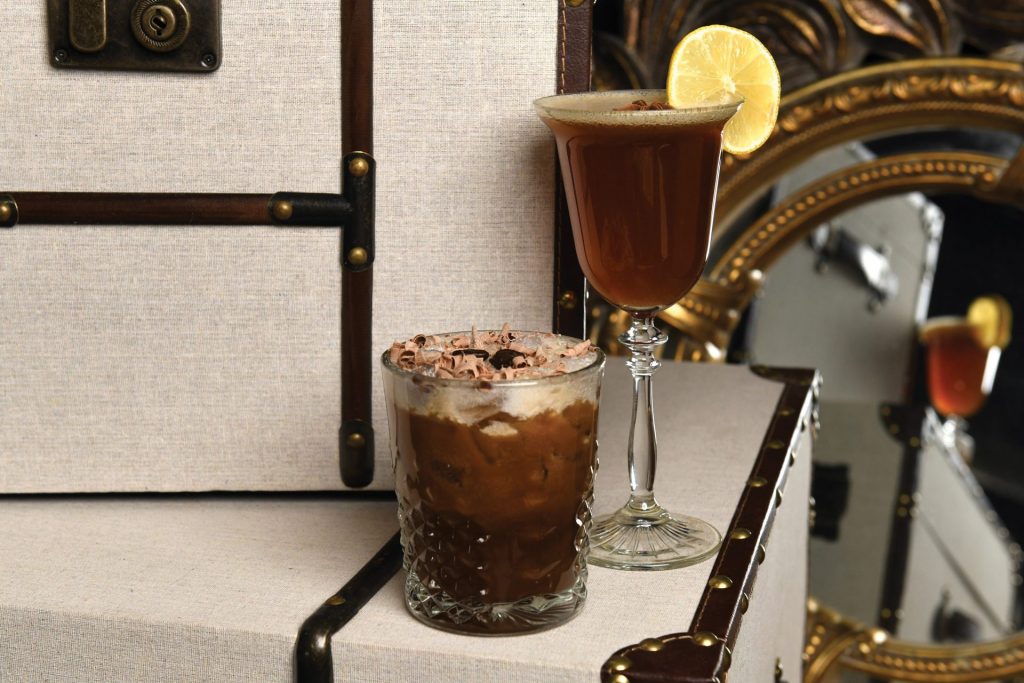 When you step inside Rare by Grist Brewing Company, an aesthetically bewitching brewery and taproom in Lone Tree, it's like entering a magical mystery tour straight out of the steampunk movement. "When you walk into Rare, we want to transport you to a whole new world of zythophile heroes, malty villains and hop-powered dirigibles. It's a place where anything imaginable can be experienced within our doors — or through the glass of a pint," says Kaleb Hilton, who co-owns the three-and-half-year-old business with several others, including Gary Hilton, Kaleb's father and Bob Malone, the taproom's head brewer.
But fascinating aesthetics are hardly the only draw. In a landscape where breweries, taprooms, cocktail bars and mixology programs are all vying for adulation and a population, the team at Grist realized they needed to step it up another level to stand out. So in December of last year, they introduced Rare by Grist, an "immersive drinking experience," explains Kaleb, that intertwines the transformative taproom environment with mixology drinks incorporating house-brewed, high-gravity mixing seltzers and small-batch, "avant-garde experimental beers."
And so far, it's paying off: "We've since created an entirely new customer base and mysticism around our magical, tucked away taproom," says Kaleb, noting the inspiration for Rare by Grist was twofold: "On the business side, we knew we had to be different and unique not just for uniqueness' sake, but because we needed to make Rare a destination spot." And second, "We want to invite our guests to literally 'drink the story' as our beer is folded into the tales."
Tales, says Kaleb, is influenced by his and Gary's love of art and literature. Kaleb studied world literature as a child and college student, while Gary is a former designer. "Our goal was to create an ongoing mythology that tells the story of Rare both visually and literally, which translates to the art on the walls — all original settings and characters — comprising a folklore that intertwines our beer and cocktails," says Kaleb. And all of the senses, he adds, are incorporated into the Rare experience: "the wonderful visuals of the art, the taste of our award-winning beers, our mixology and cocktails, our curated music, the smells of cooking syrups and fruits and the feeling you get after a couple of fresh pints. That's the experience we're going for."
It's also an observation in education. Here, a cocktail with beer is called "mixology" or a "mixology drink," and the owners coined the phrase "brewing spirits" to define their Rare Mixology Project, which speaks specifically to its high-ABV ales and gluten-free, filtered seltzers (with an ABV of around 15 percent) brewed with sugar, water and clean-fermenting yeast in an onsite 3.5-barrel system. "It's a new category of spirits, and we're the only institution in the world that's doing this. We invented it," asserts Kaleb.
And nothing in the Rare Mixology Project is pedestrian. Head bartender Lauren Neale, who Kaleb calls a "cocktail goddess," creates the spirited libations, using innovative switches for the typical spirits — gin, rum and whiskey, for example — that give traditional cocktails their marked booziness. The Kaucasion, for example, is an iced concoction laced with citrus-based hard seltzer, alcohol-free Kahlúa syrup, roasty Dark Rapscallion stout, heavy whipping cream and a sprinkle of espresso beans, the sum of its parts quite like a white Russian. "Every few weeks, we introduce a series of new drinks based upon something we've tasted during a night out or saw online, and then the bar team does research and development, tastes the drinks, compiles all of our notes as a group and eventually puts the drink on the menu once it's been perfected," explains Kaleb.
When Kaleb and his cohorts introduced the brewery's Rare Mixology Program, they knew it was a gamble. "We had no idea how it was going to be received — just that it was a cool idea, unprecedented and a passion project, and we were compelled to do it no matter what," shares Kaleb. But to his surprise, guests immediately embraced it. "People were — and still are —very interested in the concept and the brewing spirits process, and I'm happy to say it's gone over seamlessly with our customers," he says. In fact, the Rare Mixology Project has been so successful that the owners are currently scouting additional locations in the RiNo, LoHi and South Broadway neighborhoods. "We'd like to open new taprooms in early-to-mid 2021," he discloses.
We'll drink to that!
Grist Brewing Company, Lone Tree
303.738.9394; gristbrewingcompany.com/llone-tree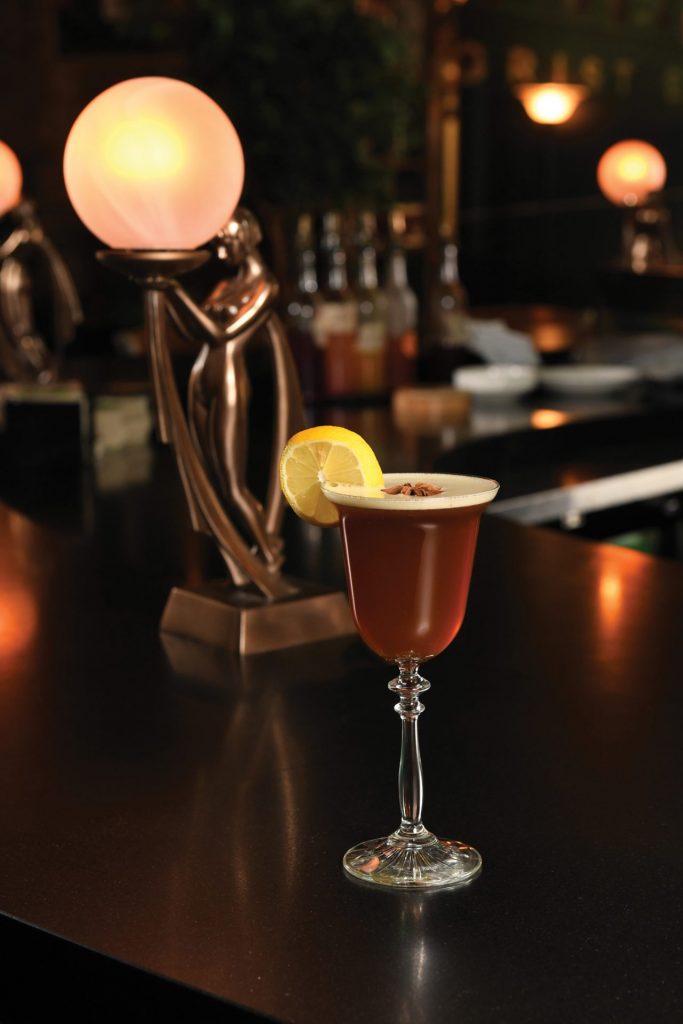 THE THREE TO DRINK NOW
Autumnal spices. Chilies. Apples.
Fall's seasonal ingredients aren't just for food: They're perfect for cocktails, too. And Kaleb and the crew behind Grist's Rare Mixology Project have unleashed several cold weather cocktails to keep you warm and toasty in their taproom.
Chai Rishi
Pumpkin spices get a huge piece of the pie during the fall season, but chai spices are even better, especially when they're mixed in a glass. "We wanted to use chai spices in a light and aromatic mixology drink that's piquant and pleasantly stimulating and exciting," says Kaleb, who marries the chai spices with fresh-squeezed lemon and orange juices, cardamom-infused bitters and a mix of both the Crimson Crow American amber red ale and Trippinwitz, a German pilsner. "This isn't a spirited cocktail; it's a beer. How surprising!" quips Kaleb.
Chili-Chocolate Churro
The majority of drinks in the brewery's Rare Mixology Project, notes Kaleb, are inspired by world travels — and the chili chocolate churro is no exception. After a jaunt to Mexico and lots of margaritas, the team developed the chili-chocolate churro: chile-chocolate sauce, cinnamon simple syrup, orange bitters, Foreign Export stout, spicy dried mango drizzled with chocolate and a cinnamon-sugared rim. "We revisited Mexico with a fall-winter mixology drink using chocolate and chilies, a combination we've been wanting to work on for some time now," notes Kaleb. "The aroma is very chocolatey, the sweetness from the chocolate works incredibly well with the stout, and the spiciness of the chile is fairly subtle."
Winter Mueller
A fall-winter version of the brewery's Moscow mule, the winter Mueller, named for a good friend of the owners who helped build the interior, is a hard seltzer-based libation with lime and apple juices and spices and herbs, including cloves and ginger, that speak to fall. "You get the fizzy, bold, dry and effervescent ginger taste you expect from a mule, plus your usual fall flavor suspects: cinnamon, nutmeg, clove and apple," says Kaleb, adding that it's potent. "After a couple of these, you'll definitely feel it." Pow!