Grammy Award-winning singer/songwriter Ciara and Broncos quarterback Russell Wilson are quickly making Denver home. While Wilson was with the Seattle Seahawks, the couple and retail veteran Christine Day opened two retail locations for their fashion brand The House of LR&C. Following suit, they recently opened their flagship Colorado location at Park Meadows. And the south metro location is perfect for the company that embodies Coloradans' core values.
"The House of LR&C was built with the intent of making sustainable fashion an effortless choice for consumers," says Day. "From the start, we've wanted to impact our people and our planet by changing how we do fashion—essentially, we want to make it more inclusive and participatory for our customers."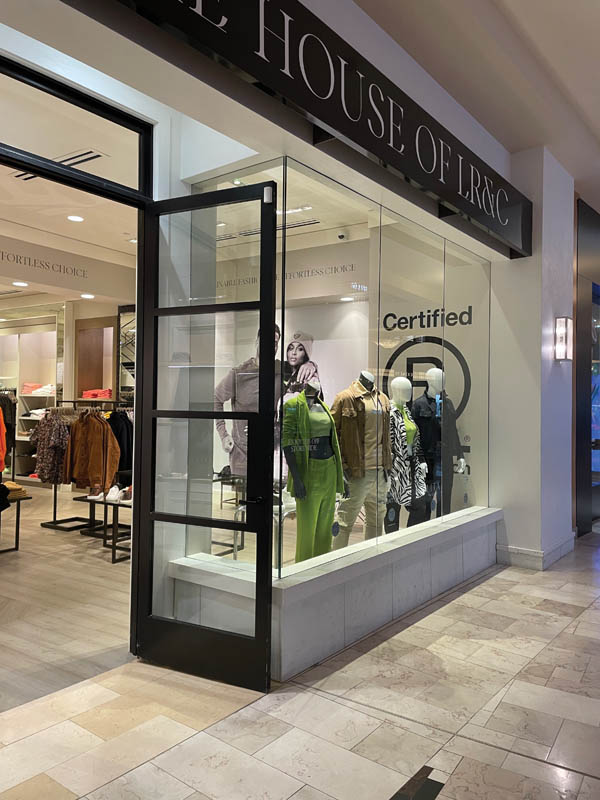 B-CORP CERTIFIED
Day explains since inception, sustainability and being a force for good have always been core pillars of The House, and its committed to holding itself accountable and being transparent so customers don't have to choose between fashion and responsibility. "The House of LR&C received its B-Corp Certification in March of 2022," she says. "The distinct certification is awarded to companies that meet the highest standards of social, environmental and economic performance. As a result of this designation, all brands at The House were reviewed to ensure they met the rigorous standards of the B-Corp guidelines."

SUSTAINABILITY ETHOS
Day says the company considers three pillars of sustainability as outlined in the B-Corp certification process: social, environmental and economic. Social because people are the core of the fashion industry, and The House wants to ensure its working conditions reflect the company values. Environmental is important to the founders because fashion is among the most polluting industries. Of course, the company must be fiscally responsible for the simple fact that if it's not a viable business, the company will not be able to create change.
"We developed a 'goods mandate' categorizing all of the materials used to create our products into never, good, better and and have a standard for each of our brands to produce from the top two categories," Day says. The company also considers sustainability beyond the garment; they use upcycled and recycled store fixtures and hangers and recyclable or compostable packaging from factory to customer, in addition to purchasing carbon offsets for photoshoots.
DISCTINCT STYLES
Currently, The House features three specific brands—each with its unique slant. Good Man Brand is a modern interpretation of elevated menswear while LITA offers a tomboy chic style that mirrors Ciara's own effortless style. And HUMAN NATION is a gender inclusive streetwear line.
Day recommends a few pieces you'll want to look out for: "I love the Spark Blazer from this season's LITA collection—it's one of those versatile pieces that carries you from work meetings to events and can be dressed up or down. We're all about wardrobe staples. And for men, I'm a big fan of the Edge Lo Top Sneaker in suede. The quality of the suede combined with the timelessness of the classic sneaker silhouette make this style the ultimate gift for the men in your life."
Ready to add some new seasonal pieces to your wardrobe? The House of LR&C promises elevated essentials meets heirlooms in the making for an effortlessly cool, ultra-versatile wardrobe ready for all of life's moments.
The House of LR&C, Park Meadows