Time is not always kind to beauty trends. Consider 2015's over-the-top contouring, the over-tweezed eyebrows surrounding the aughts and the '80s mullet. Fads come and go—Ancient Romans would whiten their teeth with urine, for heaven's sake. Instead, the first stop in a pursuit to revitalize and simplify your habits should be to look to trusted friends and family who have time-tested routines that are effective and easy—regimens with staying power. Welcome to that first stop.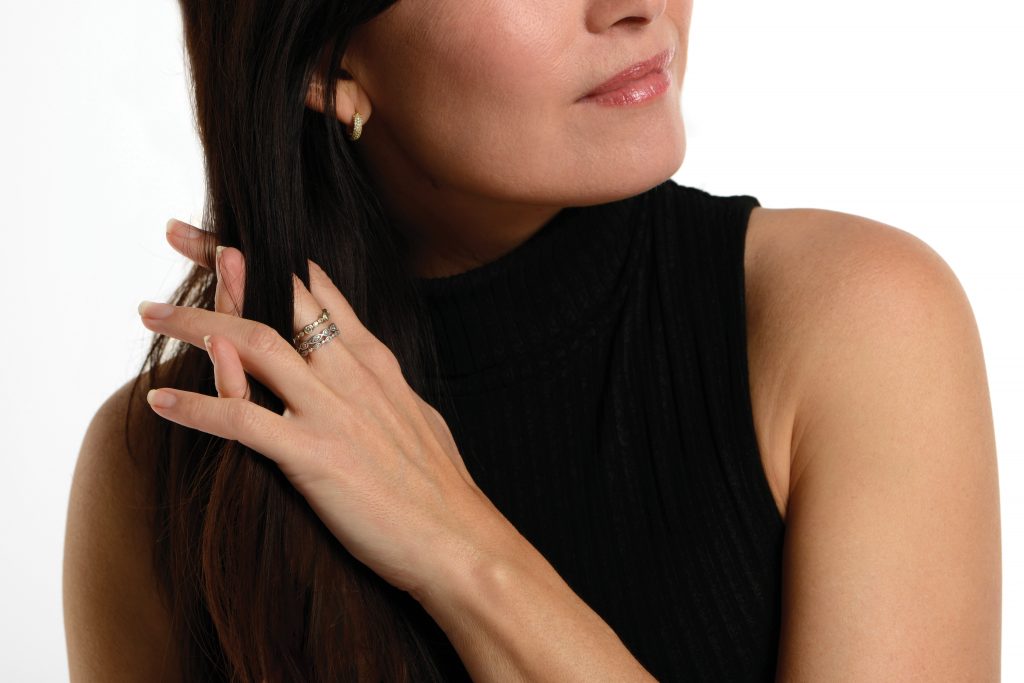 If you don't know AMY MEYER SMITH from her role as marketing director at INFINITI OF DENVER, you likely recognize the name from major philanthropic and food and wine events such as Urban Nights and the Breckenridge Wine Classic—or even from a quick introduction (before social distancing) on the High Line Canal trail. The Cherry Hills Village resident makes it a point during and outside of work hours to be part of organizations that make a difference. For Smith, a successful beauty routine creates almost effortless mornings and keeps her body feeling healthy. 
Everything starts with a workout 
"My beauty routine, really, starts with going to the gym or working out every morning. I think having a healthy, active lifestyle is part of a beauty routine because it helps you get good sleep and keeps you nourished on the inside, so you can look and feel that way on the outside. I go to Pure Barre, lift weights and, of course, run and walk our dogs on the High Line Canal trail." 
"I don't do any caffeine" 
"I haven't had caffeine in probably 10 years. One, I think coffee is pretty bitter in the morning. But, two, I'm one of those people who is up as soon as I open my eyes in the morning. I just don't need it. From my understanding, caffeine also dehydrates you; having hydrated skin is already tough enough in Colorado." 
Tricks to Smith's 25-minute morning 
It all centers around two beauty services. "I would forgo Starbucks for a year to get a blowout and semimonthly eyelash extensions. Those make me feel pretty: All women should take the time to do whatever it is that makes them feel that way, whether it has to do with nails, hair, etc." 
"My blowouts last for five days" 
"The trick to a good blowout is the stylist. My stylist's name is Molly. I followed her from school to her own salon, Studio 515. I do, though, sleep with my hair in a high ponytail that sits right on top of my head. When I take it out in the morning, that blowout body is still there." 
The beauty advice Smith will never forget 
"To laugh. The more you laugh, the younger you look and feel: From a wrinkles perspective, frowning does cause more lines. My husband is a big part of that advice. We have a lot of fun together." 
Her top beauty "secret" 
"Dermaplaning. I do it once a month. Dermaplaning helps your makeup lay so much nicer." 
More Kérastase, please 
"Kérastase is my go-to hair product brand. Kérastase's Elixir Ultime L'Huile hair oil is great for flyaways. I like it so much I have a bottle at the office and a bottle at home." 
Burt's Bees lip balm is her everyday "lipstick" 
"I have around six tubes of the pomegranate 'flavor,' specifically, in my purse at all times. If a tube falls out, I'm covered!" 
Perfume isn't in her beauty bag 
"I was in the wine business before joining my husband, Chris, at INFINITI. And there, smell is very important. You never want to affect the smell of wines, so really good lotion—Origins' Precipitation body balm—is all I've used for around 25 years. Plus, with longer hair you also smell like your hair product." 
Next products on her shopping list 
"More Kérastase and Charlotte Tilbury's newest Superstar Lips tint." 
JENNELLE KUBINA has become a woman of fashion expertise. Two years ago, the mother of three bought The Streets at Southglenn's Apricot Lane Boutique in an effort to create some flexibility in her career. Her entrepreneurial spirit has found a lot of fun in the business— kind of like the gratification of function she has uncovered in a no-fuss, chemical-free-focused skin-care regimen, which takes cues from tips she learned as a child.
It all started with Mary Kay 
"My mom was a Mary Kay lady when I was little. She was a teacher; selling Mary Kay was her side gig. I could literally do the whole facial and Mary Kay pitch alongside her. But what I learned through all of that as a young girl was that you have to wash your face every night, and it can't be with regular soap." 
Why nontoxic products are important 
"My mom died of ovarian cancer at the age of 58; I was 28. We had a couple of years together after she was diagnosed, and we talked a lot about what she thought happened. She wondered if chemicals played a part. Even though we don't know the cause of her cancer, those talks made me think about the chemicals I was putting on my skin. I want to at least try to avoid some of them. I'm not perfect at having a chemical-free routine, but you just cut back where you can." 
Kubina has been serious about sunscreen for five years 
"I'm from Cleveland. When my family and I moved to Colorado in 2015, I noticed a visible difference in the skin of women my age, and it's because of all the sun out here. Northeast Ohio is cloud-covered most of the time and it's not a mile high. I definitely haven't had the sun exposure that Colorado natives do. So, my anti-aging helper if you will, is IT Cosmetics' CC+ oil-free matte cream because it has SPF 40. I also keep Aveeno body cream that has an SPF of 20 or 30 in my car and have my kids put it on their faces before school." 
Kubina takes the time to imspect ingredient labels 
"I'm always reading labels. Even if products say they are nontoxic or clean, it's not always true. I try to avoid sodium laureth sulfate, which is in a lot of shampoos and body washes, oxybenzone and octinoxate, both in sunscreens, and sulfates and phthalates. There are a lot of phthalates in perfumes." 
Her go-to chemical-free brand 
"Pure Haven, which used to be called Ava Anderson. It's not in stores, you have to order through the Pure Haven website." 
Her beauty memento 
"I still have some of my mom's original Mary Kay lipsticks from when I was five, just to have them. She liked her fuchsia lipstick." 
The beauty product she'll never use again 
"Oil-based eye-makeup remover. The oil-based, rather than water-based, formula is supposed to work better but I can't stand the way it makes my eyes and face feel; it burns! I actually returned a $4 oil-based remover that I got from Target because it just did not work." 
Kubina's saves and splurges 
"From the drugstore, I get mascara and Physicians Formula's The Healthy Lip Velvet Finish—which I have in six shades because it stays on and doesn't dry your lips— … but my favorite moisturizer is from Beautycounter, which is another great clean company. It's called Countermatch Adaptive Moisture Lotion. The formula kind of 'turns on' when you need it and 'turns off' when you don't." 
Perfume also isn't in her beauty bag 
"I'll wear diluted essential oils as a perfume, but other than that I don't wear fragrances because of the chemicals." 
What you wouldn't guess about Kubina's routine 
She doesn't need to put on body lotion daily: "But when I am feeling dry, I use Burt's Bees Ultimate Care Hand Cream (with baobab oil). My little girl has the worst dry hands and that's the only lotion we've found that works for her. I've never been one to use a lot of products, but that one is extra nice."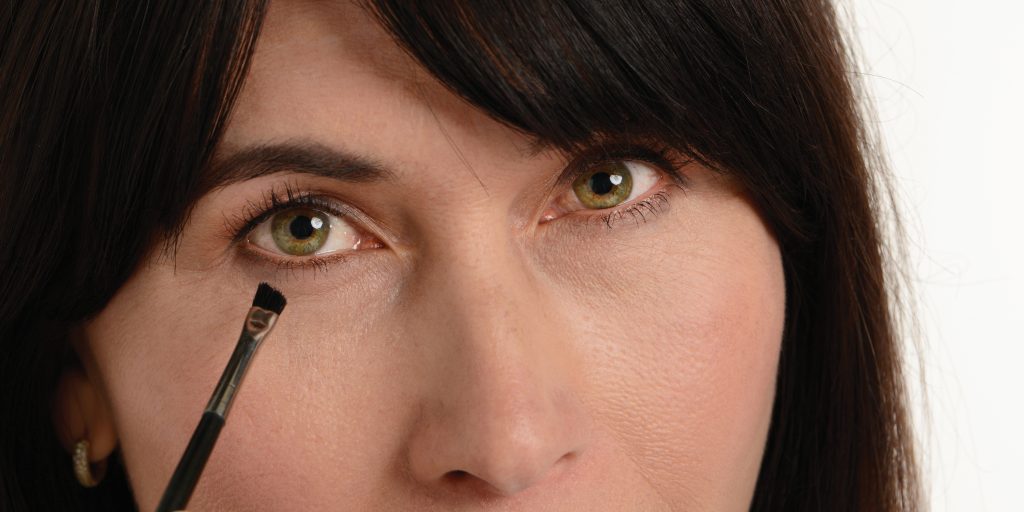 LEEDA RASSEKH'S nearly two-decade journey to local hair and makeup artistry acclaim started in Australia—with a demanding law firm job, a degree from a quality makeup program in Sydney and years with MAC, both in Australia and the U.S. It ends in south metro Denver with her own company, Leeda Beauty, and clients such as Leah Shafer, the Franklin D. Azar and Associates brand and numerous brides across Colorado. She has also been part of major fundraising events like St. Jude Glamour and Giving and Urban Nights.
The most common question Rassekh gets from clients
"How long does it take you to put your makeup on? When people see me, they assume it must take hours. They are always surprised when I say, 'Oh, 15 to 20 minutes because that's all I have time for.'" 
Her 15-20 minute makeup routine 
1. "If it's going to be a long day, I start with a face primer: The Porefessional by Benefit Cosmetics." 
2. "Next, I apply a Nars Cosmetics tinted moisturizer with SPF 30. I don't usually like tinted moisturizers because they tend to slide off, but this one works. Unless I'm going to a wedding or big event, it's all I wear."
3. "A little Nars concealer underneath the eyes and a light powder."
4. "Nars bronzer. I put on bronzer even when I don't apply a full face of makeup. It evens out my skin and creates a nice glow."
5. Eyeshadow. "I like to naturally enhance my eyes with tints that almost don't look like they are there—eyeshadow colors that match my skin tone. For me, that means taupe, mauve and a gold shimmer. I call the completed look my excitement socket!"
6. A D.I.Y. eyeliner. (More on that later.)
7. "A good mascara, of course."
8. "I define my brows. If could only choose one facial feature to do up, I would choose my eyebrows. They really frame your face, which makes eyebrows an important piece of the makeup puzzle. Eyebrow products, however, are tricky. A lot of options out there—pencils especially—pull too much and take out hairs. If I'm in a rush, I prefer Benefit Cosmetics' eyebrow tinted gel."
9. Finally, she'll swipe on a Nars lip pencil and, for a long day, top everything with a finishing spray, "like Urban Decay's All Nighter setting spray."
What you wouldn't guess Rassekh uses 
"Sonia Roselli Beauty's SexApeel exfoliating spray. Exfoliating sprays are popular in Korea. You spray it on your face or body (think knees and elbows), rub the area with your hand and all the dead skin just rolls off. It's amazing." 
Eyeshadow is not just for eyelids
"I use eyeshadow on my eyebrows and as an eyeliner."
To use as an eyebrow filler or definer: "Fill a pencil makeup brush with an eyeshadow color that's a lot lighter than your eyebrows, and brush. The color will get a lot darker as you put it on. A light brown shade, for example, is the perfect accent for dark brown eyebrows. You don't need to use dark brown or black tints ever."
To use as an eyeliner: Dab a small, firm and angled makeup brush into the eyeshadow of your choice. "Most of the time I'll do a dark brown shade," Rassekh says. Overall, the less powdery the eyeshadow is, the better.
Tap off excess shadow and, leaning forward to keep powder from falling onto your face (you can also hold a tissue under your eyes to prevent this), follow along your lash line with the brush.
Dab across your lash line, rather than dragging the brush. "This is a fail-proof method for winged eyeliner," Rassekh says.
Expect to recoat your brush two to three times throughout the process. If your brush is too soft or your eyeshadow too crumbly, you won't be able to grab and apply enough shadow to create a clear line.
What renews Rassekh's skin after a sleepless night
"I have a group chat with my four sisters. My sister who lives in Australia introduced the rest of us to this treatment that's now becoming more popular in the U.S. called a Gua Sha facial massage. It's a Chinese method of facial massage that relieves tension and boosts circulation to encourage lymphatic drainage, which gets rid of puffiness and undereye bags. And it really works. The massage almost sculpts your face: On your first try, massage only half of your face and you'll almost instantly see a difference from the other half. 
"You use stone tools specifically designed for Gua Sha—they're usually made of jade or rose quartz; just search for Gua Sha tools online—and basically slide the stone(s) over your face in different directions. There are specific massage tools for undereyes, too. One of my other sisters, who lives in Italy, has been doing this every morning and every night and her skin glows."
Spoiler alert: makeup artists know when you haven't been drinking water
"I can instantly tell when a bride's face is hydrated well from within. Her skin is plump and you can almost feel the water."
A skin-care trend Rassekh won't do again
"At-home microneedling. One of my sisters talked me into a kit that uses a sort of stamp. The first time I tried it, I damaged my skin barrier for weeks. I pressed very lightly with the stamp, not using nearly as much pressure as salons, and was not instructed to avoid any activities or anything. We went on vacation a couple of days later and, after being in the sun and maybe going in the pool, I had red bumps all over my face and my skin was on fire. I had to use serums and products for weeks to get my skin back to normal. So: Leave those treatments to the professionals."
Next product on her shopping list 
"Kiehl's Butterstick lip treatment. It has an SPF of 30, which is so important for summer."