By Candy Bhappu as told to Kathy Hisey Baum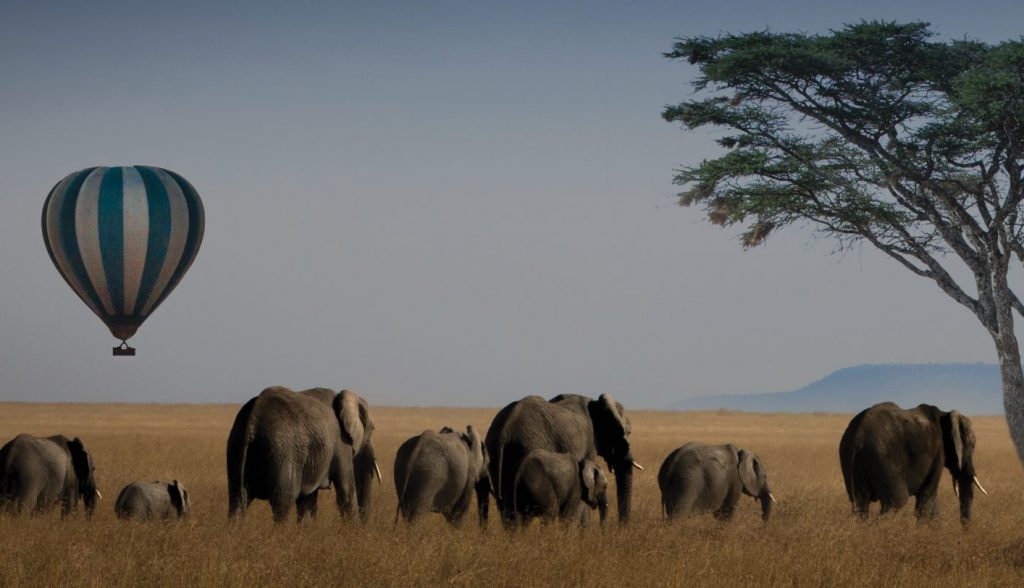 Perhaps the telltale sign that my family's 2018 South African adventure was not a typical vacation was this: One morning, I woke to a text from our friends in the neighboring room that read, "Stay inside. Don't go out!" I peeked out the window and saw a leopard slinking across the dirt just beyond our patio.
Although I travel frequently, I didn't know what to expect on my trip to the southernmost region of the African continent. But the minute we started to explore, I knew I was in for a once-in- a-lifetime experience.
My family was part of a larger group of 50 people wayfaring with Cuvée, a luxury travel company that curates unique journeys. Once a year, the team invites patrons and investors (including myself and my husband) to go on a distinct getaway that encapsulates what their services are about, typically surrounding a global event.
This itinerary began in Cape Town. I love to study history and want to learn as much about a place as I can before and during my visits. A significant stop in Cape Town was Robben Island, the prison where Nelson Mandela was held—now a museum. Our tour guide shared his profound experience as a prisoner during the apartheid era. (Later, we also dropped off supplies my daughter had gathered to a gleeful group of young kids at a village school near the Sabi Sands Game Reserve.)
Cape Town is full of excitement, too. Case in point: We rode in World War II motorcycle sidecars throughout the southern part of the cape, driving past beautiful beaches full of waddling penguins, and traveled to the region's wineries by car and helicopter. I'll never forget being serenaded by a musician in an enclosed bubble-like structure while entering the Constantia Glen winery. The notes of her electric cello floated through the air like carbonation up the sides of a champagne flute.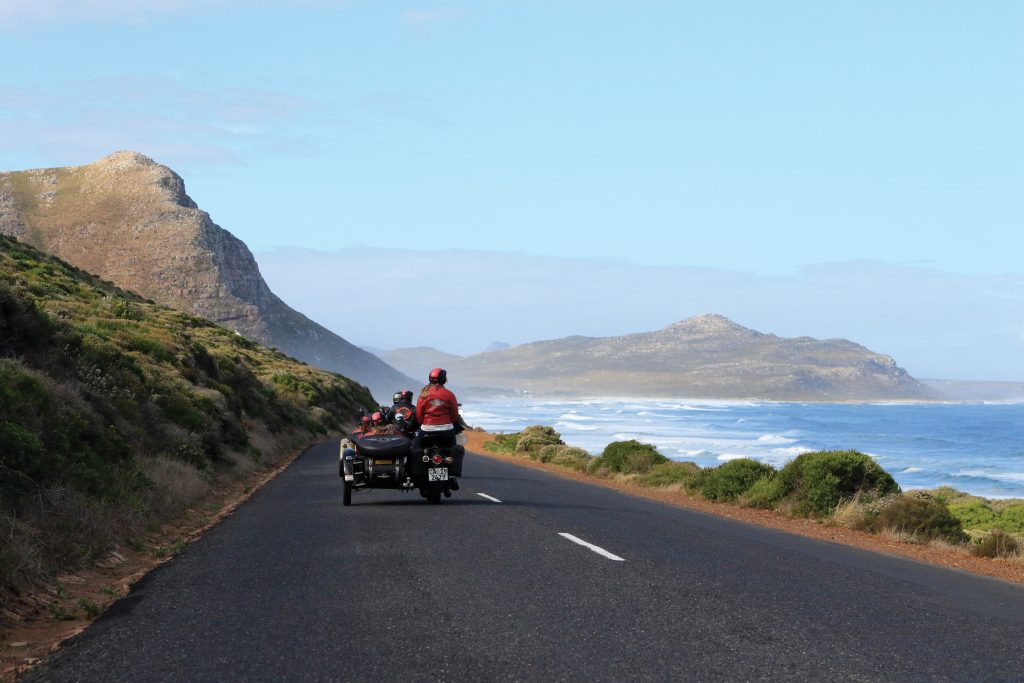 Next, we went on safari in the Sabi Sands Game Reserve and Kruger National Park, home to a diverse array of plant and animal species (including the "Big Five"—lion, elephant, Cape or African buffalo, leopard and rhino).
Each day in the bush started with an early wake-up call and an armed escort to the main lodge (while our Singita lodge amenities were luxurious, we were definitely in the middle of the wild kingdom). Then, we split into groups for morning game drives in an open-air Land Rover with tiered seats ensuring unobstructed views for everyone.
We were lucky to have the only female guide at the lodge. She has a degree in wildlife biology and educated us on everything there was to know about the area's native animals and plants and the interconnectedness of the ecosystem: I can now, for instance, tell you the difference between lion dung and elephant dung. The rest of the lessons were diverse. One minute our group was in the middle of a family of elephants, the mama peacefully feeding her baby, and the next we witnessed a lion feasting on a recent water buffalo kill.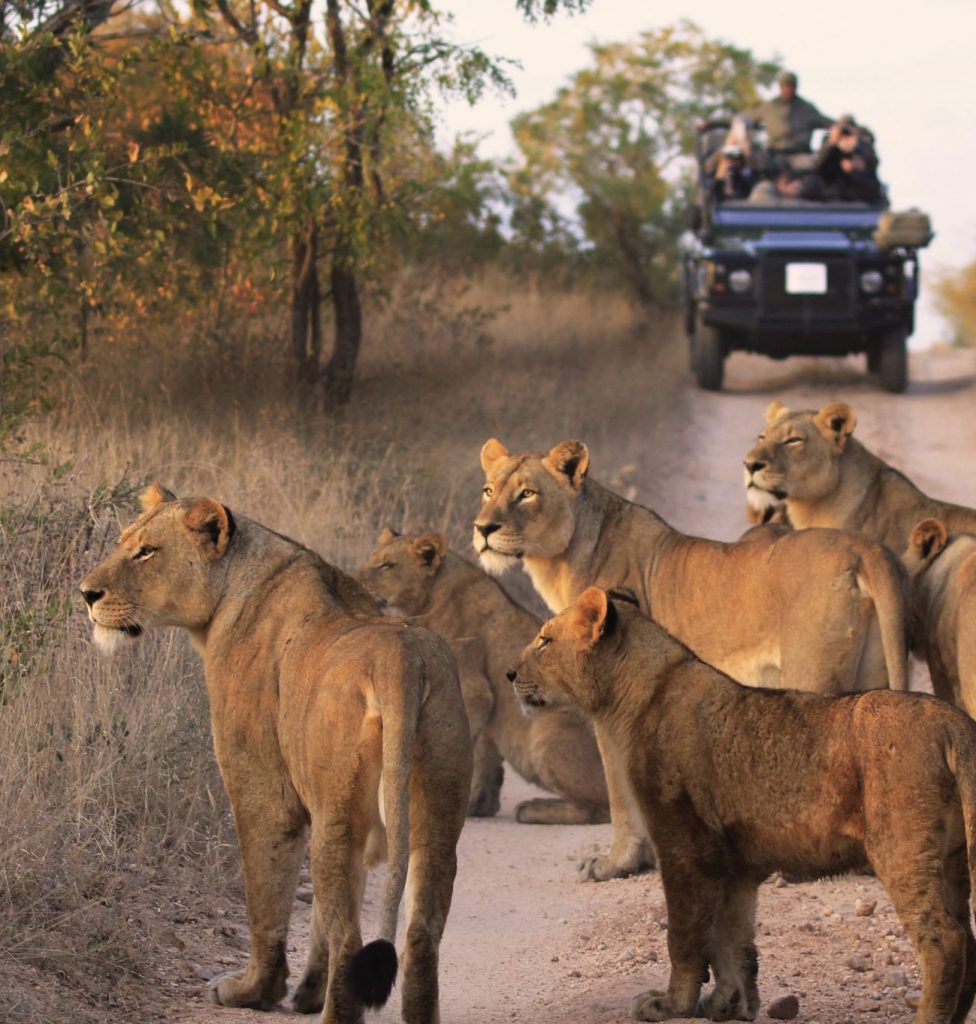 Evening game drives featured a "sundowner," where we stopped to admire the sweeping sunset with a cocktail (one evening, in particular, not too far from a rhino). The scenery was so picturesque it almost felt like a Disney set.
Meals included everything from five-star restaurants to more casual fare. But our most memorable meal was a Boma, a traditional dinner held outdoors under the stars. Chefs cooked local cuisine over crackling wood flames and traditional song and dance entertained guests late into the evening.
I've never seen a more spectacular, vast landscape—there's something special about South Africa that I can't explain. It's like you are connecting with something bigger. Usually, what I expect going into a trip is not what happens at all: You learn so much about other cultures through our different experiences, but also find similarities as human beings. We're all people, after all (except for the leopards).
PREPARING FOR CAPE TOWN FROM A VISITOR'S PERSPECTIVE
THE CROWD: More than 4 million people call the legislative capital of South Africa home.
Will I need a jacket? Cape Town has a warm Mediterranean-like climate. Temperatures in winter (May-August) can range from 52-72 degrees F. Summer (November-February) is warm and dry with regular highs of 84 degrees F.
THE MUST-VISITS: Go to UNESCO World Heritage site Robben Island, which visitors can access via a boat service that runs three times daily from the V&A Waterfront.
Hike or take a cable car to the top of Table Mountain for spectacular views of the city.
Say yes to a day trip to the towns of Stellenbosch, Paarl and Franschhoek for sightseeing and wine tasting.
HOTEL TO BE EXCITED ABOUT: The Silo towers above the V&A Waterfront, occupying six floors above the Zeitz Museum of Contemporary Art Africa (MOCAA), which houses Africa's largest collection of contemporary African art.
Cuvée, Denver
720.833.4533