By Kim McHugh
TED EYNON, OWNER OF MEIER SKIS, is wowing snowsports enthusiasts with sustainably handcrafted products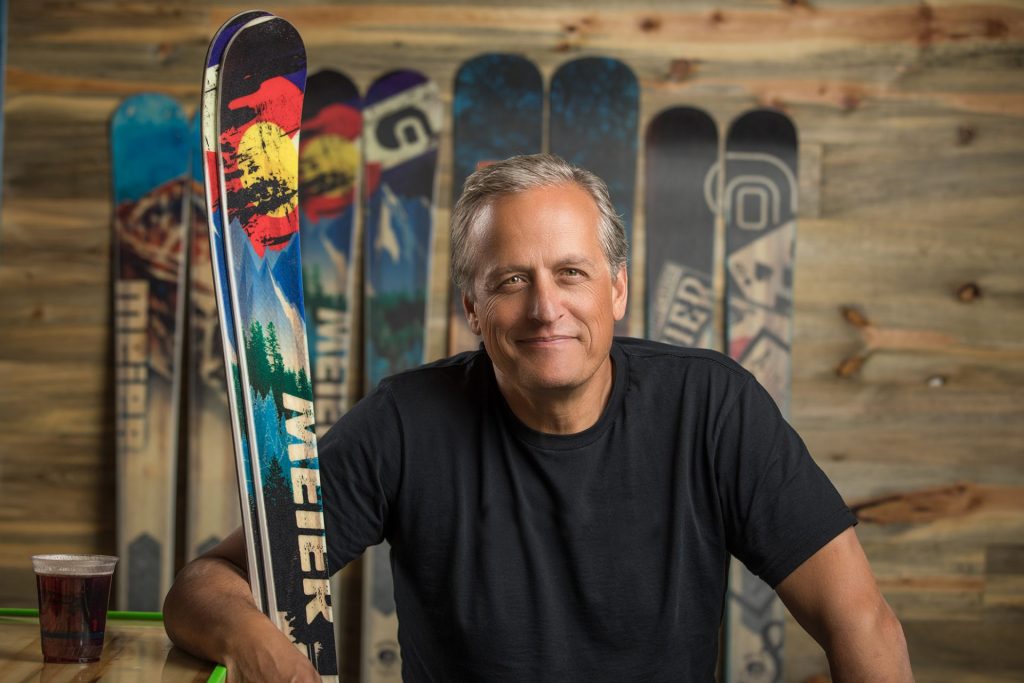 Calling itself a "Craft Skiery," Meier Skis has focused on craftsmanship since 2009, when the company started hand-crafting sustainably made skis and snowboards in a small Glenwood Springs factory. Meier relocated to Denver in 2016, and its commitment to environ-mental sensitivity remains unwavering, including the use of dead American maple, poplar and beetle-kill pine sourced from Colorado forests. Doing so not only helps minimize the risk of wildfire by removing a potential fuel source, but the thinning simultaneously makes forests healthier.
Further amplifying the company's respect for the environment, it uses a renewable, bio-based Super Sap epoxy as an alternative to petrochemical resins as an adhesive. Instead of using highly toxic lacquers and inks to add graphics to the top of skis and snowboards—a standard practice for many manufacturers— Meier Skis uses a minimal amount of alternative ink that is heat-pressed into a clear topsheet.
Between this graphics-transfer process and a commitment to the reduce-reuse-recycle ethos, the company minimizes its carbon footprint. Recent initiatives have led to the elimination of 12 feet of single-use plastic for every pair of skis or snowboard shipped, and the company also launched a program to plant a tree in areas of Colorado impacted by natural disaster (think wildfires or mudslides) for every pair sold.
"We see ourselves as a disrupter in the traditional ski and snowboard space as one of the top three American brands that actually manufacture their own products, and we do so in a sustainable way," says Michelle Kidd, Meier's marketing director. "We were eco-friendly before it was 'cool,' and sustainability is still a rare conversation in the hard-goods space."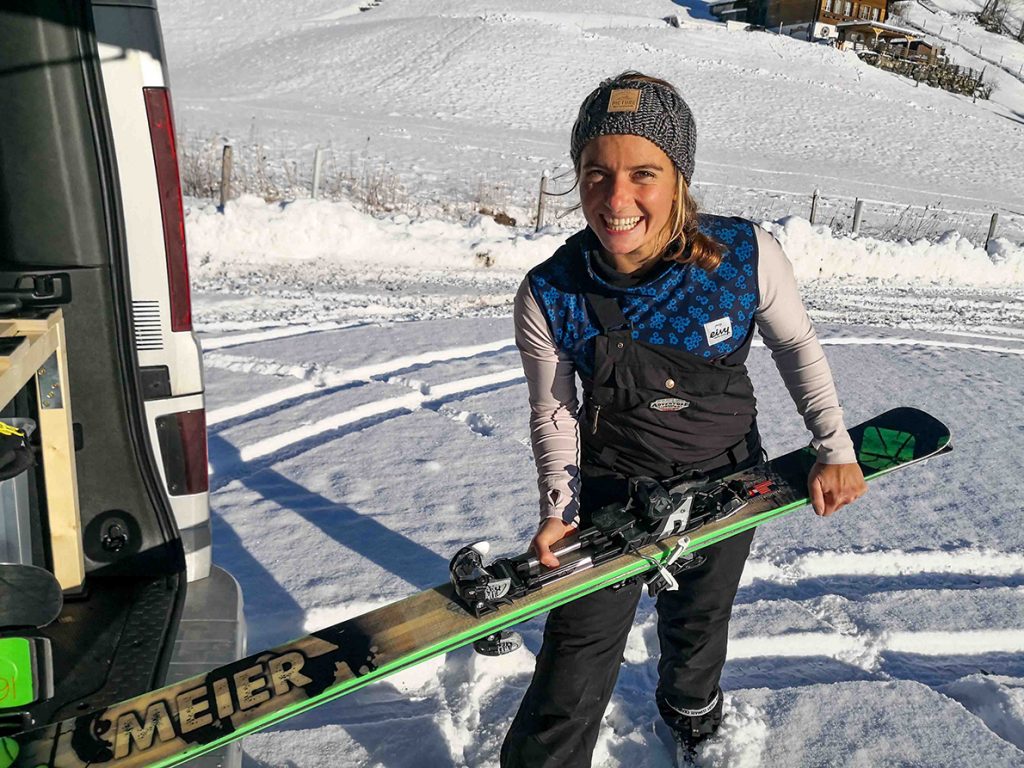 Originally from New Hampshire, owner Ted Eynon is proud that Meier Skis, a member of the Colorado Forest Products (CFP) Program, has intentionally impacted the community— and in its own small way the planet—by giving new life to dead trees, employing an entirely Denver-based workforce and truly being 100 percent "Made In America."
Owning your own ski and snowboard company allows the flexibility to determine the breadth of high-performance products to offer customers —and to do pretty much any graphics you (or they) wish. In addition to popular skis in their line, including Wrangler, The Leeper, Quickdraw, Eureka and Crosscut BC, Meier Skis has grown the business through unique partnerships.
"We've done skis for RepYourWater, Widespread Panic, Left Hand Brewing and Cabot Cheese. We like to have fun, so we've tied in with these co-branded opportunities doing licensing deals with Telluride Bluegrass Festival, Jazz Aspen Snowmass and Colorado School of Mines," Eynon says.
The company's deal with Monarch Mountain was particularly unique because skis and snowboards were crafted using dead trees harvested from forests at the resort. Customers willing to pay between $150 and $500 extra can have one-of-a-kind graphics designed and then applied to their skis or snowboard. Caveats are that customers don't infringe on trademarks and that the design doesn't run tip to tail so that the bare wood is always visible in some fashion.
Appreciating that giving back is good karma, Meier Skis engages with companies and organ-izations to support local charities, designing a custom top-sheet graphic for a pair of skis or snowboard to be raffled or auctioned off. It also offers its Craft Skiery as a venue for fund-raising events.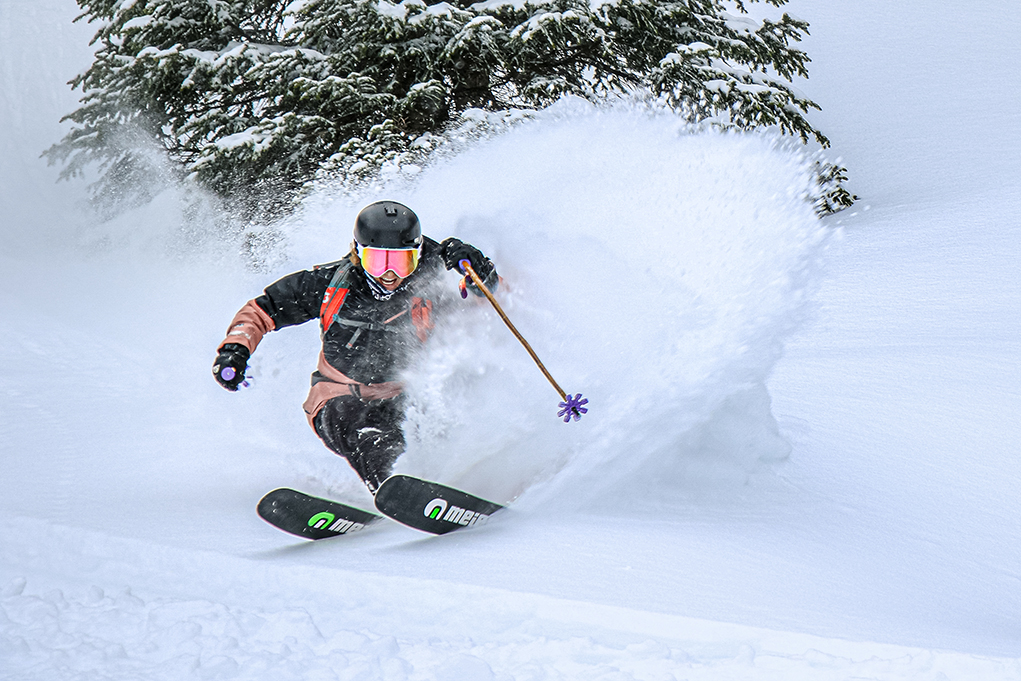 An interesting perk for those considering the purchase of a pair of handcrafted skis or a snowboard is that guests can experience a Barstool Tour. Offered anytime the factory is open, visitors can sit at a bar built from ski core wood and peer through windows overlooking the factory floor. After pouring you a complimentary, locally brewed beer, a knowledgeable "Skitender" explains how the company crafts it custom products from Colorado trees.
"We're doing what we can to make amazing products and give people the opportunity to pick a model that suits their skiing or snowboarding style," Eynon explains. "Our skis are light, they're poppy, they're fast and they've got muscle. I'd put them up against any brand in the world." 

MEIER SKIS
1775 S. Broadway | Denver, CO 80210
Phone: (844) WOOD-SKI