By Kim D. McHugh
Artist Nancy Haley lights up the canvas with each brush stroke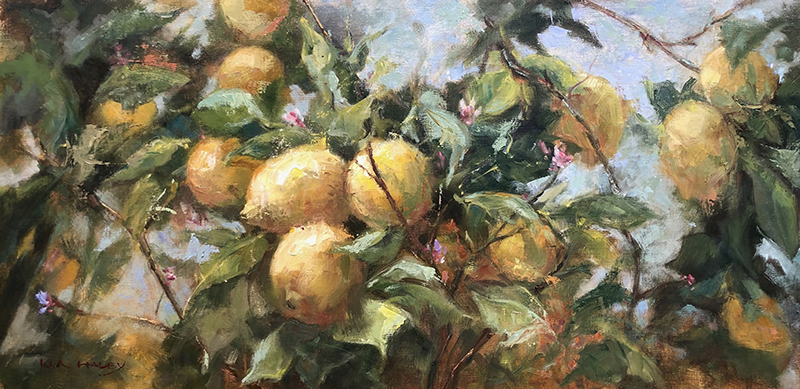 When a poster she created in the third grade to promote a school event earned first place, it sparked Nancy Haley's interest in art. As a child growing up in suburban Detroit, that interest amplified in junior high, where she helped paint backdrops for school plays. After a teacher introduced her to jewelry design in high school, her enthusiasm for art and design accelerated.
"I really loved creating things, so when I started at Michigan State University, it was frustrating because I had to take social science, history, English and classes I wasn't really interested in. I just wanted to get into the art building. In my sophomore year, it was like they'd opened the barn doors, and I was set free. I did pottery, jewelry, etching, oil painting and even graphic design."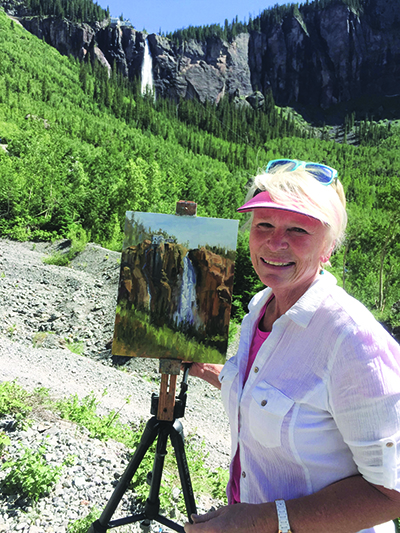 "When I'm outside and asking questions about the world, I feel like my brain is looser, and I'll just sing little lines or make voice memos." She says her songwriting approach is stream of consciousness, but Ulvang's songwriting practice is more disciplined, writing a song a day. Then they exchange notes and edit each other's songs.
In the early 1970s, shortly after earning her Bachelor of Fine Arts degree, she ventured to Colorado. Over the decades, her career accomplishments included starting Haley Interiors, an interior design company, which she helmed for ten years. Her entrepreneurial skills spawned three golf apparel companies—Sun Daze, Sport Haley and Tehama (pronounced Teh-HAY-muh), which she co-founded with legendary actor Clint Eastwood. After a long and successful run, the two sold Tehama in 2009, officially marking Haley's retirement from the business world. Facing a "now what?" moment, she shifted her attention to painting.
"The whole time I was running my interior design business and then the lifestyle apparel businesses, I had no time to paint. Zero," she says. "But I always knew that I would do it. Two years into retirement, I'd been talking and talking about painting, and at Christmas, I opened my present from my oldest son, and it was for art classes. That was the catalyst."
Typically working from her studio in Golden, she often paints in a style known as "alla prima," or wet-on-wet, where layers of wet oil paint are applied to earlier layers of wet oil paint.
"I'm not as comfortable working with acrylic because it dries faster," Haley says. "It's more relaxing to work in oil because I can work on a painting and still move the paint around on the canvas for several days."
Haley paints whatever grabs her attention—landscapes, portraits, still life, abstracts. And her impressionistic work has garnered numerous awards. Whether letting her imagination direct her brush strokes or doing a painting on commission, her goal is to put those emotions on the canvas. Artist organizations such as Plein Air Artists Colorado, the American Impressionist Society and Oil Painters of America have afforded Haley opportunities to travel, with trips to Italy, France and Mexico as some of her most memorable experiences.
"It is so much fun," Haley says. "I can travel, meet new people and enjoy different cuisine. Really, for the last ten or eleven years, that's what I've been doing, and I just love it."
And it shows in her art.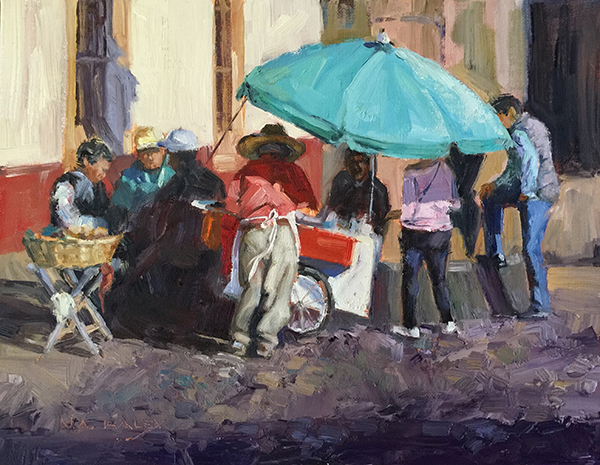 Nancy Haley Fine Art
720.838.6180
nancyhaleyfineart.com