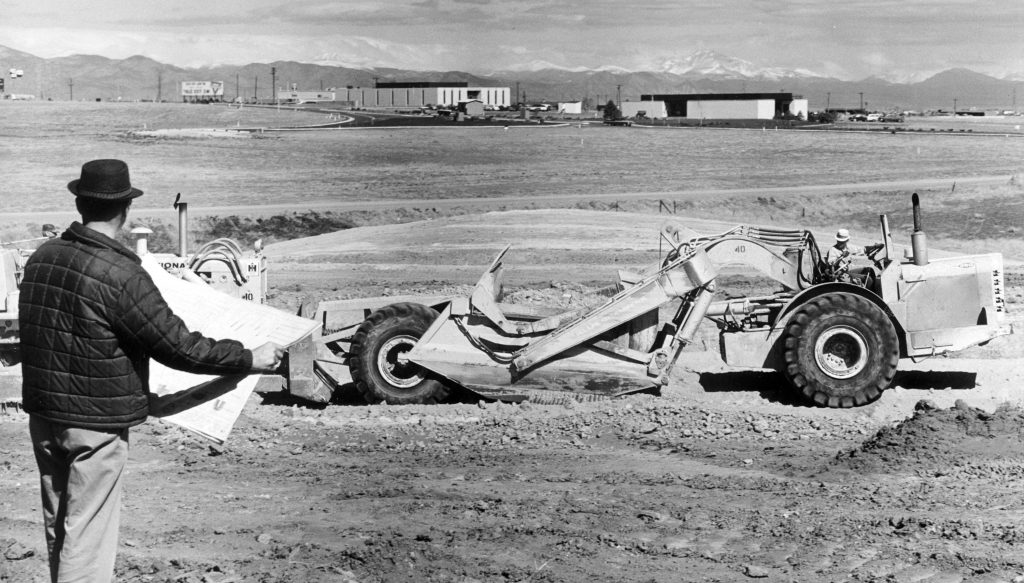 What would the South Suburban landscape be without the Denver Technological Center? The illustrious business complex's 100-foot-tall winding steel sculpture and urbanesque centers have become a sort of compass within the last nearly-60 years.
The buildings that have made space for an impressive 1,000 companies and 35,000 employees, approximately, point our way home.
And it's all thanks to one simple, exceedingly relatable motive. In 1962, founder George M. Wallace just wanted a safe place to park his car. His new Lincoln had a scratch.
The mechanical engineering executive had come out of his downtown Denver office after a day of work to find the tarnish. The limited parking space in the area, he decided, was the culprit. And suddenly, he found himself on a mission to find free parking and more overall space. He searched for a new location for his firm.
Wallace needed five acres, but the South Denver landowner he was negotiating with would only sell him 40. Thus, a developer was born—a title Wallace really grew into.
DTC was one of the country's first out-of-town "office parks," and now covers 909 acres with more than nine million square feet of office space and thousands of apartments. As local real estate watchers already know, the area continues to hold high property values.
These outcomes were, of course, not left to chance: A master plan keeps the spirit of the community alive. The campus-like layout looks to maintain a clean and natural aesthetic by utilizing tree-lined streets and large parks, designed to spark social engagement. Those important parking spaces are also hidden.
"Superblocks" keep the business-to-open-space ratio on track. Every 30 acres, or 16 to 20 city blocks, is dubbed a superblock. Each uniquely designed zone has to have at least 30 percent of free space. Long-term, that promises that at least 40 percent of DTC is made for play.
Shea Properties took the reins on the nationally recognized epicenter in 2006. Business is still booming.