By Jon Rizzi
This Christmas, Cherry Hills Country Club members Brian and Brook Griese will travel with their two children to Grand County's richly laureled Devil's Thumb Ranch Resort and Spa. But unlike other holiday travelers heading to the 6,500-acre, year-round haven east of Tabernash, the Grieses won't need to check in as guests. They'll be moving in as the owners of the first home built in Devil's Thumb's only residential community, The Ranches.
For Brian, a former Broncos quarterback, the decision to break ground in the development was an easier call than some of the ones he now makes as an analyst on Monday Night Football. "Our family loves to be outdoors and we felt there was no better place to enjoy all four seasons than in the Fraser Valley," explains the father of a son and a daughter who'll respectively turn 12 and 15 next spring.
"Devil's Thumb was right for us because it allowed us to find a little more privacy and land than other mountain communities while still being connected to a world-class resort," he says. "Plus, no I-70 tunnel and 90 minutes door-to-door from Denver."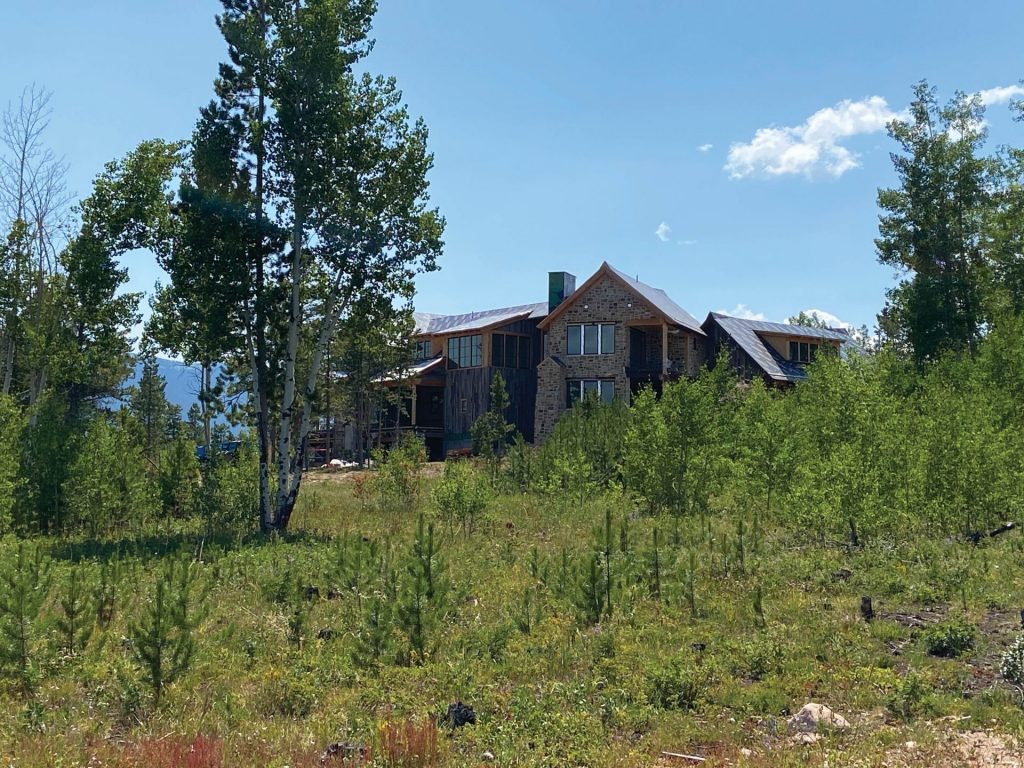 Their 5,000-square-foot residence perches on a ridge high above the main resort in The Ranches' far southwestern corner. "Without question the most beautiful part of this property are the views of the Continental Divide to the east and Byers Peak to the southwest," he says. "We picked our lot because it was situated to catch both those views."
That lot is one of only 24 homesites—ranging from 14 to 35 acres in size and between $750,000 to $1.8 million in price—in The Ranches' 550-acre development. This low-population-density model conforms to the environmentally sustainable vision that Devil's Thumb Ranch owners Bob and Suzanne Fanch have followed since 2001, when they purchased an erstwhile 340-acre dude ranch slated to become a high-density residential subdivision and golf course.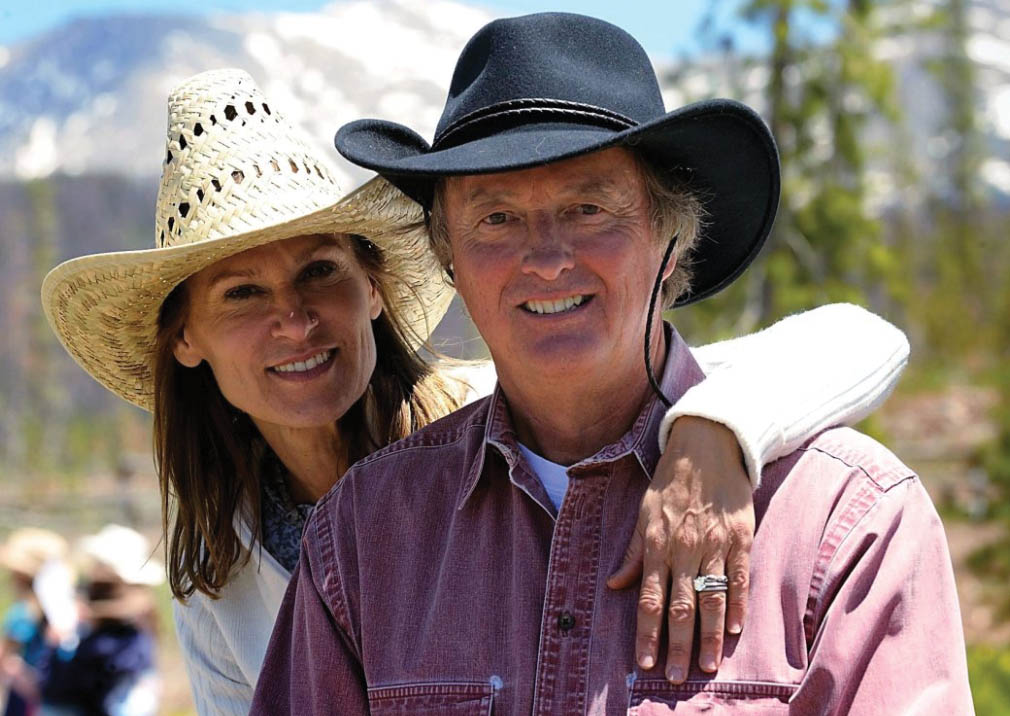 The Fanches have since acquired five ranches comprising roughly 7,000 acres "primarily to preserve the land, protect the amazing views and build only what is necessary to service our guests' needs," Bob Fanch says. Adding "controlled-density" real estate to the mix last year accomplishes all three goals. "Over the years, we've had numerous inquiries from guests who wanted to live here," explains The Ranches' CEO Robert Cymans. "An investment in this type of residence and relationship with ranch contributes to the economic purse to preserve the land without compromising the habitat, the view corridors and location."
Developing The Ranches hasn't come at the expense of the Devil's Thumb Resort, where guest "necessities" include a full-service spa and yoga studio, yurts along the hiking trails, stables for wagon and horseback rides, and meadows and byres where the ranch's 138 head of wagyu cattle graze stress-free to produce luscious steaks for the superb Heck's Tavern and Ranch House Restaurant.
In addition to the 52 guest rooms in the rustic main lodge (where the "Do Not Disturb" signs hung on doorknobs memorably translate to "G'on now. Git."), Devil's Thumb Ranch boasts 15 distinctively appointed family cabins and the 31-room High Lonesome Lodge—the magnificently reassembled barn of which originated in Ohio 160 years ago—that often unites members of wedding parties, corporate retreats and other event attendees under one roof. They can also arrange to feast underground at the intimate Grotto Suraboza.
The Ranch House Restaurant and Saloon also provides a repast worthy of the OpenTable Diner's Choice 2020 for Best American and Best Special Occasion Restaurant. Serving Bacon-Wrapped Elk Loin, Bison Ribeye and Wagyu cuts (as well as fresh-caught trout and local vegetables), The Ranch House occupies the property's original homestead—creaky pine floors and all.
Nearby, another relocated Civil War-era structure, Broad Axe Barn, houses Zach's Mercantile, the outfitting hub for resort activities ranging from fly-fishing lessons and trips, mountain biking, archery, year-round air-rifle biathlon, cross-country skiing, ice skating, ziplining (accessible only via the resort's two Pinzgauers), stand-up paddleboarding and more.
Like hatchet throwing, which my wife Jo Anne and I signed up for last August. Ignoring my lame Lizzie Borden jokes, Jo Anne demonstrated her pioneer pedigree by sticking the target more times than her city-slicker spouse. We then hiked the endless matrix of trails crisscrossing the mountainside, imagining how we'd traverse them on cross-country skis or snowshoes when we returned in winter. Logging more than 25,000 steps each day required restorative plunges into the geothermal pool and adjacent hot tub before savoring a stellar meal appropriately served beneath a blanket of a million stars.
By day, Devil's Thumb Ranch guests can easily spot the distant outcropping that gives the resort its name. What they can't see is The Ranches. Ever-conscious about keeping the land as pristine as possible, Bob and Suzanne Fanch intentionally set the building envelopes back from the ridgeline so nary a rooftop would show from the base area of the ranch.
Thus residents like the Grieses have their privacy and their panoramas. Plus, they also have access to all the resort's amenities for an optional annual $15,000 membership fee. Devil's Thumb provides the family with an annual ski pass to nearby Winter Park, and Brian, a 2 handicap at Cherry Hills, can find a game at nearby Pole Creek Golf Club in the summer.
"We think the world of Bob and Suzanne Fanch and quickly fell in love with Devil's Thumb Ranch, and how they have approached sustainability and stewardship of the land for the future," says Griese. In the same way guests appreciate the resort as more than a hotel, he sees their mountain manse not just as a complement to their home "down the hill," but as a place generations of his family can enjoy "down the line."
Second Home
Their new home at Devil's Thumb Ranch may not be the most significant property in Brook and Brian Griese's lives. In 2002, the couple co-founded
the Judi's House, a Denver-based charity that has supported more than 11,000 children and caregivers who have suffered the death of a family member. judishouse.org.
G'on now. Git!
For information on lodging or living at Devil's Thumb Ranch: 970.726.7000;
devilsthumbranch.com/ranches