One designer's renewal of her own rustic residence.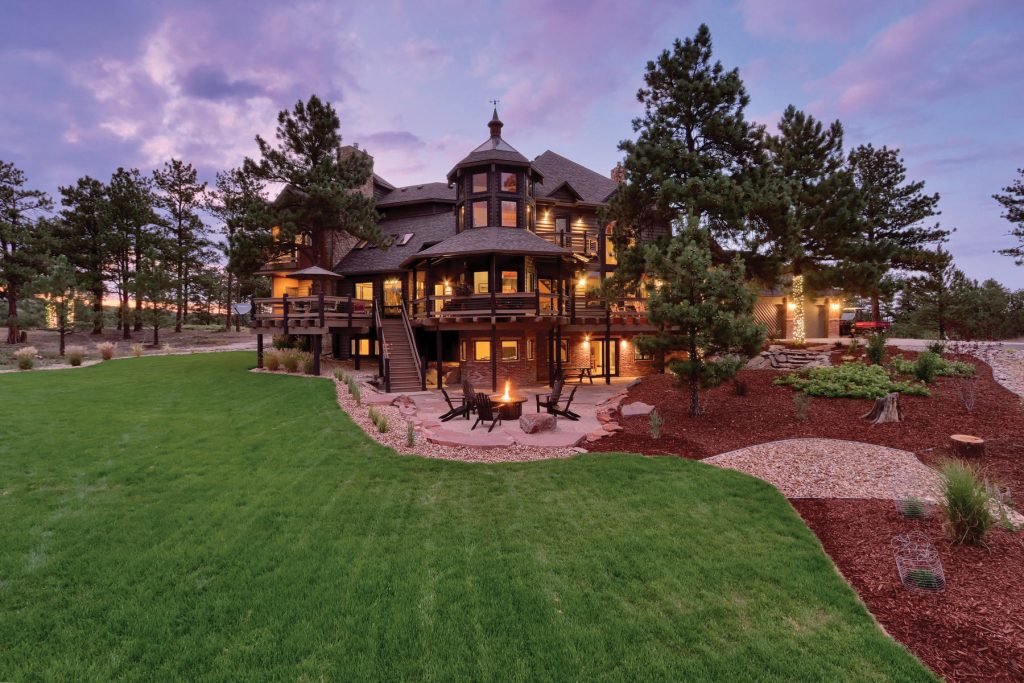 This renovated labor of love literally hit close to home for Joyce Kelly-Lapides, the interior designer behind Castle Pines' House of Joy Designs. The 5,819-square-foot Larkspur lodge-style abode wasn't a client's estate, but rather Kelly-Lapides and her husband's own 35-acre ancillary habitat—a six-bed, five-bath stunner within the gated community of The Golf Club at Bear Dance that renters had the pleasure of appreciating until 2017, when the couple decided it was time for a transformation. The crucial concept behind the revamp: make the home's traditional chalet characteristics feel like new with unexpected modern touches. "We wanted to maintain as much of the views as possible," Kelly-Lapides says. "When my husband would go up to his office in the morning, he had almost a 360-degree view, which featured a lot of wildlife—and that's what we wanted to preserve. We wanted this home to be a sanctuary for wildlife, so they never feel threatened."
It's the home's cottage-like underpinnings, the inspiration for the roughly $180,000 revitalization completed in 2019, that gave Kelly-Lapides, an Iowa native who was brought up on a family farm, a leg up. Here's how the interior designer took a customary Colorado home type—complete with a stone fireplace statement wall in the great room and massive exposed Douglas fir beams imported from Canada—to another captivating level. Proof of its charm: As of late August, after deciding to put the home on the market in fall of 2019, an NFL player and family scooped the place up.
Surprising tile, with both a modern and agrarian sense
"The French mosaic glass tile really made the kitchen come to life," Kelly-Lapides says. "Without that, I don't think it would have the same updated, modern look." Originally planned to be a backsplash, the more tile Kelly-Lapides' team placed on the cooking space's main wall, the more the designer liked it. So, they added and added—until the wall was fully covered. "The tile almost matches the exterior of the home, where we have brick, stucco and wood siding," she says. "I wanted to bring those rough components inside."
Also key to the kitchen, which Kelly-Lapides "didn't want to look like a kitchen, per se," but rather an extension of the great room: a trendy microwave drawer, a leathered granite island countertop with chiseled edging that was the last of its kind to be pulled from a quarry in
Italy and mixed-and-matched copper and antique bronze cabinet hardware.
In a good, showstopping light
Lighting is a big detail not to be overlooked in a rustic design. "I put all new lighting in this house," Kelly-Lapides says. "In the kitchen, I wanted the chandelier over the island to blend in to the mosaic tile and also have soft, glowing lighting to really highlight that. Then there's track lighting for functionality. … The 66-light RH chandelier in the great room has LED bulbs that should last five years."
Cozying the hardwood floor
"We managed to salvage the original pine floors and resanded and stained them to a grayish-brown hue," the designer continues. "One would think that you would stay with a natural pine floor, because that's kind of what you think of when you think of a lodge-style home. And although that's very popular, I wanted the home to have a softer effect. … We got about three or four different stain samples, put them on the floor and—just like with paint—I looked at them over a period of time," until she determined that a Classic Grey was the right hue.
Simply beaming
To accentuate the mammoth beams, "it's almost like you have to create a dimension," Kelly-Lapides says. "With the rafters being exposed, I needed to divide the lower and upper level. That's why I stained the stair railing, stairways and trim around the windows—it splits the levels so that nothing becomes boring and you aren't overwhelmed with the natural beams and wood tones. … People often ask me: Do you want to paint or stain a stair railing? I say it all depends on the wood. If you have a great quality of wood, stain it. But if the wood is inexpensive, we usually paint it."
Art and soul
To accessorize, decorative images ran the gamut from reinventions of artwork most anyone can get their hands on to pieces that are playful reminders of Kelly-Lapides' heritage. "I try to economize where I can. I found the prints in the dining room at HomeGoods actually," she says, adding that the new homeowners like this artwork concept. "I wanted to create a kind of living tree space, so I flipped the prints upside down on the top row and, on the bottom, kept them the way they were originally formatted; it kind of looks like a tree vining together. In the evening with the dimmer on the Currey and Company Rainforest chandelier turned down, there's an iridescent feel to the prints and the room takes on a life of its own. On the stand between the two leather chairs in the great room, I also added flying pig artwork—for the saying 'when pigs fly.' My dad raised pigs, cows and so forth; it was a way to bring my farm upbringing into the home with funny nods."
A family who bunks together, stays together
In a lodge-style home, "I think a bunk room is essential [which, here, can be found in the basement]. The home actually sleeps 14, and it's great place for a family to gather."