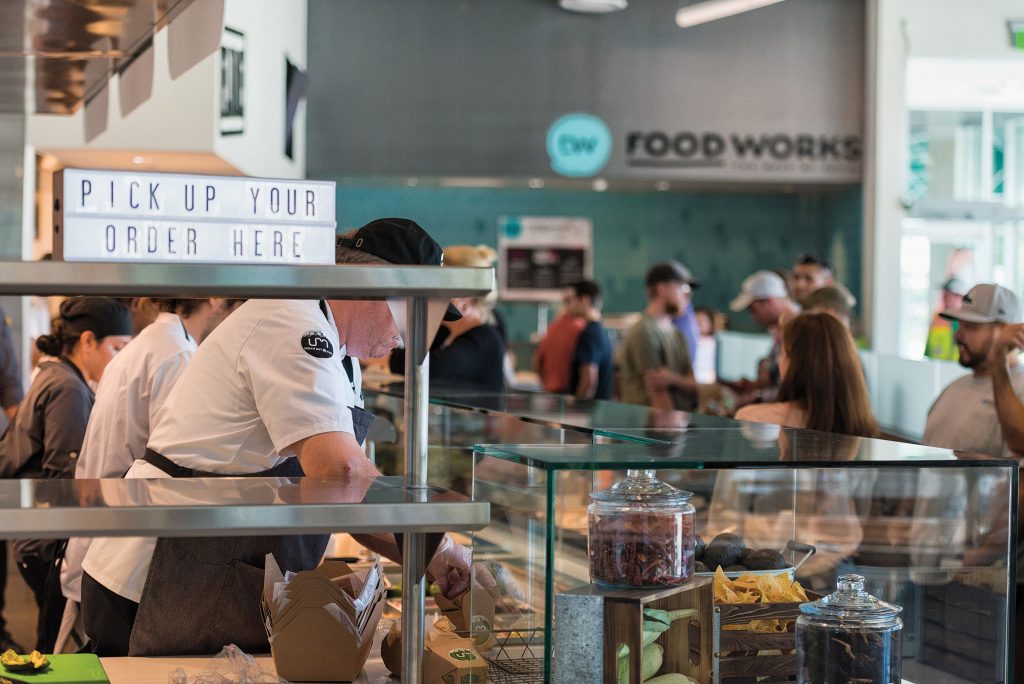 Options, for both the time it takes to eat and the actual nosh you're enjoying—that's what Urban Market @6350 is serving. The bright and airy workday-friendly food collective holds five globally inspired food concepts, plus a fresh-produce-forward Community Garden, that create a formidable breakfast and lunch alternative to formal sit-down restaurants and pedestrian fast-food spots. The fare will take your taste buds on an intentional culinary journey: Urban Market is dedicated to sourcing produce, meats and dairy products from family farms located within 100 miles of the metro area.
WHEN TO GO
Avoid the noon hour if you're pressed for time, which can command long waits. Crowds thin after 1 p.m.; open tables are available on the patio near the outdoor garden and skyward-shooting fountains synchronized to piped-in music.
WHEN YOU'LL EAT
Wait times can vary from five minutes to fifteen minutes, depending on how busy each concept is and the line lengths at ordering kiosks. The quickest option is to head directly to the Community Garden—the collective's centerpiece hot-and-cold food station—and serve yourself from among a splay of fresh greens, vegetables, deli meats, fruit, cheeses, breads with infused olive oils, soups, fried chicken and a whole filet of smoked salmon. The longest lines tend to form at Flame and Pico Mesa, where the tacos, served on house-made tortillas, have a loyal following.
SERVICE
Rather than pay at a counter, the collective is strewn with several self-service digital kiosks that make ordering and paying for breakfast or lunch easy. Additionally, you can sign up for text messages that alert you when your order is ready. If you need assistance, flag down one of the collective's ambassadors, all of whom are clad in gray aprons.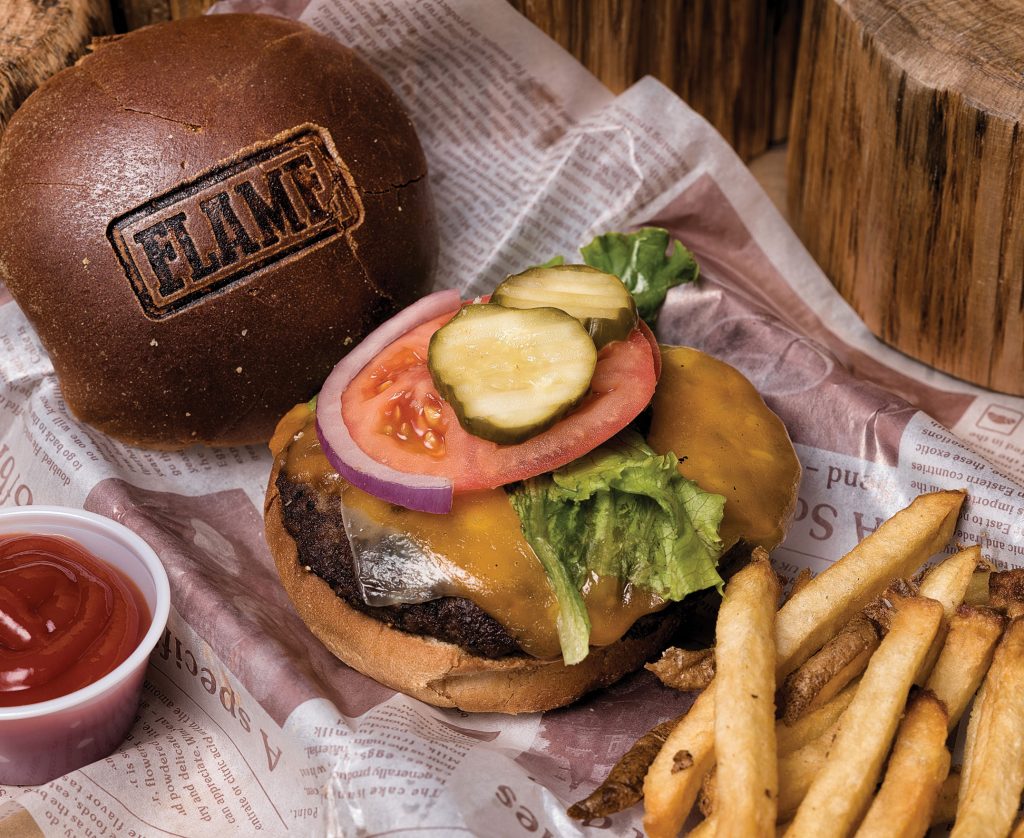 WHAT TO ORDER
Though limited to breakfast and lunch, the beauty of Urban Market is in its diverse concepts, starting with burgers from Flame and Mexican food from Pico Mesa. Take a tour of Italy at Fork and Flour, opt for Indian food at Masala by Marigold and, finally, be sure to see what's on the menu at the pop-up restaurant, which changes weekly. Of the collection of permanent restaurants, our favorite is the Community Garden, most notably for its smoked salmon, cheese spread, fresh greens and other veggies and prepared salads.
The hand-formed burgers from Flame, their buns branded with the Flame logo, are large and fresh. Get a side of hand-cut fries ($2.59); they're crisp, golden and delicious. We're also fans of the Tacos al Pastor from Pico Mesa ($9.99). The pork, shaved from a rotating spit crested with pineapple, lays in scratch-made tortillas and is topped with pineapple wedges, pickled onions and wisps of cilantro. The Lamb Ragon Josh ($9.99)—a mildly spiced lamb curry from Masala by Marigold—is worth the pilgrimage, too.
PARKING
Parking is free for two hours all along South Fiddler's Green Circle, which fronts Urban Market. You might have to circle around once or twice to snag a spot.
EAT HERE
Urban Market @6350
Spectrum Plaza
Open: M-F, 7 a.m. to 2 p.m.