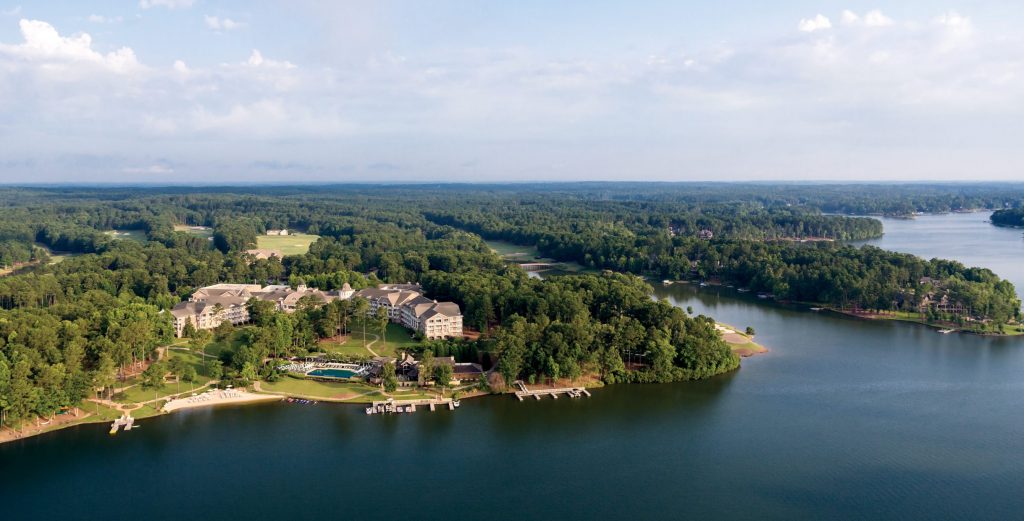 I like to consider myself somewhat of a vehicular daredevil, someone who can handle a good challenge. I've learned, for instance, to drive a Formula One car; cruised crowded city streets behind the wheel of a Hummer; driven a snowmobile at high speeds in Durango; and driven cross-country twice, with my dog in tow, through major windstorms and blizzards. But, I never imagined taking on an off-road driving course in the comfort of a James Bond-like luxury vehicle.
At The Ritz-Carlton Reynolds, Lake Oconee, located about 80 miles from the Hartsfield-Jackson Atlanta International Airport, driving trails are now a bucket list-type offering at Sandy Creek Sporting Grounds, a nearby venue that is part of the resort's programming. The hub of outdoor activity spans 100 woodsy acres, with a 20-station clay shooting range; an archery range; a five-stand shooting range; a sporting clays instructional and games area; and an air rifle range.
The technical off-roading trail, which feels more like the real-life version of an Indiana Jones film set, is part of the course series that has been designed for novice and intermediate drivers by renowned Land Rover driving expert and course architect Bob Burns. It features strategically placed horizontal logs that just barely clear the top of the car, trees that don't feel wide enough to pass, hairpin bends and steep inclines through thickets and dry riverbeds. "Essentially, the natural landscape and vast amount of land made the sporting grounds the ideal spot for the course," explains Justin Jones, director of Sandy Creek Sporting Grounds.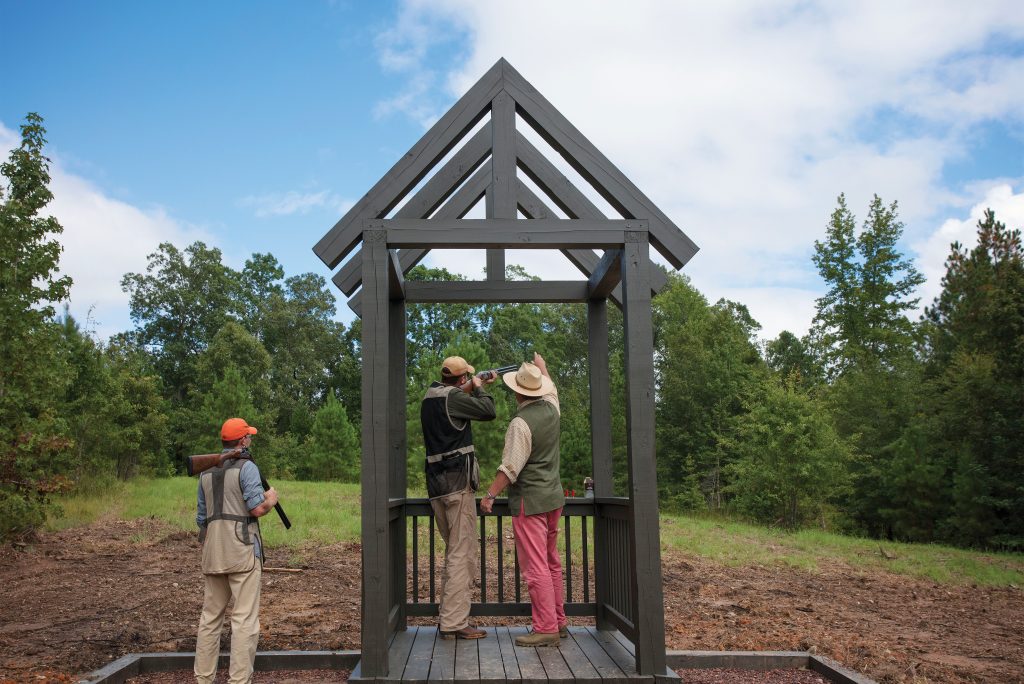 As three friends and I load the car—a Fuji White 2019 Land Rover Discovery Si6, 340-horsepower, V6, 3.0-liter, 8-speed automatic, 7-seater SUV—with our guide, I admit I'm a little nervous. But as a passenger, it feels like we dip and wind along the path effortlessly. Still, at one point I look out the window to my right and realize I'm almost smack up against a tree. We glide safely past it, and I turn to look at the steep riverbed we just crossed that felt more like a small hill. As we take turns driving and testing our own capabilities, I pull in at the end of the course and truly feel like a more confident driver.
I scheme the rest of my day as we head back to the resort. After all, the 251-room property—with revamped rooms and suites, plus lakeside cottages, awash in calming color palettes and layered with modern, water-inspired prints and woven mirrors—boasts five championship golf courses totaling 99 holes; kayaking; boat rides; canoes; stand-up paddleboarding; complimentary bike rentals; fishing; a nearly 30,000-square-foot spa; and an outdoor swimming pool and private beach. And then there's marveling at the lake itself, the second largest in Georgia, with an expansive 19,000 acres of calm water.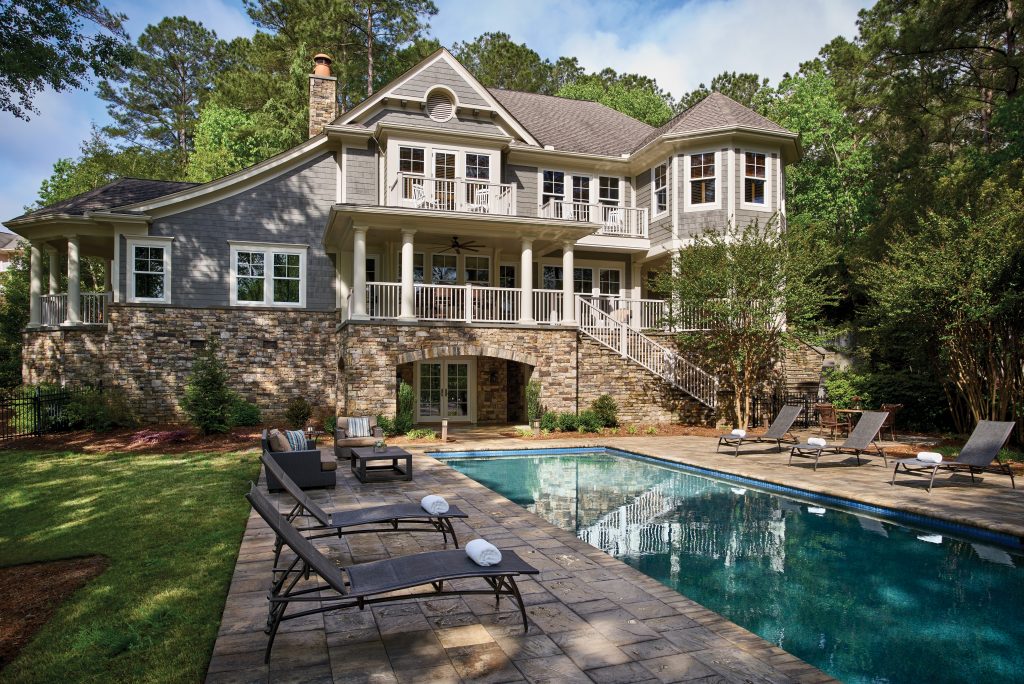 I start with a run through the resort's paved path, lined with pine trees and dotted with wooden bridges, followed by beach time and a swim out to a floating dock. Next, I make my way to the spa for the Four Elements treatment, a 110-minute experience replete with dry brushing, exfoliation, a warm stone massage and a scalp treatment. I emerge in a "spa coma," which leads me to the sauna and indoor whirlpool before dinner.
At Linger Longer Steakhouse, one of the on-site resort restaurants, my friends and I settle in with handcrafted cocktails—the La Bonita Sangria and Two Trick Pony (a Código 1530 Rosa tequila, agave and Kenwood sparkling wine concoction). We share the day's highlights over king crab with mango mustard; a 10-ounce barrel-cut filet; and grilled lobster with cauliflower purée, confit potatoes, wild mushrooms and brown butter—all prepared by chef Casey Burchfield. One thing is for sure: I can definitely get used to lake life.
OFF ROADING UNLEASHED
CAR TALK: The Land Rover Discovery features Hill Descent Control to maintain a constant speed by monitoring each wheel; it's designed to help drivers navigate difficult slopes. The SUV also features safety and driver assistance technologies, such as Electronic Traction Control, for traction and electronic brake-force distribution.
THE PRICE TAG: The 2020 Discovery starts at $52,300.
COURSE DISTANCE: The latest off-road course, The Creek Course, is 3 miles long. Total distance of The Homestead, The Lake, The Creek and the Technical Course combined is approximately 10 miles.
STEEPEST INCLINE: 30 degrees.
The Ritz-Carlton Reynolds, Lake Oconee
Georgia
706.467.0600