Yes, it's a cliché: The kitchen is the heart of the home. But clichés exist for a reason—usually because they are true. And possibly none was ever truer than this one. So, why not have the most functional and beautiful kitchen possible for your family? Local kitchen designers shared projects demonstrating how even the most beautiful kitchens can be real workhorses to make family life easier. They also share top tips for things you should consider when you embark on a new kitchen design project.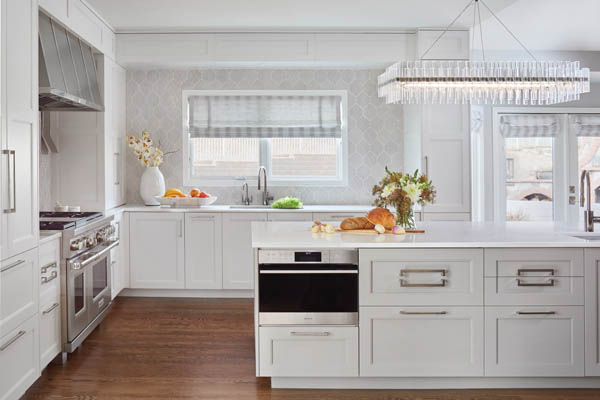 Transitional Glam
Photography by S Brenner Photography
Designer Brett La Hay with Inspire Kitchen Design Studio and Brandy Hall with Everyday Lovely Interior Design Studio teamed up to create an expanded kitchen with better flow for these homeowners. La Hay says the original design had small rooms and strange angles that didn't allow the spaces to function well as a whole.
TOP KITCHEN DESIGN TIP:
The interiors of the cabinets are what make the kitchen stay organized. Use all the gadgets: spice drawers, pullouts utensils, knife blocks and rollouts behind doors for things like the coffeemaker. And, La Hay says: "Drawers, drawers, and drawers within drawers. Separate the pots and pans drawer with an internal drawer for the lids."
Project Details
Design:
Inspire Kitchen Design Studio, 720.650.0500, inspirekds.com
and Everyday Lovely Interior Design Studio, 303.953.1909, everydaylovelydesign.com
Contractor: Elton R Construction
Cabinetry: Homestead Cabinet & Furniture, custom white paint cabinetry, rift white oak with stain and glaze, decorative polished steel island support
Backsplash: Decorative Materials, Breathe Moresque, Arabesquette
Kitchen Countertops: Kitchen Mystery White marble with Antolini zerocare
Island Bar Countertop: Quartzite Metal Leather
Flooring: Stained white oak
Kitchen Island Lighting: Williams Sonoma
Seating Area Lighting: Circa Lighting
Range wall: Circa Lighting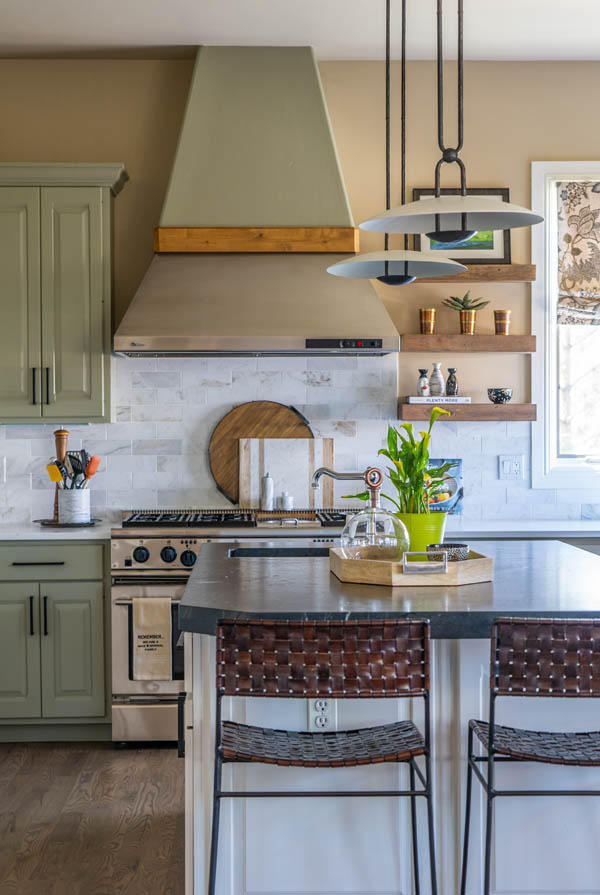 Tranquil Transitional
Photography by Katy Jo Caringer
For this kitchen refresh, Julie Greiner, principal, and Kathy Siple, senior designer, at JRG Design, wanted to create a "functional, user-friendly kitchen while keeping it interesting and timeless," Greiner says. "The soothing sage green cabinets with the timeless Carrara marble create a kitchen where you want to spend time!"
TOP KITCHEN DESIGN TIP:
Because the kitchen is a top spot for adding value to your home, Greiner says developing a realistic budget and being willing to splurge on an item or two is a great approach. "I suggest selecting an item or two to be the inspiration or 'jewel pieces' and design around those," she says. "It's important to make the remaining selections harmonious and ensure they don't compete with the inspiration selections."
Project Details
Design: JRG Design, 303.601.9544, jrgdesignllc.com
Cabinetry: Crystal Cabinet Works (existing, painted)
Backsplash: Carrara marble subway tiles, Natural Stone Sales Inc.
Countertops: Pental Quartz Misterio, Total Floors
Flooring: G3 Hardwood Flooring, Colorado Springs
Lighting: Urban Lights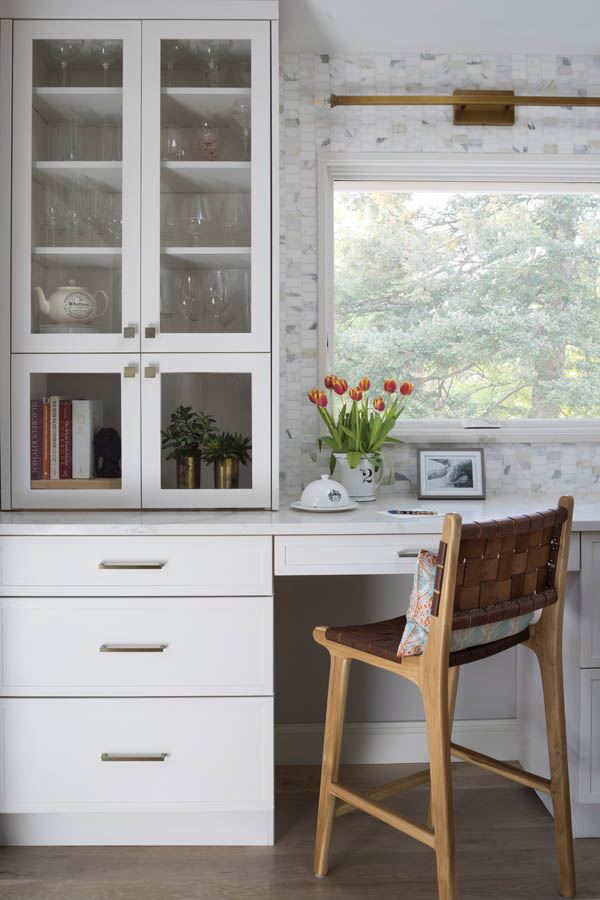 Casual & Inviting
Photography by Emily Minton Redfield
Dawn Wilkinson, owner and CEO of Six Walls Interior Design, won't embark on a kitchen design project without a thorough design discussion with her clients. She needs to fully understand what currently isn't working for the clients so she can create thoughtful solutions for workflow and storage problems. Along with Saori Teasley from Six Walls' Seattle office, who provided all the technical drawings, she designed an NKBA Award-winning kitchen for these clients.
TOP KITCHEN DESIGN TIP:
Inventory and edit. When planning for a new or remodeled kitchen, Wilkinson says to ask yourself: "What do you need more of or less of? Think about countertop space, storage space, and how you like to cook and entertain in the space. Then you can be sure your new kitchen accommodates those needs. She also says drawers are easier to use and often have more accessible storage. "They cost a little more, but they are worth it, in my professional opinion."
Project Details
Design: Six Walls Interior Design, 303.856.6610, six-walls.com
Cabinetry: Designed by Six Walls
Backsplash: Ann Sacks
Countertops: Arizona Tile
Flooring: White Oak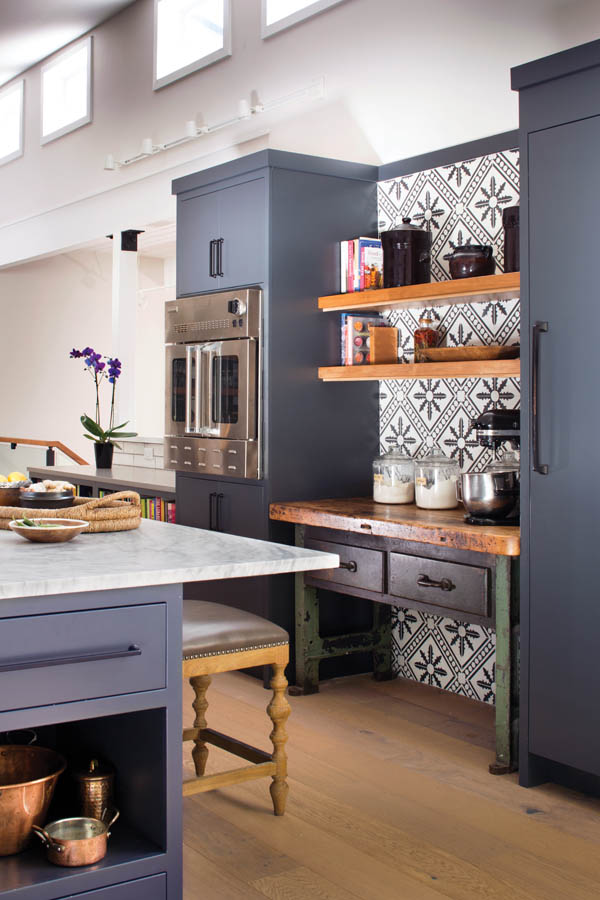 Modern Farmhouse
Photography by FotoImagery, Tim Murphy
When Thurston Kitchen + Bath Aspen was hired for this kitchen project, they took into careful consideration that the homeowners would both be participating in the household cooking. That meant there needed to be ample space for moving around.
TOP KITCHEN DESIGN TIP:
In a space dominated by cabinetry, bring visual texture with tile, open shelving and other design elements.
Project Details
Design: Thurston Kitchen + Bath 303.399.4564, thurstonkb.com
Contractor: Timberline Construction
Cabinetry: Greenfield Cabinetry
Island Countertops: Honed marble
Perimeter Countertops: Quartz