"I'm not big on personal accolades," confides Steve Raymond. The former cable TV executive turned philanthropist and champion of adaptive skiing—skiing for athletes with disabilities—was recently inducted into the Colorado Snowsports Hall of Fame Class of 2019, an honor that Raymond insists he doesn't deserve: "It sounds silly, but there's got to be more deserving people out there. When you look at the list of others who were inducted, I'm just beyond humbled."
His support of Colorado's disabled skiers, however, points to a man whose contributions to the industry are unparalleled.
In the early 1980s, Raymond—a resident of Centennial and the current vice president of client solutions for Gracenote, an entertainment data and technology company—was a freespirited college graduate mogul-skiing on the slopes of Vail Mountain. It was here he met Bob Meserve, a fellow skiing buddy who was later paralyzed following an accident on the slopes. Despite his limitations, Meserve was determined to return to the powder after the setback—and Raymond was his biggest advocate.
After a long road of rehabilitation, Meserve went on to race for the U.S. Disabled Ski Team (now the U.S. Paralympic Ski Team). But in 1994 the team learned that one of its major sponsors—Subaru—was pulling out, a crushing setback that would all but eliminate the team's funding. Raymond, who worked at ESPN and was president of the Rocky Mountain Chapter of the Cable and Telecommunications Association for Marketing (CTAM), along with other CTAM cable industry executives, realized they had a major opportunity to create an event that would result in an avalanche of funding to sustain the group. "We wanted to draw people to Colorado with an educational event that we knew could raise a quick 100 grand," recalls Raymond, who promptly reached out to Warren Miller, the late American ski and snowboarding filmmaker, to ask him to be the keynote speaker. Raymond, with the assistance of his allies, also secured 20 sponsors.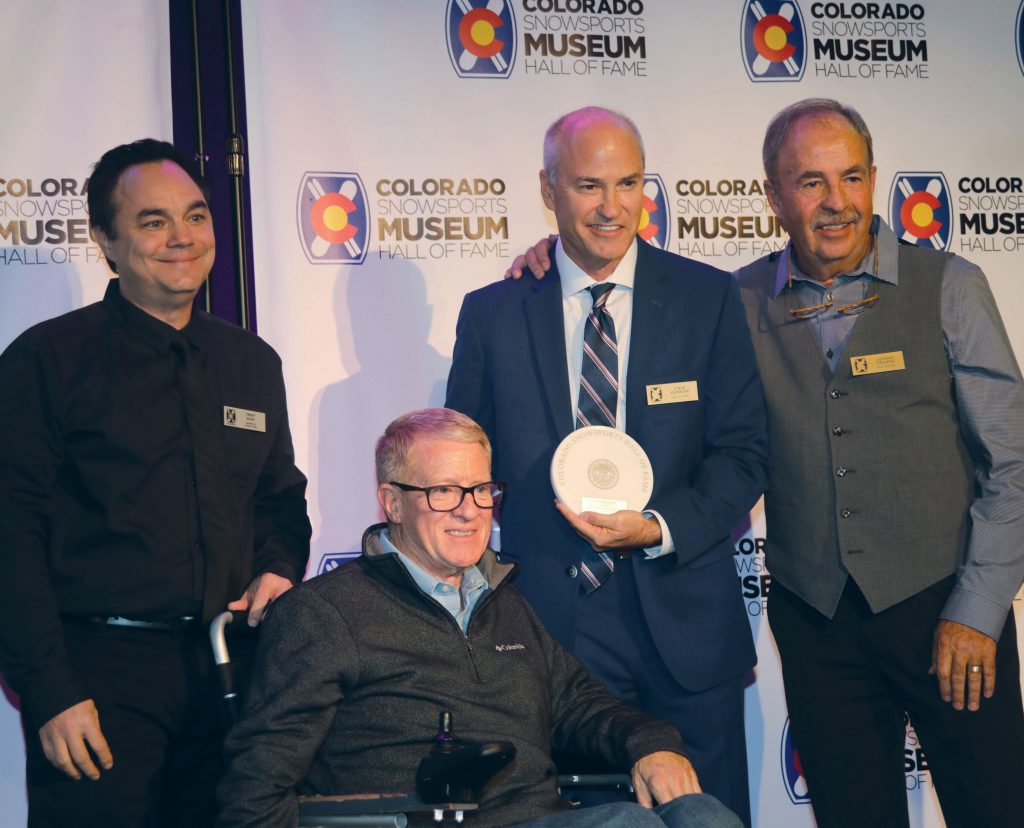 The result? More than enough money to keep the team afloat and the launch of SkiTAM. A nonprofit now called Adaptive Spirit, Raymond co-founded the organization with the objective of providing significant financial support to the U.S. Paralympics Ski and Snowboard Team. The funds are divided amongst three different teams—alpine skiing, Nordic skiing and snowboarding—and cover everything from travel expenses to competition costs.
Since its inception, the organization coupled with its annual fundraiser—which draws supporters and world-class athletes from around the globe—has grown by leaps and bounds.
Raymond's induction into the Colorado Snowsports Hall of Fame comes, in large part, because of his tireless passion and persistence to make the nonprofit a success. His fierce dedication to supporting disabled athletes doesn't end there: Raymond also serves on the board of the U.S. Olympic and Paralympic Foundation and is involved in other relevant organizations.
"Between promoting the skiers, increasing the organization's visibility, fundraising for athletes and supporting the movement and technology of adaptive skiing, I guess I had a long enough list of accomplishments that made me worthy enough to be inducted," says Raymond, who believes everyone should strive to make a difference. "At the end of the day, it's our passion and involvement that have the potential to change things. And while it's easy to lose sight of what's important, creating a meaningful legacy that's caused change should be part of who you are."
TRUE GRIT
"Tough times don't last, but tough people do," says Raymond, referring to the disabled athletes whose perseverance inspires him every day. "I'm so impressed by how they handle life, overcome challenges and pursue their sport," adds Raymond, who below extols the accomplishments of three athletes that have received support and funding from SkiTAM/Adaptive Spirit.
Cyclist, alpine skier and Colorado Springs dweller Allison Jones was born without a right femur, and her right leg above the knee is missing. She joined the Paralympic Ski Team and won two silver medals at the 2002 Games. She continued to amass medals in subsequent Games up until 2014, when she retired from the sport, but continued to compete in cycling. In 2019, she was inducted into the Colorado Springs Sports Hall of Fame. "Allison's mom told me that without the support from SkiTAM and Adaptive Spirit, she wouldn't have been able to compete," says Raymond.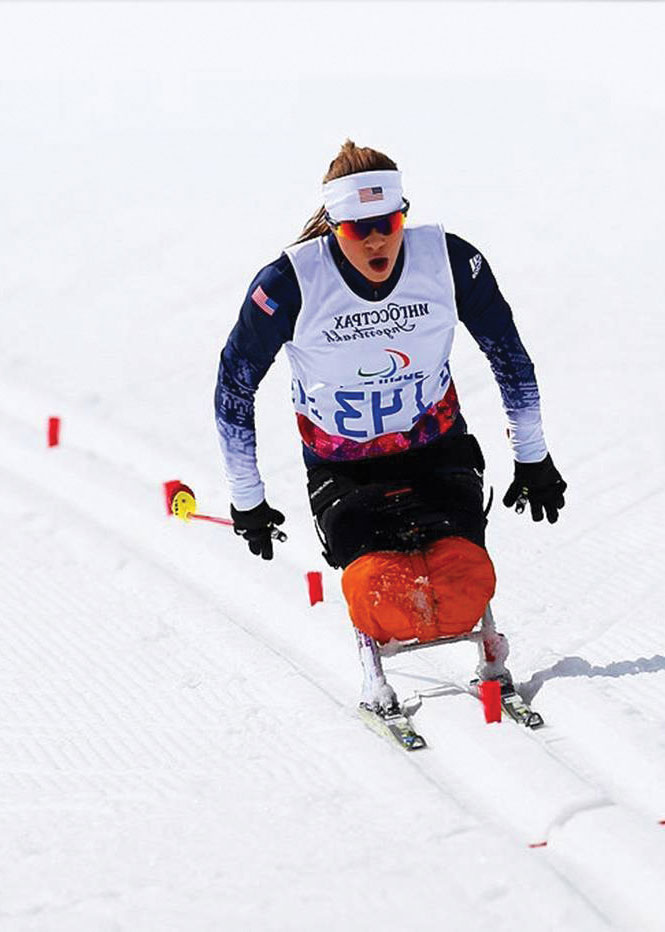 Nordic champion Oksana Masters (above), who was born in Ukraine, was a victim of the Chernobyl nuclear reactor incident, where her legs and hands were damaged by in-utero radiation poisoning. Eventually, both legs were amputated. A Paralympic rower, she took up skiing as a teenager and first competed in the Paralympic Games in Sochi, Russia, where her perseverance resulted in silver and bronze medals. She then secured four Nordic world titles during the 2016-17 season. Masters "really had to scrape to make ends meet to compete as a full-time athlete," recalls Raymond. "Our ability to help fund her training and equipment helped her stay on the team and become the most dominant adaptive Nordic athlete in the world."
Snowboarding champ Brittani Coury, whose ankle was injured in 2003 during a snowboarding accident, endured multiple operations before making the decision to amputate her right leg below the knee in 2011. Raymond's organization covered many of the expenses associated with her injury, and at the 2018 Paralympic Winter Games in PyeongChang, Coury snatched a silver medal in the banked slalom. In 2019, she participated in numerous World Cup races, earning a bronze medal in banked slalom and several medal finishes in snowboardcross, which became an Olympic sport in 2006. At the 2019 Colorado Snowsports Hall of Fame ceremony, Coury, a registered nurse and E.M.T. who resides in Durango, was named the Adaptive Athlete of the Year.