You don't need us to tell you how perfectly cold beer pairs with summer's
favorite foods—whether it's hot dogs and an American lager, grilled lemon
chicken washed down with a crisp IPA or smoked salmon matched with a juicy Belgian-style ale. Lone Tree Brewing Company, the city's first independent craft brewery, certainly doesn't need us to deliver the good news either. Beer pairings have been on the menu since the community hub opened in 2011. "We pair beers with all kinds of cuisines, as well as use food as a brewing ingredient," says Emily Hutto, founder of RadCraft, a
craft beer marketing co-op that includes Lone Tree Brewing. "But then, we started wondering about using Lone Tree's beers as ingredients themselves."
An experienced cook, Hutto went into her kitchen to create dishes that took
advantage of Lone Tree brews' flavor profiles, ending up with recipes that have gotten lots of thumbs-up from brewery customers: "We never expected these recipes to come in handy so much, but right now people are cooking and sipping our beers more at home."
Hutto recommends cracking a fresh one for cooking (although leftover beers have a long, tasty history as an ingredient). Once your feast is complete, look no further than the brews used in the recipes to pinpoint
beverage pairings. Finally, declare cheers! and bon appétit. Both tributes are friends to this spread.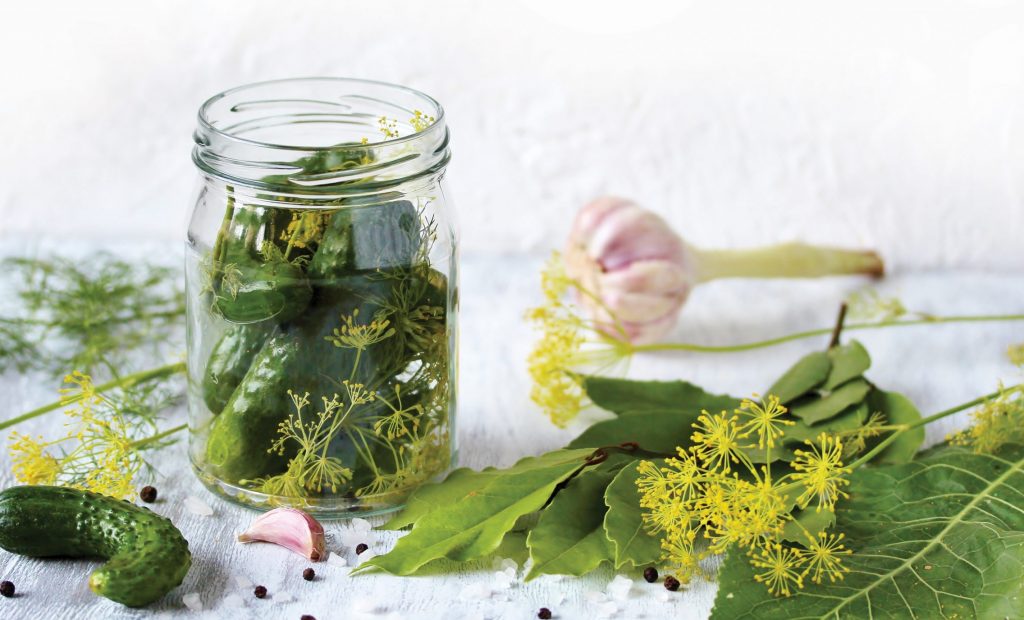 DIPA DILL PICKLES
These pickles should sit at least overnight, but can also happily ferment
in the fridge and gain more flavor for many weeks.
INGREDIENTS
1 tablespoon whole peppercorns
1 teaspoon dill seed
½ teaspoon mustard seeds
3 teaspoons minced garlic
2 teaspoons fresh dill
1 pound mini cucumbers, cut into spears
2 cups rice vinegar
1 cup sugar
½ tablespoon salt
¼ cup water
1 12-ounce can Lone Tree Double IPA
Optional: 2 serrano peppers, seeded and thinly sliced
METHOD
Mix first four spices and fresh dill in a bowl and sprinkle 1 teaspoon of the
blend into the bottom of two Mason jars. Layer cucumber slices in jars, adding more spice blend as needed. For a spicier pickle, add serrano peppers. Combine vinegar, sugar and salt in a pot and bring to a simmer to dissolve sugar. Remove from heat; add water and beer. Pour liquid into the jars, leaving ¼-inch of room at the top. Cover loosely and cool. Screw tops on tightly when cool; chill in refrigerator at least 24 hours before serving.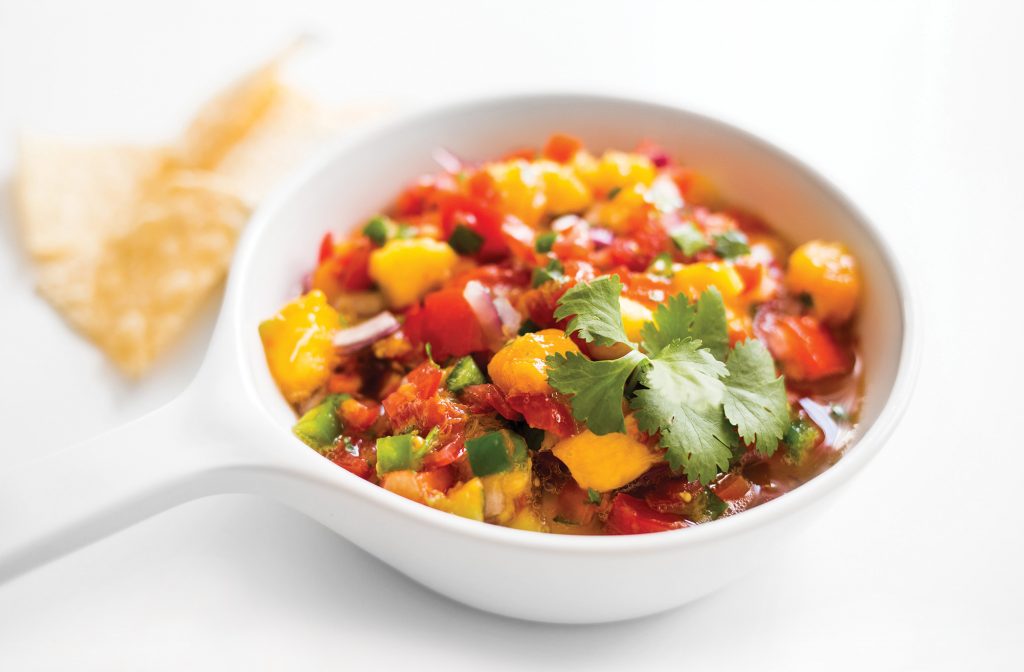 MANGO-HABANERO PEACH PALE SALSA
INGREDIENTS
3 teaspoons Lone Tree Peach Pale
3 large peeled, finely chopped mangos
2 slices red onion, ¼ inch thick, chopped
3 tablespoons chopped fresh cilantro
1 tablespoon fresh lime juice
1 teaspoon agave syrup or honey
1 teaspoon grated orange rind
1 teaspoon minced garlic
1 teaspoon finely chopped, seeded habanero pepper
½ teaspoon salt
METHOD
Combine all ingredients in a medium bowl; toss well. Let stand on the counter for 15 minutes. Taste and adjust seasoning. Can be served with chips, seafood and more. Refrigerate leftover salsa.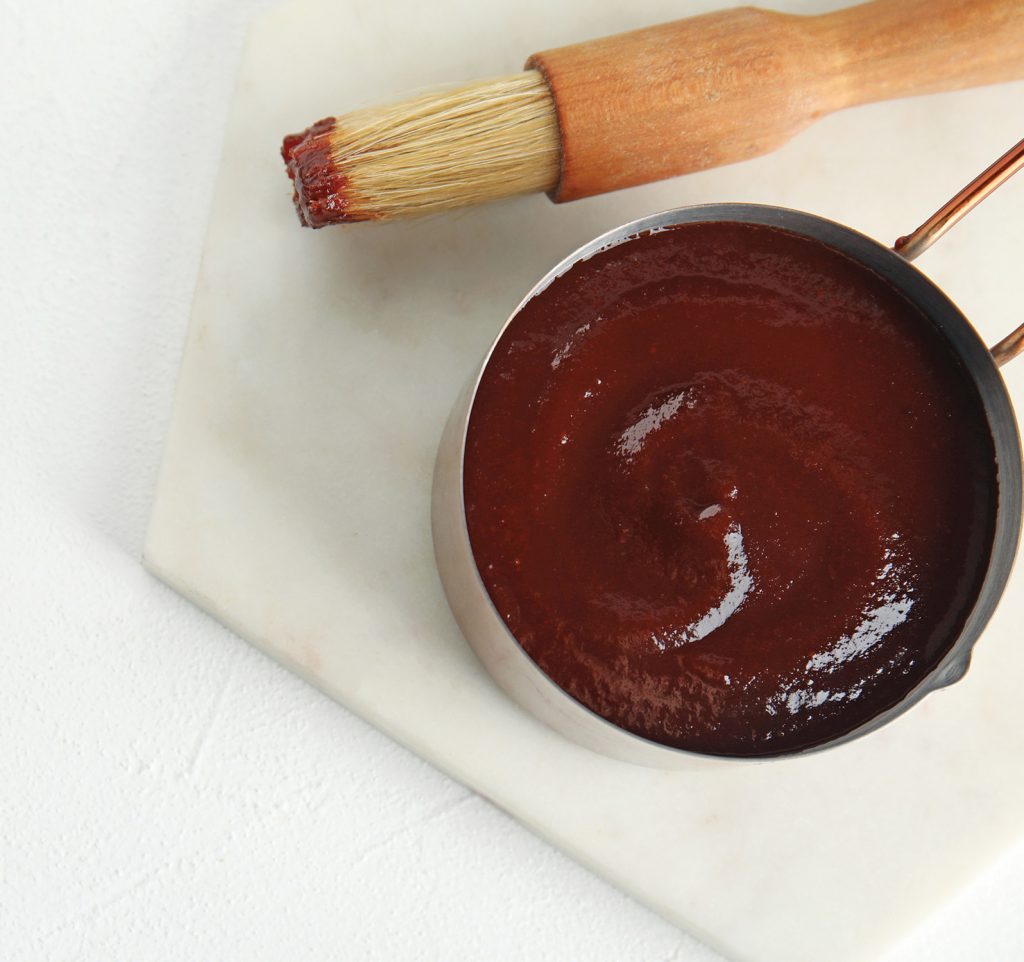 SPICY RED ALE BARBECUE SAUCE
INGREDIENTS
1 tablespoon olive oil
⅓ cup chopped onion
2 tablespoons minced garlic
2 tablespoons Worcestershire sauce
2 cups ketchup
2 tablespoons Dijon mustard
1 tablespoon molasses
1 tablespoon brown sugar
1 tablespoon paprika
½ tablespoon cayenne powder
½ teaspoon salt
½ teaspoon black pepper
Hot sauce to taste
1 cup Lone Tree Red Ale
METHOD
Whisk all ingredients in a saucepan and turn heat to medium, bringing sauce to a slow boil. Reduce heat and simmer for 20 minutes. Taste and adjust seasoning. Blend as desired for smoothness. Smother short ribs and other grilled and smoked meats. Store in the fridge.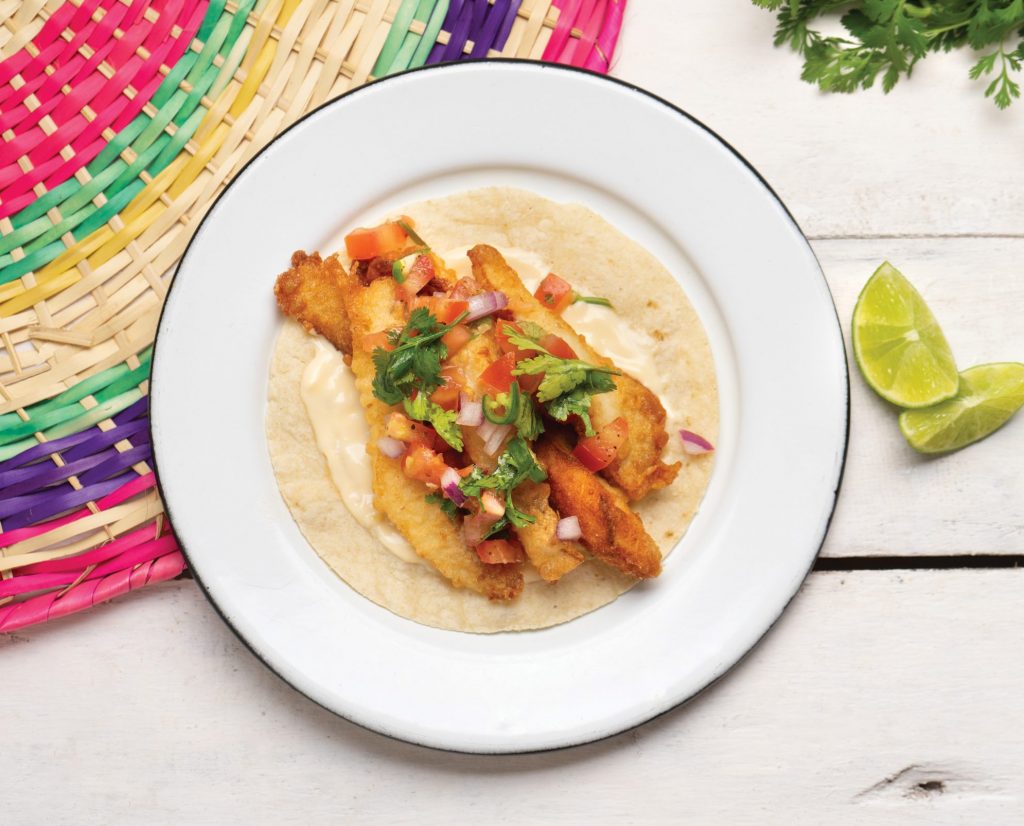 MEXICAN LAGER-BATTERED FISH TACOS
INGREDIENTS
SLAW
5 cups shredded green cabbage
2 tablespoons minced red onion
1 tablespoon minced green onion
½ cup chopped fresh cilantro
3 tablespoons apple cider vinegar
1½ teaspoons olive oil
½ teaspoon sesame or peanut oil
½ teaspoon salt

SAUCE
2–3 chipotle chiles in adobo sauce
¾ cup mayonnaise
1 lime, juiced
2 tablespoons minced garlic

FISH
1 cup flour
1 teaspoon salt
½ teaspoon black pepper
½ teaspoon paprika
1 cup Lone Tree Mexican Lager
1–2 pounds skinless white fish, cut into strips
(Any white fish, including tilapia and catfish)

Corn tortillas and lots of lime wedges for serving
METHOD
FOR THE SLAW, combine all ingredients in a bowl and set aside.
FOR THE SAUCE, blend all ingredients together in a food processor and set aside.
FOR THE FISH, whisk flour, salt, pepper and paprika in a small bowl; slowly pour in beer. Dip fish in batter and pan fry until golden brown or to preferred taste. Drain on a plate lined with paper towels.
Warm your tortillas, gather lime wedges and assemble tacos.
GET COOKING
Lone Tree Brewing Company
Park Meadows Drive
303.792.5822
Lone Tree brews are also available at liquor & grocery stores across the metro area.