When you walk into the new Thompson Hotel in downtown Denver, a moodiness envelops you. The dark, warm tones of the interior feel like a comforting embrace with modern decor and elements of natural wood, stone and black metal giving a nod to mountain living in the middle of a busy city. "Our intent is to create an urban chalet," general manager Amanda Parsons explains. From its style to its unique offerings, the Thompson Hotel carries through on that concept.
It's not surprising. Thompson has earned an almost cult-like following for its chain of boutique hotels located in "it" cities across the country. There are differentiators everywhere you look.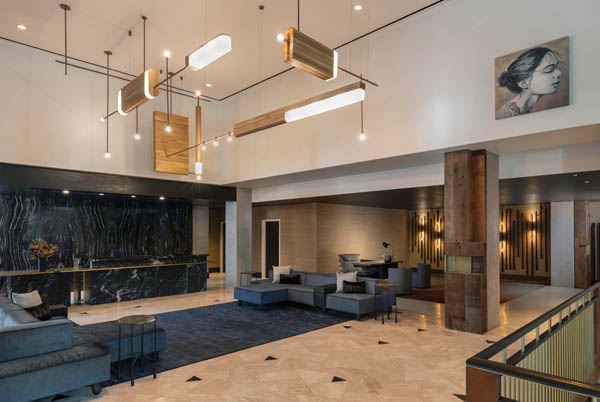 Rooms With a Viewpoint
In the rooms, the cozy, dark design theme continues with one very special amenity, a Victrola. Thompson secured a partnership with the legendary turntable manufacturer, which introduced America to its innovative sound machines in 1906 and is currently known for its retro-style turntables and radios. Victrola relocated its headquarters to Denver in 2021, and the synergy with Thompson as a cultural tastemaker just made sense. Every room in the hotel features a Victrola product. A selection of vinyl albums—including some by Denver's own Lumineers and Nathaniel Rateliff—are available in suites equipped with a turntable. Guests can also borrow a Victrola Revolution GO portable record player from the front desk to take on the go.
Parsons says Thompson wants to recognize the importance of music as an integral part of Denver's identity. "Denver's music community is pretty powerful," she says. "It's part of what makes this destination so great. You can see live music at almost every turn. We really wanted to honor that."
Other room features Parsons raves about are the floor-to-ceiling windows ("With the weather constantly changing in Denver, the light shifts throughout the day") and the custom-made beds ("There is nothing better than climbing into a Thompson bed—it's heaven!").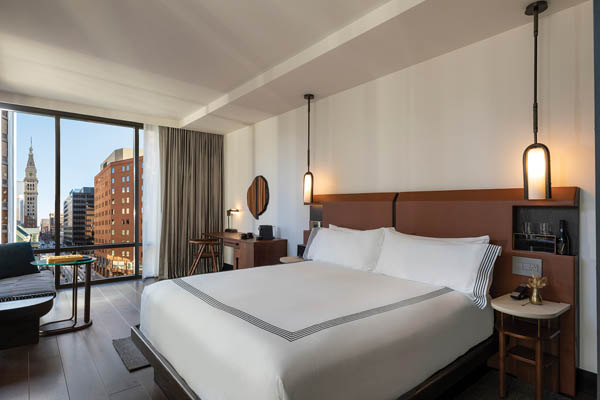 Not Just Any Food and Beverage
Thompson's restaurant, Chez Maggy, brings in famed French chef Ludo Lefebvre, known for his Los Angeles restaurants, cookbooks and appearances in cooking competition television shows, including The Taste.
Lefebvre oversaw the concept behind Chez Maggy and created a very personal dining experience through a menu that reflects his French background, while giving a Colorado spin to such dishes as a bison tartar and bison bourguignon. He even gave his own flair to the classic Denver omelet. "I cook the omelet French style, which is light and fluffy, not firm," the chef says, revealing a few secrets. "Then instead of putting cheese inside, I make a rich, creamy cheese sauce to put over the omelet."
Lefebvre's wife, Krissy, grew up in nearby Littleton. In the years prior to the restaurant opening, the family spent a lot of time visiting Denver. The restaurant's name honors Krissy's beloved stepmother, Margaret, who was tragically killed by a drunk driver in 2019. Portraits of her hang on the walls in the restaurant. "Chez Maggy is a special tribute to my family," he says.
On the sixth floor you'll find the cocktail and listening lounge, Reynard Social, with spectacular views of downtown, a large cozy fireplace and a Victrola turntable. Guests can choose an album to play from a library of vinyl curated by Victrola's CEO, Scott Hagen. Cocktail master Christopher Norton created the craft cocktail menu and wine selection, both of which deftly pair with a selection of après-ski-inspired foods, including fondue and charcuterie boards. The panoramic windows can be opened in the summer and closed on chilly winter days, allowing the bar to be available in all seasons.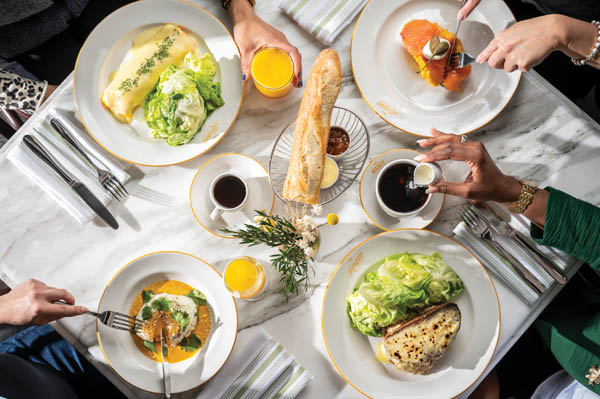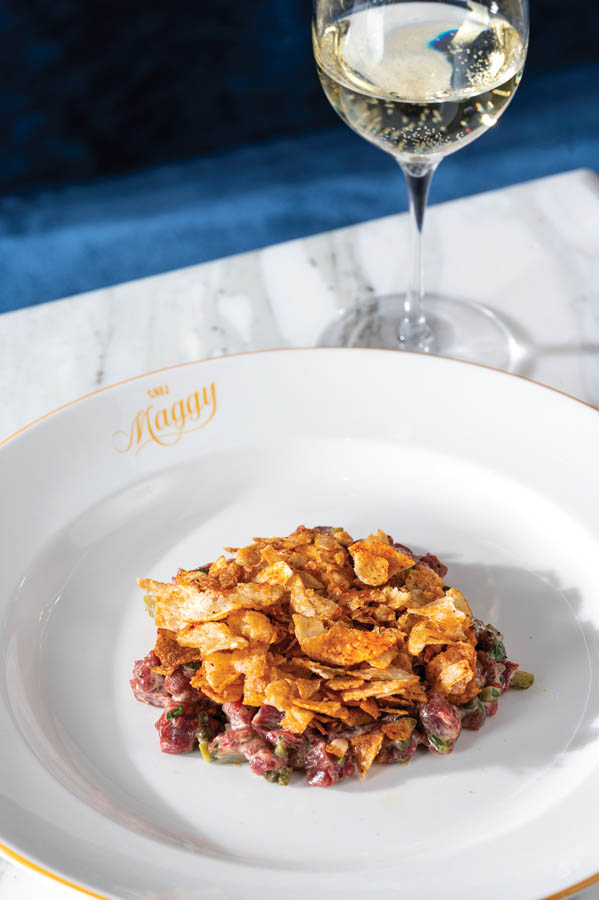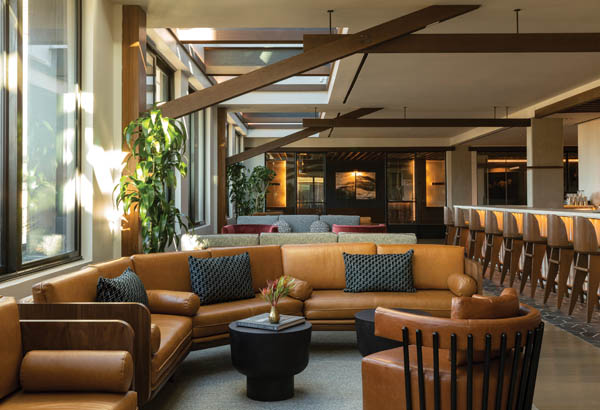 What's in a Name?
Other fun details about the hotel are the namesakes of the spaces. The cocktail lounge, Reynard Social, is named after a playful trickster fox in European fables. The ballrooms and Duel Grab-and-Go Coffee Bar were named after Market Street brothel owners Mattie Silks and Kate Fulton, who dueled in 1877 in what is now Commons Park over Silks' lover, Cortez Thomson. "It's a memorable story that probably not a lot of people are aware of, and guests can take that away as a little nugget of Denver's history," says Parsons.
The Thompson offers a little something different for both travelers and locals. Or as Parsons says, "We want to provide a sense of place where you can find some inspiration, have some fun and have an experience."
Thompson Denver
303.572.1321; thompson-denver.com