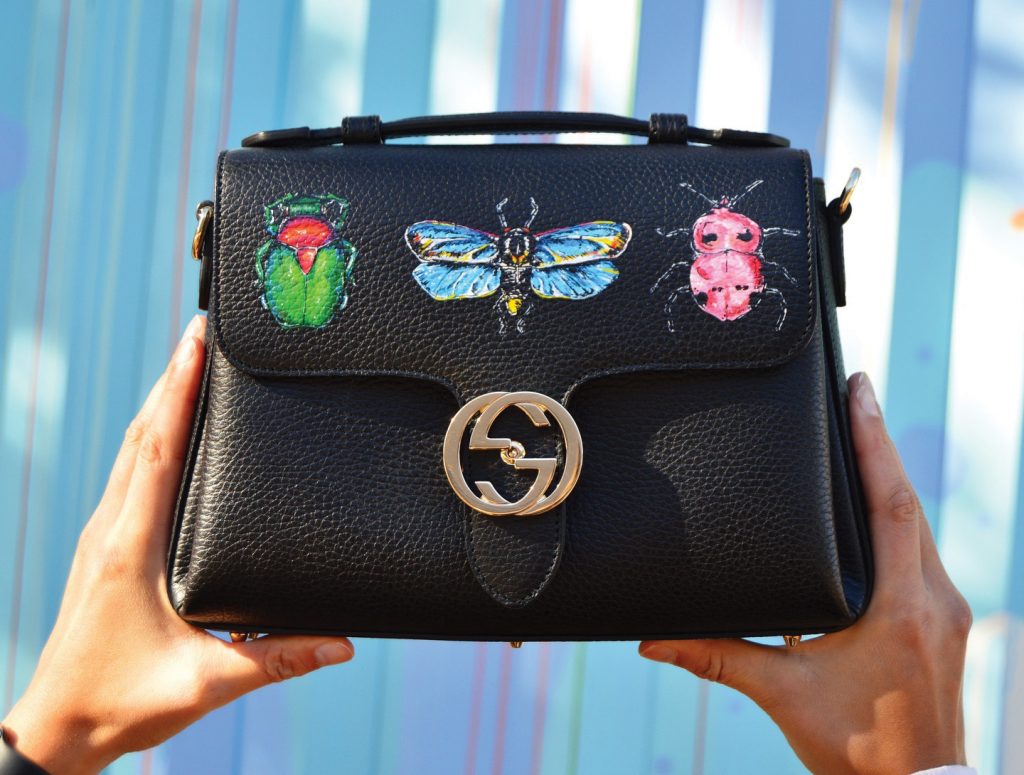 A Gucci satchel emblazoned with a purple butterfly. A Longchamp tote painted with a lighthouse and ship's wheel. A Louis Vuitton bucket bag decorated with characters from Alice in Wonderland. Lauren Zavala's creations, which can be regularly spotted within the south metro area, make onlookers do a double take.
That's because each design that emerges from Zavala's studio is a colorful, whimsical art piece you can wear. Her first piece of clothing as canvas was her boyfriend's black leather jacket. Decorated with cartoon characters, a skull and other assorted images, the piece drew raves—and questions about where to find other topcoats like it—wherever he went.
Zavala, a Boulder resident, was studying art in England at the time and traveling around Europe with Braden, her boyfriend, on breaks. During a trip to London she got the idea to use high-end apparel and accessories as her medium, using a key tool: Designed for leather, Angelus paint can be applied to purses, shoes, jackets and more, and remain malleable. Waterproof, the paint won't crack or change color. Hence the reimagining of Braden's motorcycle jacket and the eventual charge of her company, Zavala Bespoke: to hand-decorate luxury goods with one-of-a-kind "paintings," created in collaboration with wearers.
"So many people were asking about the jacket that I thought, 'I guess I can do this while I look for a job,'" Zavala recalls. Three years have come and gone, and she hasn't looked back. "It was a hobby and a passion project. Then I started getting a fair amount of work, so I figured I could do it as a full-time job. I kind of fell into it," admits the artist, now 26.
Both her graduate studies program in decorative art and historic interiors at the University of Buckingham and studying art history at the University of Colorado Boulder added to the love of painting she has had since childhood. But why add paint to designer bags, clothing, luggage and more? "One of my best friends had an older Louis Vuitton purse that she told me she liked, but was kind of plain," Zavala recalls. After getting the Zavala Bespoke treatment, "she uses the bag all the time."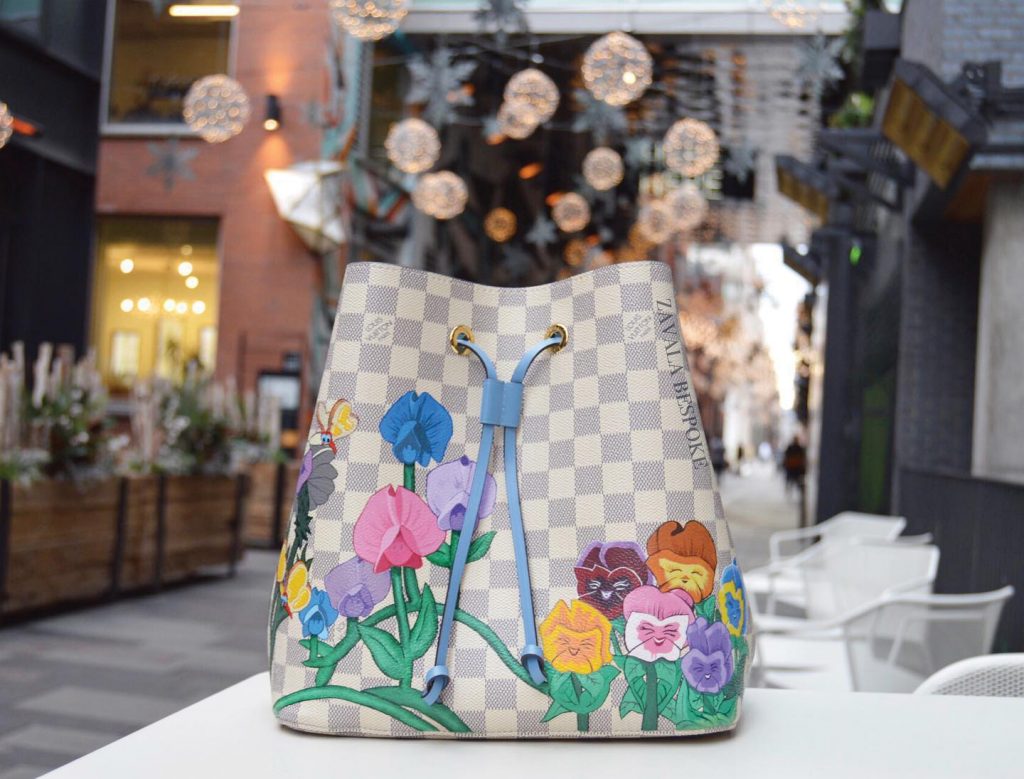 Zavala also finds collaborations that artists like Jeff Koons have done with Louis Vuitton inspiring: "People want something that no one else has. I do a lot of monogramming that features characters and colors within the letters. It's still classic and simple, but unique."
To make the magic happen, Zavala and said item owners first agree on a design. Then Zavala sketches the idea on the piece. A deglazing material removes the existing outer surface of the item, the area is sanded and multiple coats of a white base paint are applied before color and images are added. "There's not a lot of room for error," Zavala admits.
When someone has "no idea what they want, it's my chance to go crazy," she says. "My favorite painting style is Pop Art. I also love Impressionism." Everyone from Claude Monet and Frida Kahlo to such contemporary artists
as Ashley Longshore have been Zavala's muses.
Though based in Boulder, Zavala's hobby-turned-voguish-métier has made her a favorite creator in this neck of the woods and big and small cities nationwide, as well as a source for those in the limelight: Val Kilmer and Denver style phenom Allison Ruchaber of Peach and Pepper both sport jackets with her handiwork.
Zavala doesn't rule out the idea of one day creating large-scale works that could be exhibited on gallery walls, but for now she's content: "I love making art more approachable, sharing it with people and making it relevant."