Although THE growing season in Colorado may be brief, the summer and fall still debut highly anticipated, quality farmers market produce with the help of local farmers, ranchers, craft artisans and specialty food purveyors. The South Pearl Street Farmers' Market, which runs for 28 weeks on Sundays from 9 a.m. until 1 p.m. (starting on Mother's Day until mid-November) is a carefully curated event that showcases 160 diverse vendors on the 1400 + 1500 blocks of Denver's Platte Park.
"It is such a beautiful neighborhood, historic district, filled with independent, locally owned businesses," says Nicole Jarman, founder of HobNob Events who manages the South Pearl Street Farmers' Market. "The vibe and the area itself are super cool. It's two long blocks that focus on being about food and agriculture and what happens in your kitchen."
Jarman says that her number one priority and the question she repeatedly asks herself when selecting new vendors is: "Does this talk about food?"
"We spend a lot of time thinking about flavor palates and how people work together and how it coordinates," explains Jarman. "Bread, cheese, wine, olive oils and then thinking about horseradish next to beef and then next to the same similar acid flavor palate. We think a lot about how that flows and your purchases."
Outside of a pivotal focus on local agriculture, education and complimentary food pairings, Jarman strives to bring distinction to their offerings with a "two like vendor" maximum "so we don't have a plethora of any one thing."
"Especially as you look at how organic versus conventional or grass-fed versus grain-finished so you have a nice diversity and friendly competition," says Jarman. "We want people to learn why they like one kind of steak over another one."
From the intentional foodie flow to the discernment of "what really is local?" South Pearl Street Farmers' Market combines the quaintness of the adorable area with a thoughtful medley of specialty vendors, items and services.
"Aside from being conscious of the collection vendors, we've tried really hard to create and cultivate a peaceful, good feeling place," says Jarman. "We are a community in itself, even if it's only for a few hours on a Sunday, and people can feel the good vibes."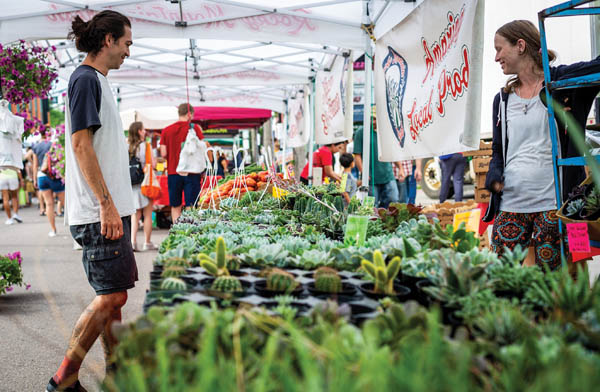 Jarman shares "Sunday's with Nicole" with her picks for a pro walk-through at South Pearl: "Let me introduce you to the cool things!"
Rebel Bread — uses close to ancient grains, really tall unmodified wheat. "Beautiful bread and pastries made with incredible techniques."
Ela Family Farms — fruit and produce from Delta, Colorado. "Ela has been with the market since before my time, been with us since the beginning."
Paz — on-site eats, take-away quesadillas and tamales.
Yummy Yummy Hummus — "The owner puts out the whole spread and he pulls out a cracker with avocado hummus and tabouleh and you just buy everything because it's just so good. He is Lebanese and this is his family recipe that's been passed down."
Minour Farms — they grow Asian celery that is "super potent."
Snow Creek Ranch — "It's a female-owned, family-operated farm and their beef is incredible."
Brown Dog Farms — fresh eggs & greens.
Styria Catering — Smoked salmon. "He shows up at 6 a.m. with his wood planks and smokes his salmon right there. Smoked salmon in the store has sugar and things to preserve it and that's the reason he says that they're not in stores," says Jarman. "It feels good to know what I'm consuming."
What should you grab at your local farmers' market to cook up in your kitchen? Alex Seidel, restaurateur, executive chef, and farmers' market aficionado shares one of his favorite recipes using fresh, local finds.
"We are fortunate to have farmers' markets that can share what is truly best in Colorado," says Seidel. "It allows our chefs the unique opportunity to see first-hand what is in season and meet the people behind the food."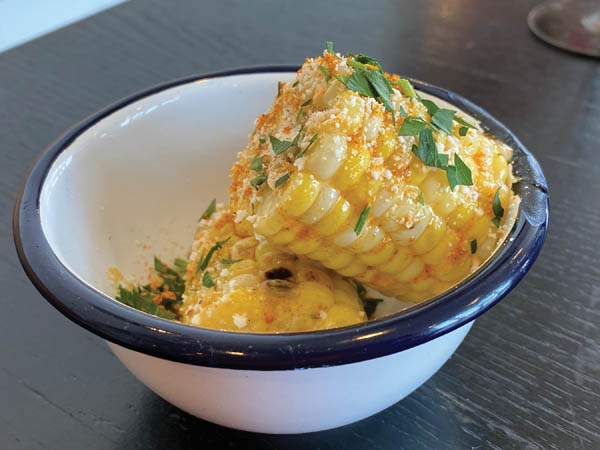 Chook's Roasted Street Corn
"Our Chook Street Corn recipe is simple and easy to reproduce at home as we are really just trying to highlight our local Olathe corn," says Seidel, "I believe the corn from Colorado is so sweet and one of the greatest agricultural products we have."
Ingredients:
1 ear Olathe corn, husks removed
¾ oz. butter, browned
1 oz. Ranch (Chook's version is made with Sheepskyr, a specific small-batch sheep's milk)
1 tsp. Chook Chicken Salt (available at Savory Spice Shop)
1 pinch chopped parsley
1 tbsp crumbled cotija cheese
Method:
Blanch and lightly char corn, then cut each ear into four uniform nubs. Toss the corn nubs in warm brown butter, ranch dressing and Chook Chicken Salt. Serve in a small bowl, garnish with chopped parsley and cotija cheese.

Recipe courtesy Chook Charcoal Chicken