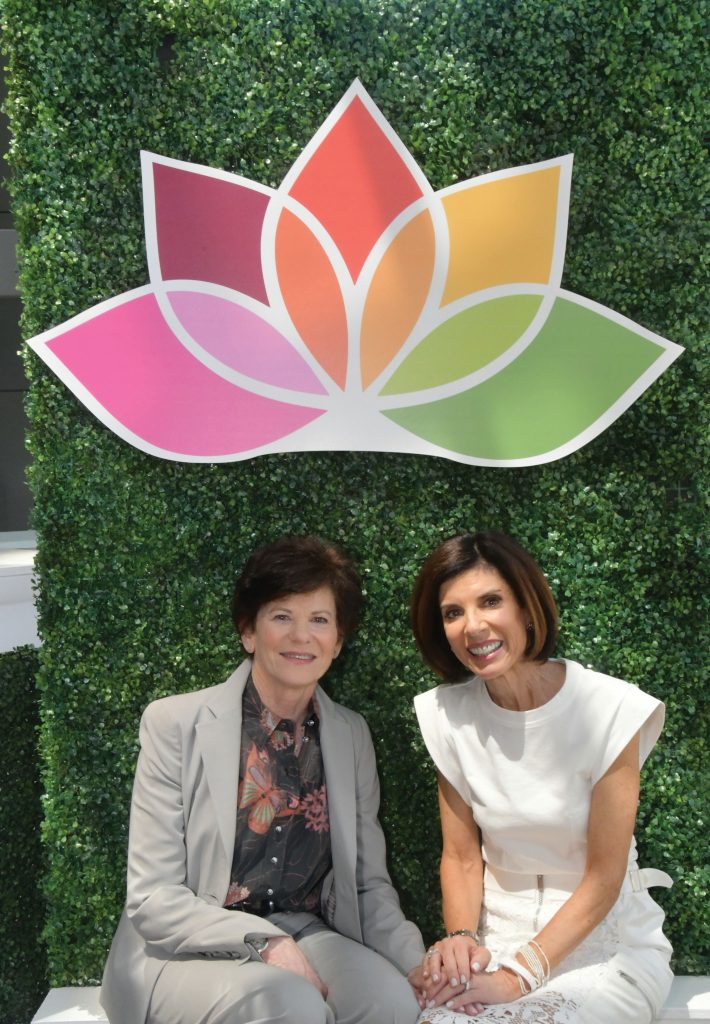 More than 700 women showed up.
It was a cold Sunday morning in April 2019, but the Seawell Ballroom at the Denver Center for the Performing Arts was far from frigid. The venerable space was, instead, ablaze with impassioned compeers making new connections and sparking conversations that would have been unlikely to happen outside of that room. And in this place of, let's call it brainstorming, the ones moved the most were Lisa Cook and Leslie Heins, who were seeing firsthand the kind of impact they could have with this feeling—this hunch—that just would not leave them alone.
Within the past 37 years, Cook and Heins have crafted their Cherry Hills Village-based agency Affair with Flair into a renowned event company sought after by Colorado's well-heeled families and foundations. Now their new nonprofit, Lotus Network (originally coined INTL, or It's Never Too Late), aims to encourage introspection and meaningful connections that strengthen social and professional bonds and empower women as they age, regardless of stage of life, geography or identity. "This is all about looking at the next chapter of your life and helping women do something purposeful in addition to what they are already involved with," Cook says.
Despite the first event taking place earlier last year, the duo received 501(c)(3) status late last summer and officially launched the organization at the end of 2019.
"With Affair with Flair, we try to make every event fun and full of surprises, and now we get to utilize those skills with Lotus Network," says Cook. "As women, we are so used to doing things for others that we haven't taken time to think about what's meaningful to us."
And their timing is excellent. With Lotus Network, Cook and Heins have tapped into the positive-aging and women's movements embraced worldwide by, to name just a few, Mary Pipher (Women Rowing North), AARP's Disrupt Aging campaign, InHerShoes and Women of Denver.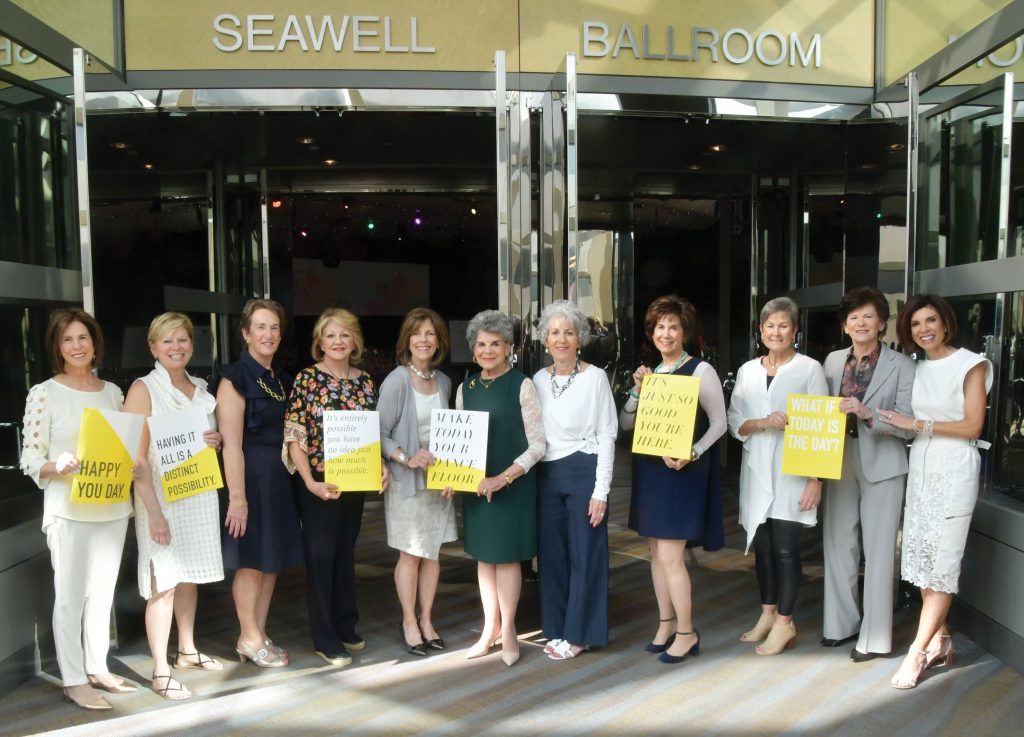 If you're thinking this is just another organization revolved around networking, you're wasting time in the wrong headspace. Lotus Network is about developing meaningful connections, which are especially important as people age, says Terry Rubin, a retired registered nurse who operated Partners In Pediatrics with her husband and, now, a Lotus Network advisory board member.
"I was walking with my friend, Susan McKinney, and we were talking about what is next for us in life," Rubin recalls. "Both of us are grandparents. We're both recently retired. What will be our next chapter? And then Susan told me about Lotus Network."
Rubin listened and liked what she learned.
As a former nurse, she knows that loneliness and isolation are related to physical and cognitive decline: The National Institute On Aging reported in April 2019 that researchers have linked social isolation to higher risks for high blood pressure, heart disease, obesity, depression, dementia and other health concerns.
The mission, says Heins, is to help women understand that personal growth and purposeful living are important parts of aging well, and of life in general. "We want to create a hub that fosters connections," Cook says. "Ideally, you'll be able to go to one of our events and meet someone who can become, say, your walking partner. At that first event, people told us that we put a voice to what a lot of them were thinking—emphasizing the personal, face-to-face connection that has been lost in social media."
Something else that proved antithetical to the influence of the online world: The business leaders, retirees, millennials and more who made up the inaugural 2019 audience all heard about the event the same way Rubin first learned of the organization—through friendly conversations. Seven hundred seats (!) were filled with zero advertising. Cook and Heins simply tasked each of the 11 board members with asking three women to join them as table captains. And each table captain asked nine other women to join them at their tables.
The process was undeniably effective—and more than appropriate, given that's how Lotus Network came to be formed from the start. "Honestly, because we're both so inundated with event planning we didn't know about much of the positive aging movement until we started Lotus Network," Cook says. "Then, like gifts from God, we started hearing about all of these other wonderful organizations as people asked, 'Hey, have you heard about Encore? Have you heard about Boomers Leading Change?' All this converged with what we were doing."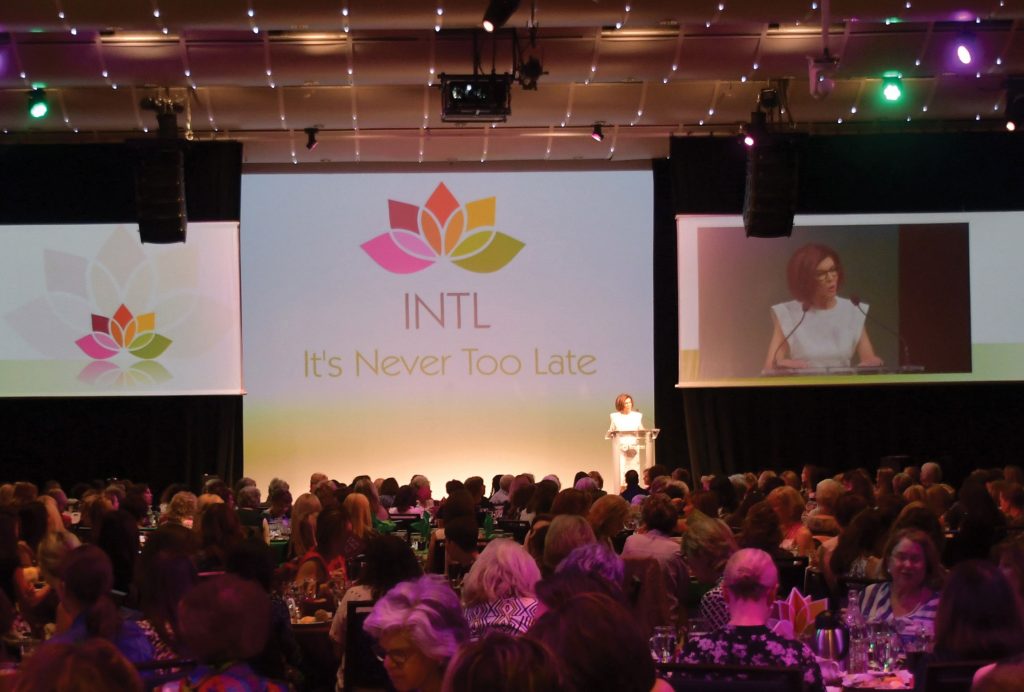 The meat of the first event was hearing clinical psychologist Dr. Margit Cox Henderson discuss "optimistic aging," i.e. her research on how behavioral changes can add joy and length to life spans. Speaker Nataly Kogan, author of Happier Now, is the headliner for the 2020 Lotus Network assembly, which will also be hosted in the Seawell Ballroom on April 26.
Each conference, if you want to define it as such, will follow the format of the first: a two-and-halfhour breakfast event with one keynote speaker and time to meet other attendees and participate in guided conversations. At the 2019 event, Cook and Heins gave credit to the table captains, who galvanized so many women, and the "directive" communication exercises for the day's success. One prompt instructed women to look for someone younger than her and ask how that woman spends time with her female friends.
"There was one attendee who shared with us that she was feeling lonely and displaced," Cook says. "The young person she approached explained that she and her girlfriends go out once a week for 'girlfriend time,' which was a revelation to this older woman. It gave her the motivation to ask her friends to get together with her every week. And meeting regularly like that got her through her tough time."
As Lotus Network grows, Cook and Heins hope to create an app that connects women with proactive organizations and, eventually, take Lotus Network to women in underserved neighborhoods.
"You know how, after an event, people make a beeline to the parking lot to beat the traffic?" asked Cook. "Not at ours! Women hung around to keep interacting. And we deliberately sat strangers together. One of the best things you can do is put people together who don't know each other but have something in common.
"At one of the tables I organized, I sat two such strangers together and by the end of breakfast they were talking about going into business together."
Hunch confirmed.
LET'S TALK ICEBREAKERS
Lotus Network uses the tried-and-true technique to get event participants to talk to someone they don't already know. Now, Cook and Heins are challenging all wallflowers out there to use these prompts at public events, including concert or theater intermissions, and other social gatherings.
FIND A PERSON whose haircut you admire and ask about her salon. Then ask: How long have you lived in Denver? If she's not a native, ask: What brought you here?
START A CONVERSATION with a stranger by asking, with deeper context, for a favorite book or movie: What made it memorable? How did it resonate with her life?
ATTEND A LECTURE at History Colorado, an author presentation at a bookstore or a class at a recreation center with the goal of talking to at least one other person.
SAVE THE DATE
CONNECT NOW 2020: It's Never Too Late to be Happy!
WHEN: Sunday, April 26, at 10 a.m.
WHERE: Seawell Ballroom, Denver Center for the Performing Arts
MAIN SPEAKER: Nataly Kogan, author of Happier Now
COST: $50 per person, advanced registration required
REGISTER: 303.770.2200, connectnow@lotusnetwork.org, lotusnetwork.org