Virtual "happy hour" gets an upgrade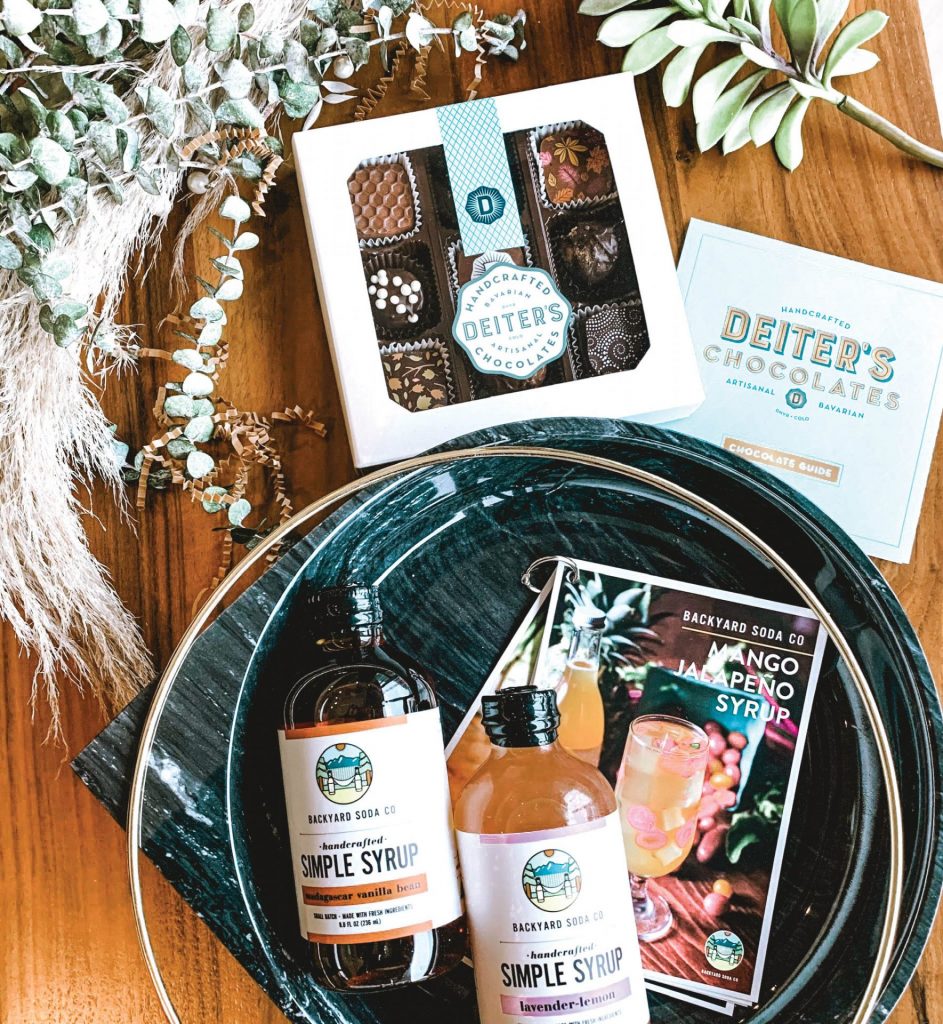 Need a break from the same ol' same ol' Zoom get togethers? We discovered some ways to support local small businesses and foster meaningful connections at the same time, right in the comfort of your own home.
In lieu of a boring Zoom "happy hour" virtual holiday party or annual company gathering, how does a meal from Ohana Island Kitchen, an alcoholic or non-alcoholic beverage from Adrift Tiki Bar, a Zoom ukulele lesson with Ukulele Inspired, and mahogany ukulele to keep sound? Or a gourmet charcuterie spread from The Truffle Table, eight 6-ounce bottles of wine from Wander and Ivy, and a wood burning kit to customize a wooden charcuterie board? When COVID-19 hit, Denver Date Nite had to adapt its model of providing nights out on the town for couples. Now, Denver-based Adelska provides high-quality experiential virtual kits for corporate groups, wedding showers, nonprofits, etc. that support local small businesses and fosters meaningful connections. Each kit contains something to eat, something to drink, something to do and, in the second tier, something to keep. Each kit, available for nationwide shipping, contains something to eat, something to drink, something to do and, in the second tier, something to keep.
Following an "Airbnb" model but featuring food and beverage, MyCasaFood allows local chefs and culinary enthusiasts to advertise and sell authentic dishes made in their own kitchens to customers while giving cooks an opportunity to customize dishes and prices on their own platform. Experience personalized cuisine and support the local community with MyCasaFood.
Many aspects of our lives have shifted due to COVID-19, especially the dining experience. Restaurants are facing extreme difficulties during this time, and the foodservice industry is impacted greatly by the virus. Interestingly, Americans eating habits have changed this year in adapting to the pandemic.
The study pinpoints the top four food trends in Colorado listed in order as coffee, sushi, fruit, and vegan. Following these were increased use of CBD and alcoholic beverages including gin, cider, beer, rosé, white, and red wine. With more time at home and less responsibilities, Coloradans decided to sit back and let food and drink influence their year. We have to say, these sound mouth-wateringly good!
Zipline Logistics seeks to understand why these trends emerged and whether or not they will stay. Since dining in restaurants has been affected by the virus, many Americans are adapting to life at home and cooking their own meals. Consequently, we see typical ingredients like meat that even the worst cooks can use to make their own masterpieces (I know from personal experience). In addition, "we see that trend reflected in a 1207% increase in baking mixes' shipping volume, a 493% increase in coconut oil, and a 29% increase in broth shipments." Not included in the study are google search histories for "easy homemade meals" or "quick dinner recipes" but we must admit that we've searched these ourselves. Cooking everyday definitely isn't easy, but we're managing.
In remembrance of the initial lockdown and the toilet-paper shortage scare, Zipline Logistics also observed an increase in cleaning supplies in American households. We're all slowly becoming germaphobes and this reflects our purchases. Specifically, Zipline Logistics "saw a 43% increase in the shipment of household cleaning products."
Many other trends have emerged in the wake of the COVID-19 pandemic, but we can expect to continue to see changes in food consumption and purchases. Zipline Logistics offers a ​blog​ outlining various shipping trends and information to be aware of as consumers. Here in Colorado, we can continue to expect similar trends in healthy living, but for now I think I'll grab my coffee and look into making my own sushi rolls.