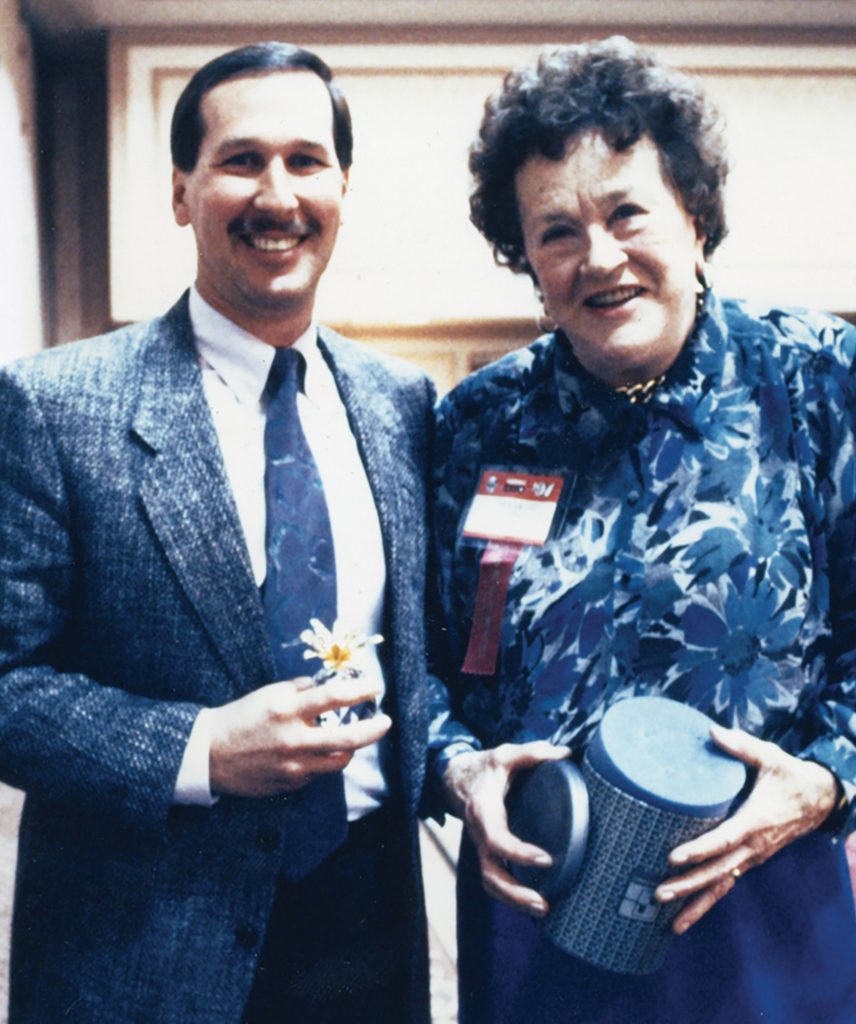 What do you say about a culinary hospitality icon that hasn't been said before? Thousands of words have been written about Larry DiPasquale and his hugely successful Centennial-based Epicurean Group—about the altruism he learned from his large Italian family and his many awards and honors. His induction into Visit Denver's Tourism Hall of Fame and receiving National Catering Today magazine's Crystal Pineapple Award from none other than Julia Child (above) are particularly unforgettable.
Overall, DiPasquale's visionary approach to catering and hospitality turned the industry upside-down. What we don't know is how he's managed to carry all of that on his proverbial plate. We caught up with DiPasquale just before he and his wife, Jill, set off to unwind—with a hike through the Dolomite Mountains between Austria and Italy.
Your work ethic is legendary. What do you do to relax, besides exploring international peaks?
"I was involved in martial arts for a number of years, and achieved my goal of getting a black belt. When time permits, I'm a very active individual. I try to find balance in hiking and outdoor sports."
What would you say is your superpower?
"My superpower is surrounding myself with super-talented individuals and understanding their needs and dreams."
Describe your worst catering experience.
"Now I can look back and laugh, but years ago we catered a large New York wedding with a sit-down dinner for 400 guests. The entrée featured a filet with a béarnaise sauce. Just before plating, the chef realized he'd overcooked the béarnaise and needed 12 minutes to redo it. I'd come to know the family very well, so I got up and gave the bride and groom a toast and bought us some time!"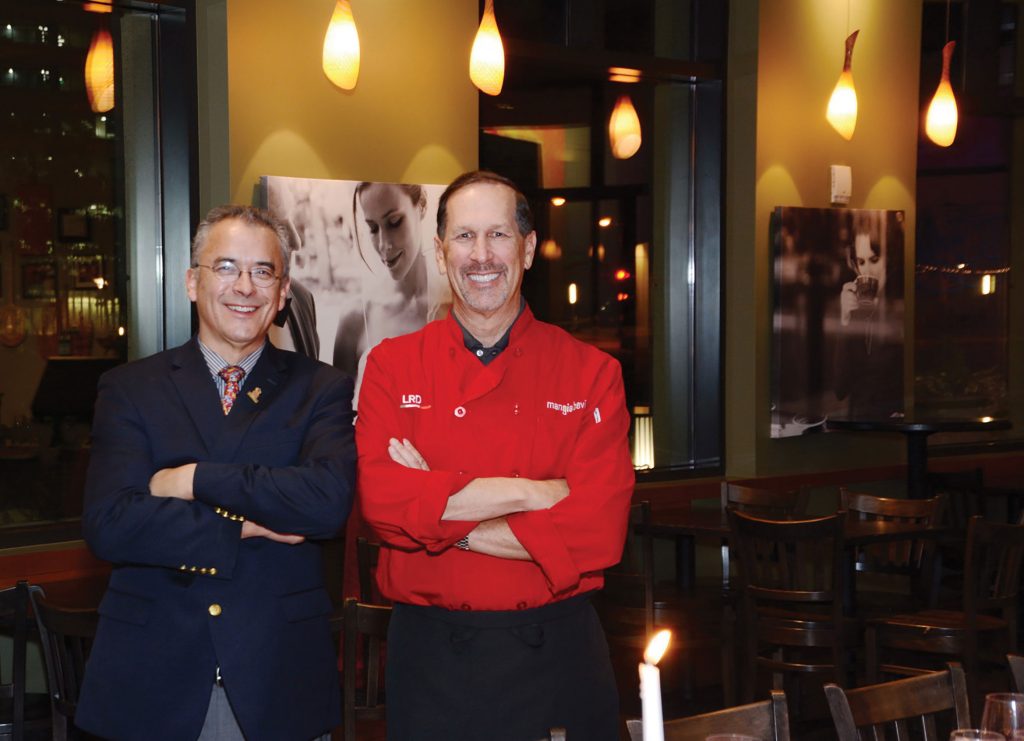 What are some favorite event memories?
"I have been fortunate to do some incredible events over my 37 years with Epicurean. Coordinating the 2015 FIS Alpine World Ski Championships was the most rewarding and most challenging. We were on the side of a mountain in the middle of winter. It's a 24-hour operation; we served 35,000 meals over the event's 17 days."
Describe a DiPasquale Thanksgiving.
"Actually, my go-to holiday is Christmas with my Italian family and friends. I cook a cioppino [an Italian-American fisherman's seafood stew] using a friend's family recipe."
You are also known for giving back. How do you do this?
"I am proud to be on the board of a nonprofit called We Don't Waste. We provide 44 local shelters with wonderful food from events that, in the past, would have been discarded. Plus, we started our own Epicurean Cares program that repurposes event food to feed more than 1,000 underserved people each month. I also give back through the DiPasquale Family Foundation, an educational trust that financially supports hospitality and culinary students."
EPICUREAN GROUP
Centennial
303.770.0877
DIPASQUALE'S SMALL DINNER PARTY MENU
"I'd like to tell you to call a caterer, but here's an easy menu I use when I'm in a hurry," DiPasquale says.
1. Whip up HOMEMADE POLENTA with a little mascarpone cheese.

METHOD
Pour 1 cup polenta into 4 cups boiling salted water. Reduce heat to simmer, whisking constantly until polenta thickens. Cover and cook for 30 minutes, whisking every few minutes until texture is creamy and individual grains are tender. Fold in mascarpone to taste.

2. BRAISE SHORT RIBS. (One pound per guest is generally best.)

METHOD
Preheat oven to 300 degrees F. Salt and pepper short ribs, then sear in a heavy oven-safe cast-iron pot or Dutch oven in a little olive oil with garlic or other herbs. Cover and braise for 3 hours or until tender.

3. Top short ribs with AN EASY DEMI-GLACE and WILD MUSHROOMS.

METHOD
Pour juices of short ribs into a saucepan, add about ¼ the amount of red wine as you have rib stock. Reduce until sauce coats the back of a spoon. Add wild mushrooms to taste.