Wallpaper trends that speak your language through colors, patterns and textures
Botanicals, landscapes, geometrical patterns and natural fiber textiles are covering walls from dining rooms to powder rooms, closets and even ceilings in 2021. Whether your design skews traditional, transitional, mid-century mod or contemporary, there are wallpapers for every space and design taste.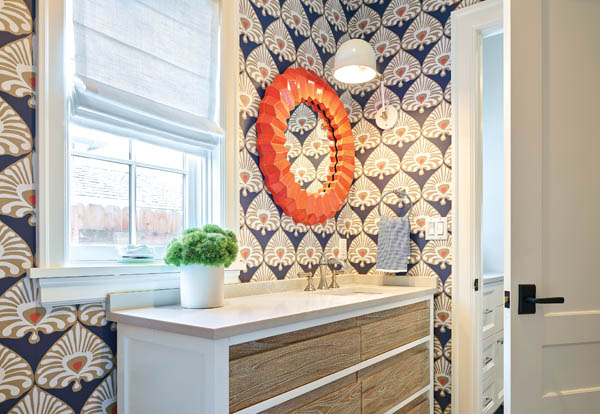 "Start off by thinking about the color palette, desired mood of the space, and scale of the room. This can set the tone for your entire look and determine which wallpaper options may complete your design story," says Denver interior designer Pamela Chelle, "and wall coverings are like works of art these days – the inspiration is endless to look for pieces that evoke emotion."
But with so many designs to choose from, Chelle suggests thinking about the scale of the patterns and area of application. "Over-scaled or under-scaled patterns can make or break a space and need to be considered. Bold colors and patterns can completely transform an otherwise neutral space and can also create the illusion of more space. There's literally something for everyone. From florals, chintz and trompe l'oeil, to contemporary geometrics and full-scale scenic murals, it's like a playground for your senses."
Speaking of large prints, life-size scenes and murals are having a huge design moment. Walls featuring serene painterly flowers, epic mountain views, life-size animals, architectural interests, walls can transform any room into something entirely captivating. These designs make for statement accent walls, headboard walls, ceilings, and special niche areas.
And if you think wallpaper is one dimensional, think again – embellished corks, sustainable grass cloths, vinyl and silk paneling – all make for curated spaces that truly rouse. Selecting the appropriate material for the desired location is also so important. Vinyls have come a long way since gaining notoriety in hotel bathrooms. The durability and selections available are now limitless and provide practical solutions for many spaces. Removable wallpaper is a fabulous way to play with patterns in a kid's bedroom, without creating a permanent application.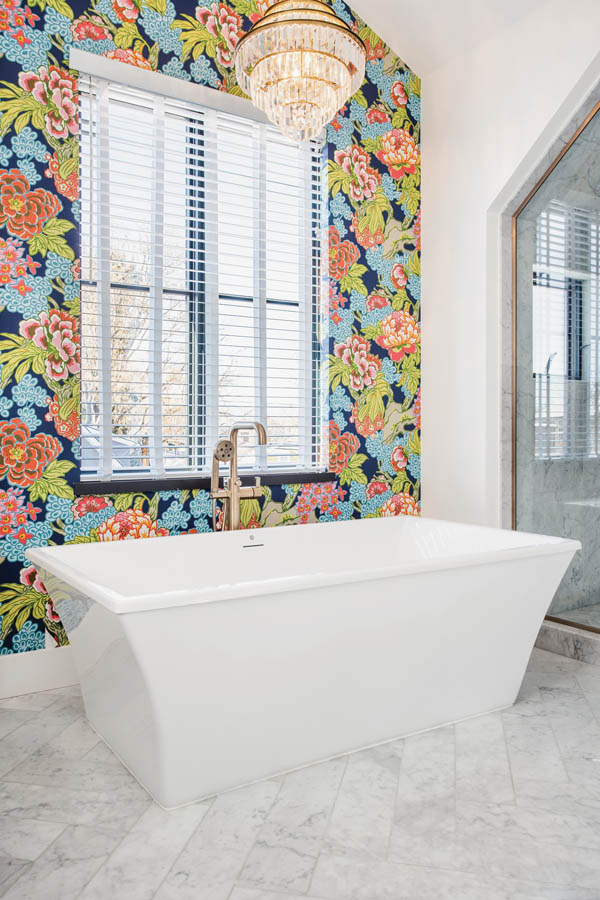 But regardless of the material, purchasing quality wallpaper is so important and worth the investment. Paper that bubbles, stretches or fades will not stand the test of time in a semi-permanent application.
To help ensure you will love your wallpaper and that it accentuates your overall décor, "I highly recommend hanging up samples of your desired wall covering selection on the wall it will be applied to, prior to ordering. Lighting and scale can drastically change the look. Take your time sitting with it throughout the day to see how it changes with the sunlight," suggests Chelle. "Also, an easy way to envision the look before taking the plunge is by taking a photograph of your room and putting it in a digital rendering program to apply the look. There are so many free rendering programs and apps available now."
Finally, shop local. There are so many impressive local wallpaper resources in Denver. One we love is Wall Tawk, a Denver-based female business, focused on supporting artisans creating boutique papers and custom mural designs.
Pamela Chelle Interior Design, 303.349.3760; pamelachelle.com