Get all the cuddle factor with amped-up color for fall home decor
Pillows and throws are the perfect way to add coziness and comfort to your spaces as cool weather settles in. While you might love the hygge look of textured blankets and shearlings in warm tones ranging from cream to mocha, we challenge you to punch up your palette this fall with the rich tones of Pantone's autumn and winter color choices.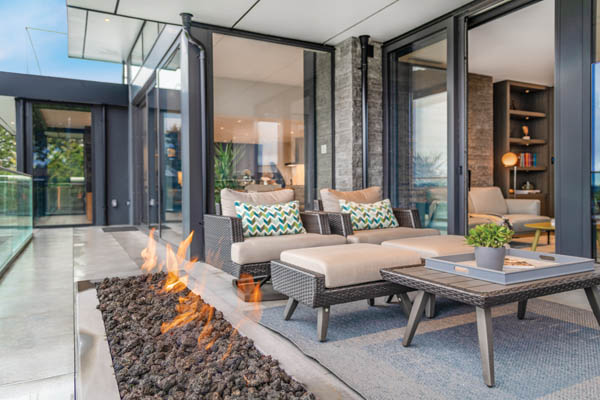 Keep it Clean
Even a sleek, modern space can take on a comfy vibe when you throw in a dash of color and layered background details. Faux rattan furniture by its nature brings a ton of texture. Temper it against smooth cushions, then add a dash of Leprechaun and Olive Branch for a surprising color combo that works. A coarse stone wall stands juxtaposed against the shiny glass windows.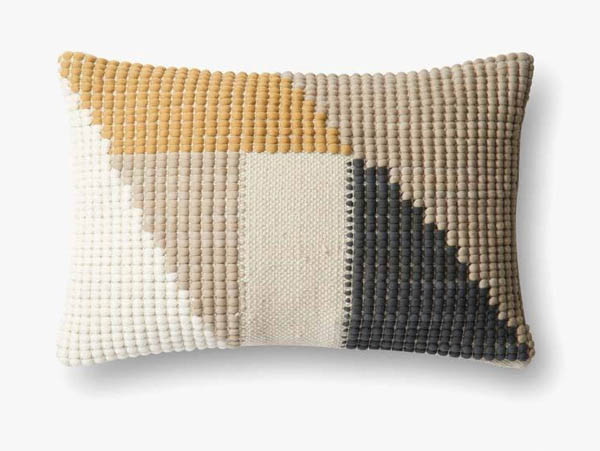 GET THE LOOK
Teal, Yellow and Gray Lumbar Pillow
Djuna 303.355.3500; djuna.com
Blushing Beauty
Turn out a tender shade of Pale Rosetta in the primary bedroom for a subtle, elegant look. Mix it with Ultimate Gray and soft Coconut Cream pillows in a variety of textiles from woven to velvet. Add even more texture to the room with a fresco wall treatment.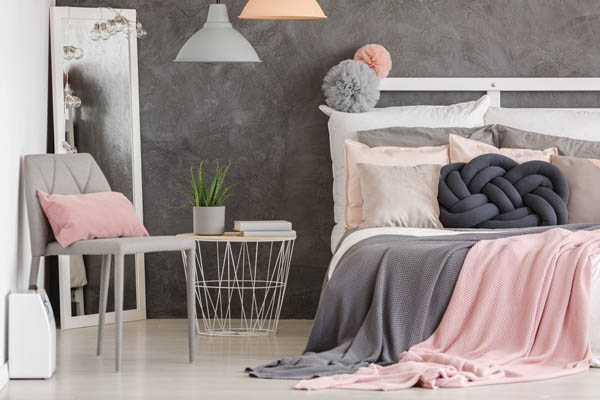 Pattern Play
Geographic prints can bring in a variety of bold colors including these that play off Pantone's Illuminating, Spring Lake and Mykonos Blue. To add another tactile layer of pattern to your soft goods decor, hang a clean fresh textured rug in a contrasting color for an unexpected level of design.
GET THE LOOK
HW Home Headly Throw;
HW Home
303.394.9222; hwhome.com/cherry creek
Orange and Red Pillow;
Djuna
303.355.3500; djuna.com
Autumn Burst
Nothing shouts autumn like intense goldenrod and a deep earthy hue like Adobe. Mix and match a tight-weave linen with a silky-smooth chenille and sleek velvet. A sisal or grass cloth rug and wood elements complete the natural look of this fiery-hot bedroom.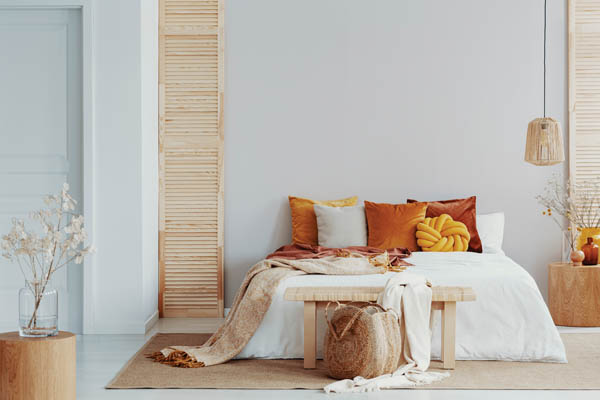 BoHo Chic 
Although this palette is neutral, there's nothing boring about it. A hint of Adobe color and lots of patterns and woven textures makes the space extra cozy. Wood, rattan and sisal provide plenty of natural elements. Chenille, cotton and wool soften the edges.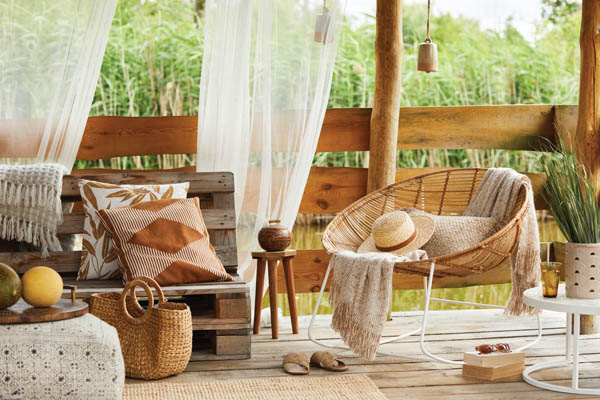 GET THE LOOK
Bisbee Throw;
Blaze Pillow;
Function Layer Pillow
HW Home
303.394.9222;
hwhome.com/cherry creek
Mod Monochromatic
A Soybean sofa looks dressed up with mix-and-match patterned pillows and a nubby throw. The thin-line patterns play well with the bold geometric design. Add even more layers of personality with a thick plush rug and natural entwined elements.